Bluehost is considered the best web host provider on the net. They are also one of the oldest web providers, having started in 1996, and have become the most well-known brand name when it comes to WordPress hosting. They are officially recommended by WordPress.org. Everyone on the net claims that Bluehost is the best web hosting company for small businesses. and when using Bluehost, you never have to think about your website being slow, even if there is a lot of traffic. Besides that, Their knowledgeable support is available 24 hours a day, seven days a week through phone, email, or live chat. Is That True?
We read many of those testimonials, and the majority of them rave about their fantastic customer service, low costs, and scalability possibilities. However, there is little to nothing about their real shortcomings in such reviews.
But does this imply that Bluehost is a dependable service that is a good fit for your project?
In this in-depth Bluehost review, we'll put their promises to the test with a thorough examination utilizing industry-standard benchmarking techniques.
We will look into the following topics:
Speed: How quickly will your website load? To evaluate this, we will measure their speed and server response time.
Performance: in the face of traffic spikes We'll put it to the test by running the stress test and seeing how well it works in traffic.
Reliability: Will your website be online 24 hours a day, seven days a week?
Bluehost's technical support: Can you trust them when you want immediate support with your website?
Functionality: Do they have all of the functionality you'll need to build your website?
Cost: Do they offer the industry's lowest cost? If there are any Bluehost coupons that you can use to save money?
Now let's go into our in-depth Bluehost hosting review so you can make your own decision.
Bluehost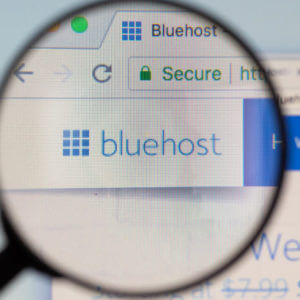 Bluehost is considered the best web host provider on the net. They are one of the oldest web providers, Furthermore, they provide their customers with a unique a free domain, free SSL, and a free site builder with themes.
Product Brand: Bluehost
Product Currency: USD
Product Price: 2.95
Product In-Stock: InStock
We understand that this review may be too lengthy for some readers, so we tried hard to include all of the important elements of Bluehost. You may use the table below to browse this content if you don't want to keep reading:
About Bluehost
Bluehost is one of the world's largest web hosting services, it was founded in 1996 and has since grown to become one of the world's top web hosting firms. It currently runs over 2 million websites throughout the world.
Bluehost has had a long relationship with the WordPress community. Since 2006, they have been an official WordPress.org recommended web server provider. Endurance International Group (EIG), which owns many web hosting companies (such as HostGator and iPage) and has a significant market share, owns Bluehost.
They do have the monetary resources to invest massive amounts of money in advertising. That explains why Bluehost has so many excellent web hosting reviews online. That is why we chose Bluehost as one of the good WordPress hosting companies for startups. But not the best (Keep reading to know why).

Bluehost's Pros and Cons
Each of the best web hosting companies has upsides and downsides. Some are tolerable, but others must be avoided.
Let Us briefly summarize the most essential pros and cons of Bluehost shared web hosting:
| | |
| --- | --- |
| Pros | Cons |
| Pricing: Their hosting options are comfortably within most customers' budgets, especially those who are just getting started. | Nonstop upsells: Their system is jam-packed with upsell pitches, which may be bothersome. Throughout the registration process, However, if you don't require SiteLock or any of the other extensions, you can just uncheck them. |
| There are no hidden fees: When you sign up for your account, there are no hidden costs. | Speed could be improved: In our testing, Bluehost's speed was not at the top of the ranking; the speed has to be improved. |
| Free domain: When you register, you will receive a free domain name for the first year. | Only US servers: Unlike other companies, you may only host your site in the United States. If your viewers are from other parts of the world, they may encounter a (very) sluggish site. |
| Free CDN + SSL: Every website receives a free SSL certificate as well as a free Cloudflare CDN to help block malware and increase security. | Poor backup choices: There is no backup solution available in the entry-level plans. |
| Refund Policy: All programs are backed by a 30-day money-back guarantee. | Limits of the entry-level plan: The cheaper plan has several restrictions on the number of sites, databases, and email accounts you may establish. |
| The first term is inexpensive: However, be wary of the high renewal rates. | Increased domain renewal cost: Their free domain renewal fee is greater than the industry norm. |
| Consistent uptime: Our uptime tests with Bluehost have always been great. They don't even, however, provide a Service Level Agreement (SLA) that guarantees minimal uptime, unlike some other providers (Like SiteGround or Dreamhost) | |
| Large storage: Their shared hosting options provide a lot of storage space (from 10 GB up to 100GB SSD storage). | |
| Unmetered bandwidth: Bluehost will not limit the amount of traffic that your website(s) can get. | |
| They host a big number of websites with minimal downtime. | |
| Officially Recommended by WordPress | |
| 1-click WordPress install | |
| excellent customer service. | |
Speed is the most crucial performance indicator to look for. It not only has an impact on the user experience on your site, but it also has an impact on your WordPress SEO rankings.
Keep in mind
According to studies, a 1-second decrease in website performance might reduce your conversion rate by 7%. A three-second delay might lose you 50% of your visitors.
Let's test how quickly your website loads on Bluehost
Bluehost Speed Test Outcomes
You must select a fast website hosting business if you want a speedier website. Keeping this in mind, we built a test site to determine just how quick Bluehost is.
WordPress and the Twenty Twenty-Two theme were used to create our test site. For theme development, we imported fake material, including photos. Then we utilized Pingdom to test the website's speed.
Here are the findings of our tests: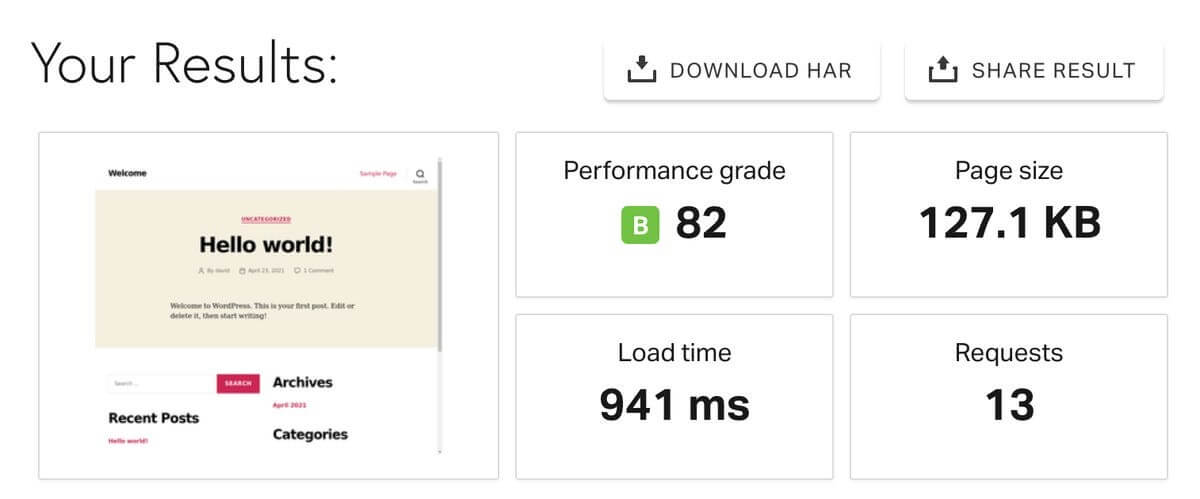 Our test site, as you can see, loads in less than a second. Given that we were not using any caching plugins or speed optimization methods on our site, this outcome is astonishing.
However, the speed test alone is insufficient because this test site did not have a high volume of visitors.
We utilized a testing application called K6 to send virtual users to our test site to see how Bluehost servers would respond to increasing demand.
We progressively increased the number of visitors to 50 to observe how the server would manage additional requests from many connections at once.
Here's a snapshot showing our findings.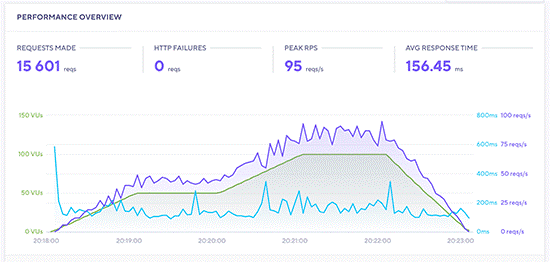 The green line reflects the number of virtual users that are now online on the website, while the blue line represents the server load time. Even with high traffic, the server load remained steady throughout the test.
This test shows that Bluehost may be a good choice for (but not the best) you if you need an extremely fast website.
It's also worth noting that we didn't see any downtime during our testing.
Many hosting companies guarantee a 99.99 percent uptime. For our test account, we created an uptime monitoring alert. Bluehost's server uptime is depicted in extreme detail in the picture below.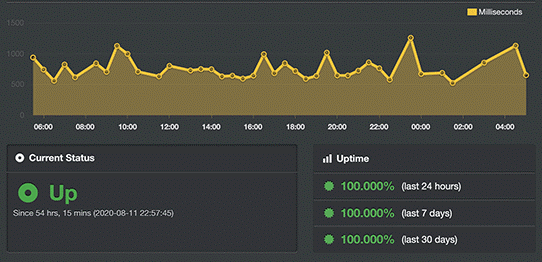 Server Response Time on Bluehost
If you use tools like Pingdom to analyze a live website, you are essentially watching how everything on your website loads. Essentially, you are observing how everything on your page loads. This includes images, which take significantly more time to load than clear text.
To obtain a much more precise server response time, we used another application named Bitcatcha. It allows you to test server response time without loading any content.
The Bluehost servers in the US, as you can see, are executed in a fraction of a second. In other areas, the reaction time was slightly longer but it's not that bad.

If your primary audience is in the US, this will benefit your website. However, if most of your users are from different regions of the world, you can change your server's geolocation.
NOW! Is Bluehost a poor service? Is their uptime acceptable?
we've been attentively monitoring Bluehost performance and uptime for months to address these two questions. Allow us to present our results. You may read our detailed post on which is the most reliable web host for more information about other web hostings.
Bluehost Speed Evaluation
We might not have to explain to you how essential speed is for offering the greatest user experience and enhancing your search engine rankings as a website owner.
Bluehost's speed was tested against the most popular (shared hosting) alternatives. To assess their loading times, we utilized GTmetrix, Pingdom, and Google PageSpeed. These tests were conducted over nearly two months under the same conditions (e.g., identical pages and content).
| | | | | | |
| --- | --- | --- | --- | --- | --- |
| Web hosting | PageSpeed Insights | GTmetrix | Webpage test | Pingdom | Total |
| Bluehost | 2.82 | 1.74 | 2.42 | 4.5 | 2.87 |
| GoDaddy | 2.1 | 1.14 | 2.23 | 2.27 | 1.94 |
| Kinsta | 1.98 | 0.78 | 2.17 | 2.18 | 1.77 |
| Cloudways | 2.84 | 0.80 | 1.89 | 1.39 | 1.73 |
| GreenGeeks | 2.2 | 0.81 | 1.79 | 1.49 | 1.56 |
| WPEngine | 2.2 | 1 | 1.46 | 1.99 | 1.65 |
| InMotion | 3.52 | 2.02 | 2.61 | 2.86 | 2.75 |
| HostGator | 1.65 | 2.4 | 1.87 | 5.21 | 2.78 |
| Hostinger | 1.62 | 0.97 | 1.77 | 2.07 | 1.61 |
| Namecheap | 2.08 | 0.99 | 1.92 | 1.40 | 1.6 |
| DreamHost | 1.92 | 1.16 | 2.56 | 1.72 | 1.84 |
| A2Hosting | 1.9 | 0.96 | 3.78 | 1.40 | 2.01 |
| IONOS | 2.78 | 1.21 | 1.74 | 2.08 | 1.95 |
| SiteGround | 2.94 | 0.71 | 1.78 | 0.71 | 1.54 |
| iPage | 3.74 | 1.76 | 2.73 | 2.82 | 2.76 |
Results in seconds 2022
As you've seen, Bluehost isn't at the top of the class when it comes to speed; in fact, they're at the bottom. If you are concerned about speed, SiteGround and DreamHost are far superior performing providers in our experience.
Is Bluehost's uptime suitable?
Your web hosting service, believe it or not, will most likely not have flawless uptime. Due to technical issues (e.g., server maintenance), your website will be unavailable for (hopefully) short durations.
A low uptime is dangerous since your visitors and search engines will be unable to contact your site. Your target uptime should be greater than 99.95%.
| | | | | |
| --- | --- | --- | --- | --- |
| Web hosting | 2020 Uptime | 2021 Uptime | 2022 Uptime | Cost begins at |
| Kinsta | 100% | 100% | 100% | $35/m |
| Cloudways | 100% | 100% | 100% | $12/m |
| Siteground | 99.98% | 99.97% | 100% | $14.99/m |
| Namecheap | 100% | 100% | 100% | $2.40/m |
| WP engine | 99.99% | 99.99% | 99.99% | $25/m |
| Bluehost | 99.98% | 99.96% | 99.99% | $9.99/m |
| Hostgator | 99.94% | 99.91% | 99.99% | $8.95/m |
| A2 Hosting | 99.93% | 99.99% | 99.98% | $8.99/m |
| Greengeeks | N/A | 99.98% | 99.98% | $10.95m |
| Dreamhost | 100% | 99.99% | 99.96% | $6.99/m |
| Godaddy | 99.97% | 99.90% | 99.96% | $8.99/m |
| Inmotion | 99.97% | 99.73% | 99.95% | $13.99/m |
| IONOS | 99.93% | 99.93% | 99.93% | $4/m |
| Hostinger | 99.75% | 99.90% | 99.95% | $5.99/m |
| Ipage | 99.66% | 98.45% | 99.85% | $8.99/m |
StatusCake, a program that examines each website every 5 minutes, is used to analyze uptime.
As you can see, Bluehost provides consistent uptime. Bluehost's performance here has been good, not bad for a newcomer to start its new website. Otherwise, the alternatives in the market like Kinsta and Cloudways are giving an excellent uptime of 100%. But keep in mind that they do not provide any uptime guarantee; other hosting companies will reimburse you (for example, with a free month like Dreamhost) if their worldwide uptime falls below specific standards (usually 99.9 percent).
What Services Does Bluehost Provide?
Bluehost provides a wide range of Services, including domain names and hosting options for different budgets and sizes. Shared hosting, VPS hosting, dedicated servers, WooCommerce hosting, managed WordPress hosting, and more services are available.
These were Bluehost's top essential hosting-related products listed above. we were disappointed to see that they do not provide cloud hosting. If you are looking for fully Managed Cloud Hosting you can check our article about the best-Managed Cloud Hosting companies on the net.
All Bluehost hosting plans provide 1-click WordPress installation. Aside from that, all plans have an easy-to-use hosting control panel via which you can control your hosting, build databases, and so on.
Bluehost features a customized control panel that makes it easier for newbies to utilize. For more complex settings, it also employs a modified version of the cPanel hosting dashboard.
Keep in mind
Because this Bluehost review focuses on their shared hosting services, we'll be providing our personal experience and information about this Bluehost service from now on.
Bluehost Pricing: What Are the Features of Their Shared Plans?
Bluehost provides a shared hosting option that is appropriate for new websites. Their collaborative strategy is accessible in four distinct tiers.
The first thing you'll notice about Bluehost rates is that they provide massive reductions throughout the first year. Keep in mind that the renewal fees are substantially higher and may deter you. we've listed both costs below so you can compare and decide.
| | | | | |
| --- | --- | --- | --- | --- |
| | Basic | Plus | Choice Plus | Pro |
| Websites | 1 website | Unlimited | Unlimited | Unlimited |
| Allowed subdomains | 5 | Unlimited | Unlimited | Unlimited |
| Max. files amount | 200.000 | 200.000 | 200.000 | 200.000 |
| Customer Support | Phone and live chat | Phone and live chat | Phone and live chat | Phone and live chat |
| Email accounts | 5 | Unlimited | Unlimited | Unlimited |
| Email storage | 100MB | N/A (without limit) | N/A (without limit) | N/A (without limit) |
| Database | 20 | Unlimited | Unlimited | Unlimited |
| Max. DB size | 5GB | 5GB | 5GB | 5GB |
| Dedicated IP | No | No | No | Yes |
| Backup (A built-in mechanism that allows you to generate and restore your site backups). | Basic | Basic | Advanced (for 1 year) | Advanced |
| Performance | Standard | Standard | Standard | High |
| Max. concurrent MySQL connections | 150 | 150 | 150 | 150 |
| Storage | 50GB | Unlimited | Unlimited | Unlimited |
| First-term prices | $2.95/month | $5.45/month | $5.45/month | $13.95/month |
| Renewal price | $9.99/month | $13.99/month | $18.99/month | $28.99/month |
Bluehost Pricing Table
Bluehost's prices and what each plan includes.
BASIC: You can only host one site with the BASIC plan. It has 10GB of SSD storage for your project (it has been decreased from 50GB to 10GB in June 2022), one domain and 25 subdomains, and five email accounts with 100 MB of disk space each. You should spend $2.95 per month during the first year. When you renew your account each month, you must pay $9.99.
PLUS: The Plus package gives unmetered bandwidth and unlimited websites with 20 GB SSD Storage. In addition, you will be given an infinite number of email addresses. The very first term begins at $5.45 per month. You must spend $14.99 per month to Renew your account.
CHOICE PLUS: This plan has all of the benefits of the Plus plan. You will then receive free domain privacy and automatic daily backups from CodeGuard as add-ons that cost more than $39 (239 for big websites) per year. The first term costs $5.45 a month. When you renew, you'll have to pay $18.99 every month.
PRO: The Pro plan is $13.95 per month for the first term, then $28.99 per month. It offers all of the features of the preceding plans as well as a dedicated IP address.
You can select any of these options if you are just starting up with your site. As your website grows, you may easily upgrade your hosting plan.
Renewal pricing for all Bluehost Hosting Plan
1. Shared Hosting:
| | | | | |
| --- | --- | --- | --- | --- |
| TERM | Basic | PLUS | CHOICE PLUS | PRO |
| Monthly Price | $14.99 | $19.99 | $24.99 | $34.99 |
| 3 Month Term | $13.99 | $18.99 | $23.99 | $33.99 |
| 6 Month Term | $12.99 | $17.99 | $22.99 | $32.99 |
| 1 Year Term | $9.99 | $14.99 | $18.99 | $28.99 |
| 2 Year Term | $9.99 | $13.99 | $18.99 | $27.99 |
| 3 Year Term | $9.99 | $13.99 | $18.99 | $26.99 |
Shared Hosting renewal price
2. Virtual Private Server (VPS) Hosting:
| | | | | |
| --- | --- | --- | --- | --- |
| Term | Standard | Enhanced | Premium | Ultimate |
| Monthly Price | $59.99 | $71.99 | $107.99 | $143.99 |
| 3 Month Term | $57.99 | $69.99 | $105.99 | $139.99 |
| 6 Month Term | $55.99 | $67.99 | $102.66 | $135.99 |
| 1 Year Term | $52.99 | $63.99 | $97.99 | $128.99 |
| 2 Year Term | $45.99 | $55.99 | $84.99 | $110.99 |
| 3 Year Term | $39.99 | $48.99 | $73.99 | $96.99 |
Virtual Private Server renewal price
| | | | |
| --- | --- | --- | --- |
| Term | Standard | Enhanced | Premium |
| Monthly Price | $169.99 | $239.99 | $289.99 |
| 3 Month Term | $164.99 | $229.99 | $279.99 |
| 6 Month Term | $159.99 | $219.99 | $269.99 |
| 1 Year Term | $149.99 | $209.99 | $259.99 |
| 2 Year Term | $135.99 | $189.99 | $229.99 |
| 3 Year Term | $119.99 | $159.99 | $209.99 |
Dedicated Server Hosting Renewal Price
| | | | |
| --- | --- | --- | --- |
| Term | Build | Grow | Scale |
| Monthly Price | $39.99 | $49.99 | $74.99 |
| 3 Month Term | $36.99 | $47.99 | $69.99 |
| 6 Month Term | $35.99 | $44.99 | $67.99 |
| 1 Year Term | $34.99 | $42.99 | $62.99 |
| 2 Year Term | $31.99 | $41.99 | $61.99 |
| 3 Year Term | $29.99 | $39.99 | $59.99 |
WordPress Pro Hosting Renewal price
For more details, visit the official Bluehost help section.
Is Bluehost the Best Hosting Option for You?
You might be thinking if Bluehost is the best option for your website after reading this review.
Bluehost is routinely rated as the top web host by several websites. and that they provide a wide range of hosting packages with a plethora of features that make it simple to build your website. Aside from that, all of their hosting packages include skilled specialists that provide professional 24-hour customer service.
Is that Right? We can state that They provide low-cost starter packages that suit all financial requirements. If you're just getting started, you can't go wrong with a Bluehost shared hosting package.
But if you compare Bluehost to other hosting providers, you will find that they are doing a better job than Bluehost, even if they are a little bit more expensive, like Dreamhost or Siteground. We agree that Bluehost is affordable and includes all of the essential tools. But you can find more affordable companies if you want high performance. Besides that, as your site grows, you can easily upgrade your hosting package.
Bluehost Customer Service and Support
We all require assistance from time to time. You must choose a web hosting service that offers help and guidance whenever you require it.
Bluehost's rich knowledge base includes a massive library of articles, step-by-step guidance, and video tutorials. This is a big benefit for novices, and most typical problems can be fixed quickly with a simple search.
You may need to speak with a professional to gain more assistance. Bluehost provides live chat and phone support 24 hours a day, 7 days a week.
One missing component is the ticket-based help system. Bluehost recently decided to phase out ticket-based assistance in favor of a more customized strategy of live chat support and phone support.
But, some customers may miss the ticket-based help system, which is especially useful if your problem cannot be fixed in a single live chat or phone session.
Ratings for Bluehost Shared Web Hosting
Evaluation
Rating
Feedback
Uptime
★★★★☆
In our tests, Bluehost worked brilliantly. This is essential for creating exceptional user experiences as well as SEO.
Backups
★★★★☆
Bluehost provides monthly, weekly, and daily backups that you may download and restore as a courtesy. So, just three backups, and they can't guarantee you'll have them—other companies have over 20 backups to select from.
If you want more backup choices (for example, on-demand backups), you may buy their expensive backup add-on.
Server Placement
★★★★☆
It appears that they only have data centers in the US. This may be inconvenient for customers outside North America; your website may run slowly from outside the USA and Canada.
CDN
★★★★☆
Bluehost does not provide a CDN. Cloudflare, on the other hand, is pre-integrated, so you can quickly enable it – and we highly recommend that you do.
Server Performance
★★★★☆
Bluehost's speed seems to have been poor in our experience; at this price point, it should provide more.
Utilization Ease
★★★★☆
The registration procedure is quite difficult; We believe their forms are confusing and made to mislead you into purchasing pricey extras that you will not use. They redesigned their backend in 2019, and it is now a simple cPanel customized version. Their constant upsell proposal banners, popups, and hidden links, on the other hand, may annoy you. If you don't require their extensions, you can just uncheck them. It's nice until you become used to all of it.
Tools
★★★★★
You may add applications such as WordPress, Drupal, Joomla, and Magento using their automated installation. Keep in mind that their WordPress installer will install several plugins that you will most likely not want; ensure that you uninstall them after the installation.
Email Evaluation
★★★★☆
The BASIC plan limits you to five email accounts and 100 MB of email storage, while higher options allow for limitless storage. It is important to note that you won't be able to deliver more than 500 emails every hour, making it inappropriate for bulk mailing.
Webspace Limitation
★★★★★
The most BASIC shared plan has 10 GB of web space, which isn't bad. Storage is not metered in the other packages. The maximum number of files allowed, unfortunately, is 200,000. (The Pro plan includes 300,000 files.)
Server Functions
★★★★★
PHP 7.3, 7.4, and 8 are all supported. MySQL 5.6 is used to run the database. Other scripting languages, such as Perl or Ruby on Rails, are also permitted.
Databases
★★★★★
You can build up to 20 databases using the basic plan. Other options include infinite databases. The maximal database size is a hefty 5GB. and the maximum usage is 10GB
Guarantees and Refunds
★★★★☆
It comes with a 1-month money-back guarantee with no questions asked. They don't appear to give any uptime assurances, unlike top hosting services such as Dreamhost and A2hosting.
Domain Name
★★★★☆
Bluehost's service includes free domain name registration for the first twelve months. Following that, you will pay $18.99 per year. Be advised that their basic plan only enables you to have one site (a domain name), while their other plans allow you to have an infinite number of sites (domains).
Secure FTP and FTP Accounts
★★★★★
Create as many FTP connections as you want. Keep in mind, however, that SFTP (secure) is only possible with the principal FTP account.
Security Options
★★★★★
Bluehost provides a few extra premium security add-ons. SiteLock, for example, protects against hacker threats, while CodeGuard expands your backup choices. We appreciated that they had an optional two-factor authentication mechanism, which means that even if a hacker cracks your password, they will not obtain automatic access to your Bluehost account.
Help and assistance
★★★★★
You may reach customer service by live chat or phone. The support workers were kind and helpful, but We wish they had a more convenient way to verify account owners.
Maximal Monthly Data Transfer
★★★★★
It is not metered.
Overall Score
★★★★☆
Although Bluehost's performance and system are excellent, We believe they need more improvement in their services. many other low-cost alternatives can give you more performance at fewer costs. However, if you believe that Bluehost is the best hosting for you, you can get a 60% discount and a free domain with our Bluehost coupon code. When you click on this link, the discount is automatically applied.
The Best Bluehost Alternatives
Okay, if you go with Bluehost, your site will probably be fine, at least if your visitors are mostly from North America.
However, it is not the cheapest choice available, and we believe that for the same money, you might find better-performing web hosts with sophisticated features (e.g., backup or staging areas).
If you want a hosting provider that is both inexpensive and good, we recommend DreamHost, GreenGeeks or Hostinger, or any other Low-cost hosting providers that are less expensive and operate as well as or more than Bluehost.
However, If you want a hosting provider that gives you high efficiency without considering the price, In our experience, SiteGround is the cheapest among all other top-performance providers like Cloudways, Kinsta, WP Engine, or any other High-Performance Hosting provider. SiteGround has a handful of key features that make it significantly superior (e.g., Unmetered Traffic and more backup options).
All of these services will support WordPress. On the other hand, SiteGround and DreamHost provide the greatest framework for empowering WordPress site owners with built-in caching plugins and speed optimization options.
If you still want to use Bluehost, keep in mind that you can do so for free for the first 30 days.
We also made Bluehost vs HostGator comparison so you can determine which EiG package is best for your project.
FAQs
Can I use WooCommerce to build an online store using Bluehost?
Of course, You can use Bluehost to create a WooCommerce store. Their starter package is ideal for launching an online business.
Nevertheless, bear in mind that when your business grows in popularity, you will need to expand. Hopefully, you'll be generating enough money by then to warrant the upgrading expenditures.
Is Bluehost simple and easy for beginners?
Yes. Bluehost is among the market's most user-friendly WordPress hosting providers. Once you sign up, they will install WordPress for you right away. They also feature a user-friendly Cpanel (control panel) that allows you to manage your hosting account on your own.
There is a lot of assistance available in the Bluehost Knowledge Base. You can find manuals, video lessons, and articles. You may also contact their support team by live chat or phone at any time.
Can Bluehost manage a huge volume of traffic?
Their shared hosting services are appropriate for beginning websites and small companies. In our stress test, their shared hosting package handled 100 virtual users without a hitch.
These strategies can handle both regular and unexpected traffic increases. They are, unfortunately, still severely constrained in server resources. If you anticipate heavy traffic, you'll need to improve your hosting package or choose another High-performance hosting provider.
Why should you choose Bluehost for your WordPress site?
Bluehost is recognized as one of the world's leading hosting providers in the last few years. and an official WordPress hosting provider. They have been assisting the WordPress community for a long time and are well-versed in WordPress.
Their technology is designed to run WordPress at top performance, and it's well-optimized for WordPress websites if you receive a small amount of traffic per month (<50,000).
If you receive more, you may counter some problems and you will need to upgrade your plan. They also have WordPress experts on their staff, so you can be certain that your website is in good hands
Is a credit card required to sign up with Bluehost?
Bluehost supports credit cards, but you can reveal more payment choices during checkout and pick PayPal as your payment method if you like.
Is Bluehost superior to GoDaddy?
Bluehost is superior to GoDaddy because we feel Bluehost's assistance is superior. Their My Sites dashboard and general onboarding process are far more user-friendly for beginners. Furthermore, Bluehost provides better pricing and better services for small enterprises.
How does Bluehost stack up against SiteGround and HostGator?
There are various benefits and downsides to consider when comparing Bluehost to SiteGround and HostGator.
When compared to SiteGround, Bluehost provides better value for the money Bluehost's monthly plans begin at $2.95 and offer a free domain, whereas SiteGround's prices begin at $3.99 and do not include a free domain. (keep in mind that the renewal price in Bluehost is expensive, we recommend you buy your domain name using Namecheap, it's cheaper and more user-friendly when it comes to transferring your domain or linking it to another platform).
SiteGround services, on the other hand, are speedier and more secure.
Bluehost and HostGator (both of them are owned by the same company (EIG)) are extremely equal in terms of hosting CPU functionality, site migration tools, resources, pricing, and more. Bluehost is also more comparable to shared hosting providers like Inmotion and Dreamhost. Because all these three providers have worked significantly on their WordPress website builder platform.
Where do Bluehost's servers reside?
Bluehost operates its cloud services in Utah, USA. The main data center would be a massive 50,000-square-foot structure.
Which Bluehost plan should I choose?
We recommend beginning with their BASIC plan if you are simply getting started with a website, blog, or online business. It's excellent for a first website, and you can always improve later.
Conclusion
Now, after you read our in-depth review, you seem to be ready to get started with Bluehost. Go here to select your Bluehost plan. Incomenia members enjoy a 60 percent discount and a free domain with our Bluehost coupon code. When you click on this link, the discount is automatically applied.
If you have any questions about this topic, don't hesitate and leave us a comment below. Thanks for reading.