Choosing the best hosting company while creating a website is a crucial step. All the work you will do later on your website will go in vain if you choose the wrong company. Many beginners find this step too intimidating due to the variety of hosting providers that can be found online. We believe that a hosting provider should have three main characteristics. speed, and its most important one, security, and 27/7 Support. and for that we choose SiteGround.
Before we begin, you are probably asking, What is SiteGround and why do you need to choose it as your web host?
SiteGround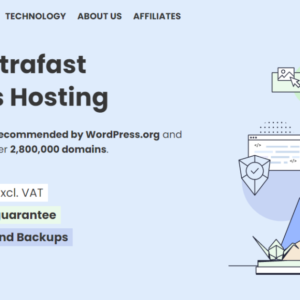 SiteGround is a well-known and highly rated hosting company in the WordPress community. They offer one-of-a-kind in-house WordPress speed and protection solutions so that your site is as quick and safe as possible. They are regarded in the market for providing the best 24/7 assistance, and that is why they are an official "WordPress" recommended hosting provider. SiteGround options include regular updates, daily backups for data loss prevention, integrated WordPress caching, unlimited CDN, free SSL, one-click staging, and GIT version control. With 6 data centers throughout the United States, Europe, Asia, and Australia, they are currently one of the few companies that offer location-specific hosting.
Product Brand: SiteGround
Product Currency: USD
Product Price: 3.99
Product In-Stock: InStock
We understand that this review may be too lengthy for some readers, so we tried hard to include all of the important elements of SiteGround. You may use the table below to browse this content if you don't want to keep reading:
What is SiteGround?
SiteGround is a Bulgarian hosting provider founded by college students in 2004. It has grown significantly ever since, and it presently has over 500 staff and approximately 2 million domains. They are presently one of the most highly recommended WordPress hosting providers. They are also recognized for their excellent customer service, as well as their reliable and quick hosting services. Their WordPress hosting package offers everything you'll need to start and build a successful site or blog.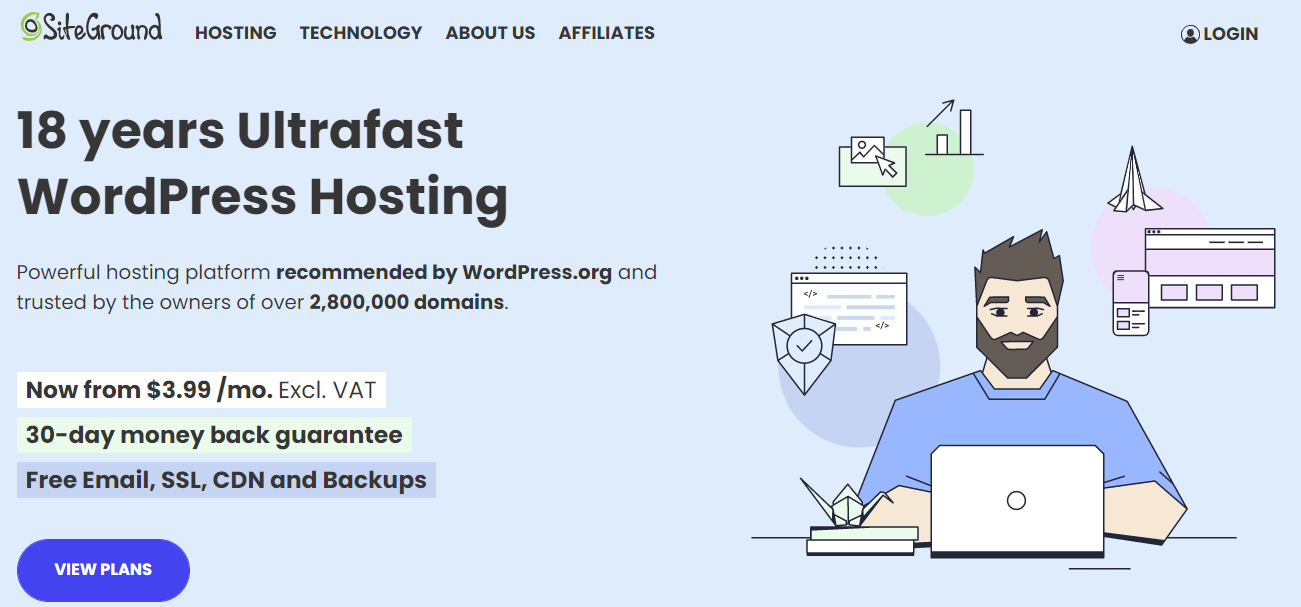 Their technical support crew is accessible 24 hours a day, 365 days a year. According to their site, they also appear to place great importance on loading speed.
There is indeed a lot to consider, and SiteGround promises several advantages. But is everything true? We decided to create this SiteGround review after testing the SiteGround Shared hosting solution on our test site. We hope it helps you decide if it's the best choice for your site.
We'll put their claims to the test in our in-depth SiteGround review.
Keep reading our whole SiteGround review to find out if SiteGround is the right host for you. The following are the topics we will look into:
Price: How much will it cost you? Are there any SiteGround coupons that you can use to save money?
Speed: Performance is crucial for the success of any website. How fast does your SiteGround website load?
Functionality: Do they have all of the features and tools you'll need to build your website?
Support: Can you rely on their customer support?
Uptime: Can your website be online 24 hours a day, seven days a week?
Keep in mind:
We found SiteGround to be substantially speedier and more dependable than competitors. Their hosting options are customizable, and their customer service is among the finest in the market. That is why we propose SiteGround as one of the finest WordPress hosting companies.
So, let's go into our in-depth SiteGround review so you can understand how we arrived at that decision and decide for yourself.
SiteGround Advantages and disadvantages
Here are some of the benefits that have helped SiteGround become one of the world's top hosting businesses.
Pros
Exceptional uptime: SiteGround has some of the industry's highest availability rates (nearly 100 percent). We'll talk through this in more depth later.
Servers that are lightning fast: All SiteGround servers are well-tuned for speed. They employ the Google Cloud platform for all new clients, which is one of the quickest platforms on the market. SiteGround servers are also faster than average due to the hardware they utilize (e.g., SSD storage) and the software solutions (e.g., SG Optimizer and HTTP/2).
Excellent Customer Service: To say the least, their customer service is outstanding. They provide phone support, live chat, and ticket-based support around the clock.
free CDN and SSL certificate: They provide rapid deployment of Cloudflare's free CDN and a free Let's Encrypt SSL certificate.
Several Server Locations: They have data centers on four different continents. During registering, you may select your preferred location. among servers in the United States, Australia, Asia, and Europe.
Simple and straightforward to use: The system is simple to use and the functions are properly integrated.
Advanced functions: SiteGround provides services that other web servers do not provide. For example, staging, Git repositories, and internal caching. Free integrations with Cloudflare and Let'sEncrypt are also available (for a free SSL certificate).
Collaborators: With SiteGround, you may add new users who will have access to the many websites you administer.
Unrestricted traffic: They do not track the visitors to your website. so, you have Unmetered Traffic as long as your plan is in the line with SiteGround fair use guidance
Cons
As previously said, every hosting provider has certain disadvantages. The following are some downsides to using SiteGround as your host.
Limited Storage: Their plans include limited storage. However, this storage is pretty vast, and if you are just starting, you will almost certainly never require additional storage. This would only be a problem on bigger sites.
Larger monthly billing fee: If you pick monthly billing, the hosting service becomes more expensive. However, if you sign up for a longer billing term, you will receive a larger discount and pay a lower cost. They do give a 30-day money-back guarantee, so it's a good idea to sign up for a longer payment term.
Price: We believe that SiteGround provides a reasonable price-quality ratio, although it is not the lowest on the market.
Paid for migrations: If you want a SiteGround customer service specialist to handle your website migration, you must pay $30. You may utilize a free WordPress migrating plugin.
SiteGround Hosting Plans and Options
SiteGround's hosting plans include shared hosting, Managed WordPress hosting, cloud hosting, and dedicated hosting. If you are just getting started, their shared hosting options might be ideal for you. However, when your site grows, you'll want to be sure that they have alternative plans to which you may upgrade.
Let's take a look at SiteGround's hosting packages and capabilities.
Shared hosting: it's ideal for new sites, bloggers, small company websites, or a starting online store. Because you will be sharing resources with other websites housed on the server, it is best suited for low-traffic websites.
Managed WordPress hosting: This plan is an optimized version of their shared hosting plan for WordPress. It includes SiteGround's in-house WordPress optimizations to boost your website's speed.
WooCommerce hosting: This plan is an optimized version of their shared hosting plan for WooCommerce. It incorporates SiteGround improvements that significantly boost the efficiency of your online store.
Cloud hosting: this plan provides a dynamic upgrade to shared hosting solutions. It enables you to leverage cloud technology resources such as numerous cores, CPU, and bandwidth. It is appropriate for expanding websites, popular blogs, and enterprises. It can also act as an improvement over VPS and traditional dedicated servers.
SiteGround's Shared Hosting Plans Explained
You may inquire. What can I anticipate from each SiteGround web hosting package?
SiteGround hosting has three shared hosting plans that, in most situations, meet the demands of the majority of customers—unless you have a really large website. It's worth noting that all of the plans have the following qualities in common:
They don't place any restrictions on the amount of traffic that your website may receive. However, if you have a large number of monthly visitors (e.g., above 400,000), shared hosting may not be sufficient.
SSD storage and its cache system.
Databases and an infinite number of email addresses.
24-hour phone, chat, and email support.
A 30-day money-back guarantee.
Naturally, not all SiteGround plans are created equal. The primary distinctions between them are discussed further below.
The shared hosting solutions from SiteGround are the best approach to starting a new website. Their shared hosting services are offered in three distinct tiers to accommodate various budgets.
Startup: This plan only allows you to host one website. It comes with 10 GB of disk space and is adequate for hosting a website with 10,000 monthly visitors. You'll also receive 1-click WordPress installation, free setup, website transfer, daily backups, built-in cache (SuperCacher), free CDN, free SSL, and more benefits.
GrowBig: The GrowBig package allows you to host an infinite number of websites. It includes 20 GB of disk space and is suited for hosting websites with 25,000 monthly visitors. You'll have all of the Startup plan's capabilities plus premium extras like superfast PHP for even quicker speed, on-demand backups, an easy staging tool, and the ability to add collaborators to your sites.
GoGeek: The GoGeek plan is appropriate for e-commerce websites. It is capable of handling websites with 100,000 monthly visits. In addition to all of GrowBig's functions, you'll receive special support, more server resources, advanced capabilities such as one-click git repo creation, and the ability to manage white-label clients on your sites.
Each Siteground plan includes speedier disk storage, email accounts, support for the free Cloudflare content delivery network, and a free SSL certificate from Let's Encrypt.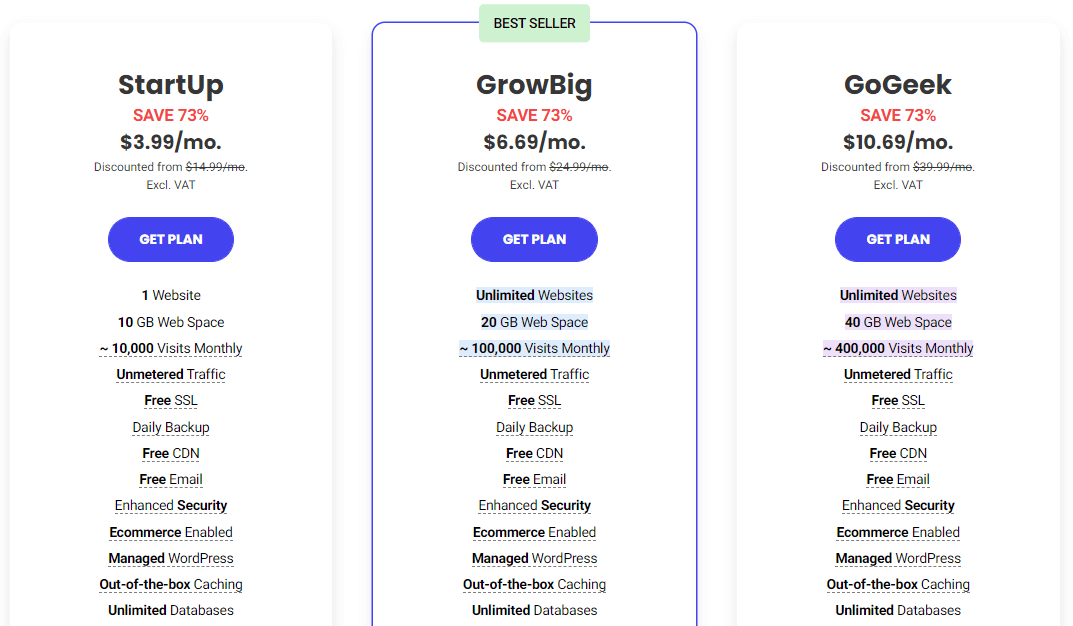 The SiteGround pricing shown below is for their most popular option, shared hosting. SiteGround provides other web hosting alternatives (such as cloud hosting plans), the prices of which may be seen here.
| | | |
| --- | --- | --- |
| SITEGROUND FEATURES | GrowBig | GoGeek |
| First term price | $6.69/m | $10.69/m |
| Renewal price | $24.99/m | $39.99/m |
| Support | Phone, email, and live chat | Phone, email, and live chat (Priority support) |
| SSL certificate | Yes | Yes |
| Priority support team | No | Yes |
| Websites hosted | Unlimited websites | Unlimited websites |
| Monthly Visitors | Unlimited | Unlimited |
| Database | Unlimited Max. size 1 GB | Unlimited Max. size 1 GB |
| Inodes | 400,000 | 600,000 |
| Daily backups, Caching & Staging | 30 days, static & dynamic caching | 30 days, static & dynamic caching |
| Storage | 20 GB | 40 GB |
| Free domain included | No | No |
| Subdomains, FTP accounts, email accounts, and bandwidth | Unlimited | Unlimited |
| CDN (Content Delivery Network) | Free version included | Free version included |
When should you utilize SiteGround hosting?
SiteGround provides unrivaled services, and I wholeheartedly recommend them. It's excellent for serious projects, and if you want more performance in the future, you can switch to one of its premium hosting plans (e.g., cloud hosting or dedicated servers). I particularly suggest it for:
Online stores (WooCommerce hosting is available from SiteGround).
Bloggers who are professionals.
Websites that operate on WordPress need to have managed WordPress hosting services.
websites for large corporations.
developers and designers who value quality and excellent customer service.
Those seeking functionality such as staging, Git repositories, or SSH access.
Anything that will necessitate high-performance options in general.
When should you avoid using SiteGround hosting?
Even though this hosting provider caters to a wide range of profiles, it may not be the ideal solution in some circumstances, such as:
If you are seeking low-cost web hosting.
If you need Windows-based servers, check out InMotion Hosting or A2 Hosting).
If you want a large amount of web space yet have a limited budget.
SiteGround capabilities
| | | |
| --- | --- | --- |
| DOMAIN NAMES | ★★★★☆ | You can establish an infinite number of subdomains. It is possible to access more than one domain name. Keep in mind that the StartUp plan allows for only one website, whereas the other two options allow for an infinite number of websites. You may also put your websites on a free SiteGround subdomain, which might be useful when developing test sites. |
| SERVER FEATURES | ★★★★★ | They make use of PHP. PHP 7.3, 7.4, 8.0, and 8.1 are available. With the most expensive package, you may utilize a quicker version of PHP known as Ultrafast PHP. The databases may be managed using MySQL or PostgreSQL. The PHP memory limit for SiteGround Shared hosting plans is 768M. If you require more, you must purchase SiteGround Cloud or dedicated hosting plans. |
| REFUNDS AND GUARANTEES | ★★★★★ | They guarantee 99.9 percent uptime and will pay you financially if they do not. They provide a 30-day money-back guarantee. |
| EASE OF USE | ★★★★☆ | The backend of SiteGround is simple to navigate. It's easy to use, and you won't get lost on any of its pages or subpages. The hosting is managed using its dashboard, which you may personalize to meet your demands (e.g, decide to show some sections or not). Their backend appears to be highly current; it was renovated in 2019. |
| ASSISTANCE AND SUPPORT | ★★★★☆ | You might contact SiteGround's tech support by live chat, phone, or email. Our user's experience with their assistance was excellent. They also include a ton of support material and easy-to-follow guidelines, but those might be a little more comprehensive at times. |
| EMAIL RATING | ★★★★★ | They provide an unlimited number of email addresses. You may also connect your email service to other services, such as Gmail. |
| CDN | ★★★★★ | The first one is Siteground CDN, which was just introduced. There is a free package that provides up to 10 GB of bandwidth. If you go over that limit, you may upgrade to the premium edition for $14.99 per month. Cloudflare is an option that provides an easy and direct connection with Siteground. You have more options and no bandwidth restriction. All of this is included in Cloudflare's free plan. |
| APPLICATIONS | ★★★★★ | You may install hundreds of programs using their dashboard, including Magento, WordPress, Joomla, Moodle, ZenCart, Drupal, and more. The installation process is quite simple and it will only take a few moments. |
| MONTHLY DATA TRANSFER LIMIT | ★★★★★ | There are no data transmission restrictions. |
| UPTIME | ★★★★☆ | The SiteGround servers are quite reliable. Furthermore, if it falls below 99.9%, they will refund a portion of your monthly fee. In the previous five years, they never fell below 99.97 percent. |
| SERVER LOCATION | ★★★★★ | They have multiple data centers spread across four continents, with SiteGround servers notably situated in Iowa, Frankfurt, The Netherlands, the United Kingdom (London), Singapore, and Sydney. |
| DATABASES | ★★★★☆ | Users can build as many databases as they wish, but each database can only be 1 GB in size. If you want extra, you can buy limitless SiteGround Cloud hosting. MySQL and PostgreSQL will be available. |
| SERVER SPEED | ★★★★★ | They employ speedy SSDs—few web hosting companies are quicker. All SiteGround plans have a caching mechanism for your fresh content, which significantly increases performance. Their loading times are excellent, as demonstrated by our Webhosting company's testing. |
| FTP ACCOUNTS AND SECURE FTP | ★★★★★ | You may set up as many FTP connections as you require. Connections through SSH and SFTP are also available. |
| BACKUPS | ★★★★★ | They perform daily backups. If there is an emergency, you can request that one of the last 30 be restored. You'll have more choices for making and retrieving your backups with the GrowBig and GoGeek plans. |
| WEBSPACE LIMIT | ★★★★☆ | The StartUp package includes 10 GB of server space (and 200.000 inodes), the GrowBig package includes 20 GB (and 400.000 inodes), and the GoGeek package includes 40 GB (and 600.000 inodes)—the inode count is equivalent to the total number of files hosted in the system. |
| SECURITY FEATURES | ★★★★☆ | SiteGround separates all customers, so you won't be affected if you have a susceptible IP neighbor. Let's Encrypt may be used to add a free SSL certificate to any SiteGround subscription. You may also activate 2-factor authentication to provide further protection to your SiteGround account and utilize the WordPress-specific security plugin they created and manage. |
| OVERALL RATING | ★★★★★ | SiteGround is fantastic. Its speed is excellent, and its availability rates are phenomenal. However, keep in mind that it is not the most cost-effective service. You may test SiteGround for a month and get a refund if you're not happy. |
What does the SiteGround dashboard look like?
At the start of 2020, SiteGround switched from its old (but decent) cPanel to a more contemporary approach. we must mention that we appreciate the new system; it looks a lot prettier than cPanel and is easy to use.
Aside from the new look, our favorite dashboard (called Site Tools) improvement is that sites are now managed (controlled) independently. This means that each website will have its admin panel, which makes things easier if you have a lot of projects hosted on SiteGround (e.g. you can back up one site as opposed to having to back up the whole account).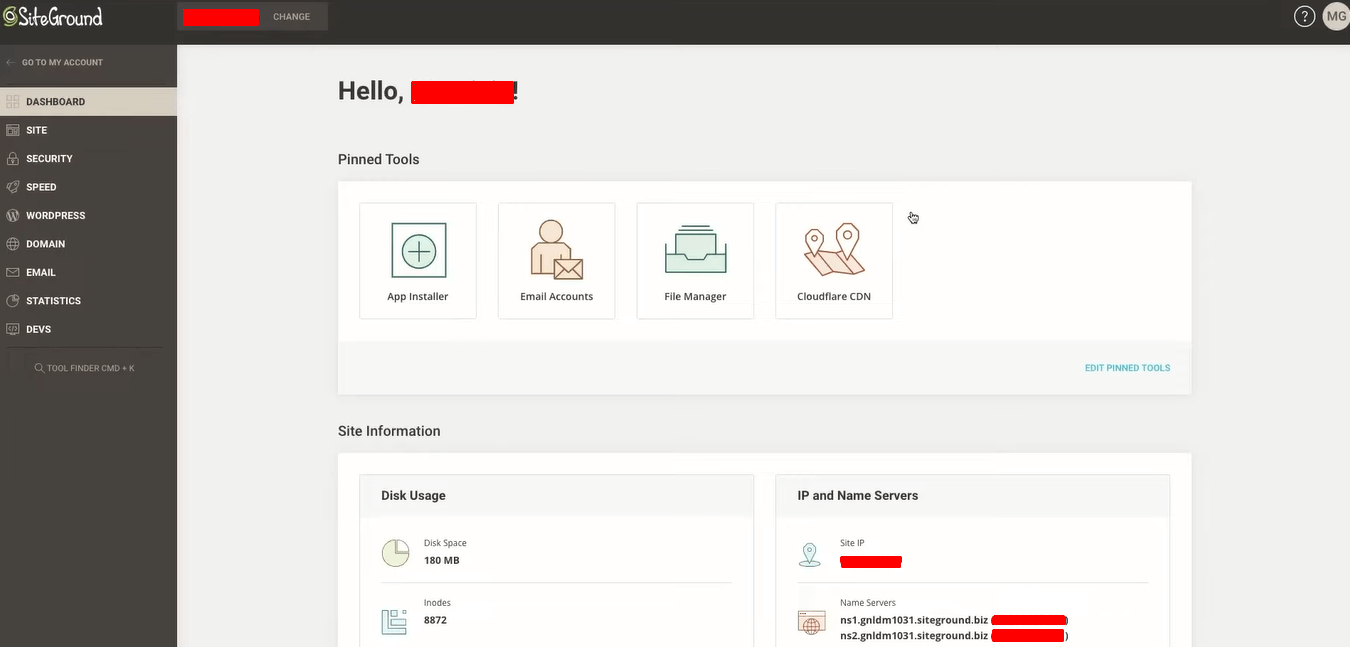 Furthermore, you may add multiple users to your admin dashboard and give them certain sites and responsibilities. As you may expect, this is a game changer for large teams and organizations since they will be able to provide access to customers.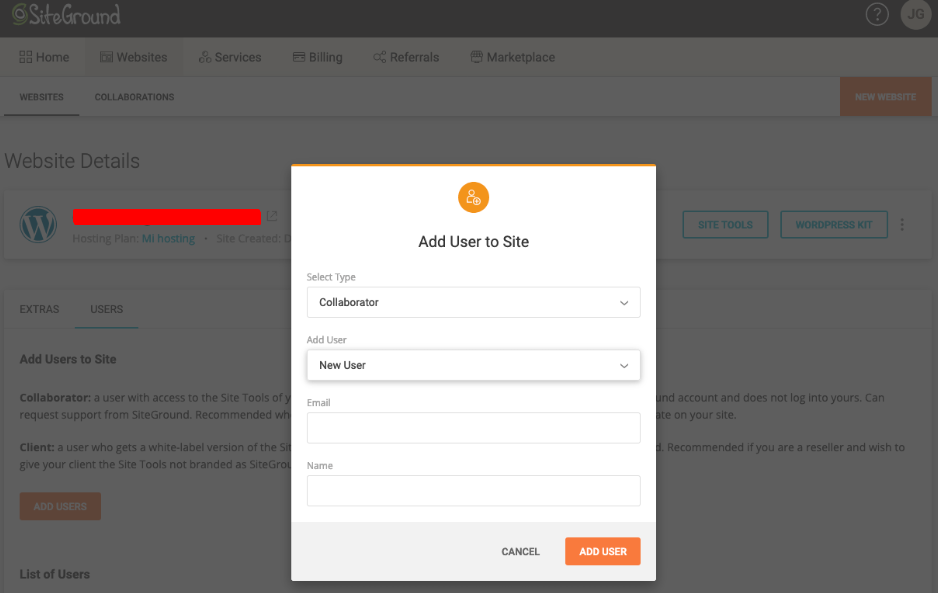 SiteGround's Backup Strategy
We believe that backups are among the most important characteristics of a hosting provider, along with performance and a solid customer service team.
True, you can link to a third-party backup provider (such as UpdraftPlus for WordPress hosting), but we believe that having it integrated with your server is more efficient and simpler to maintain.
So we checked SiteGround's backup mechanism carefully, and we must say that it is the finest we've seen for providers in this pricing range, you may also consider WPEngine, but it is somewhat more expensive.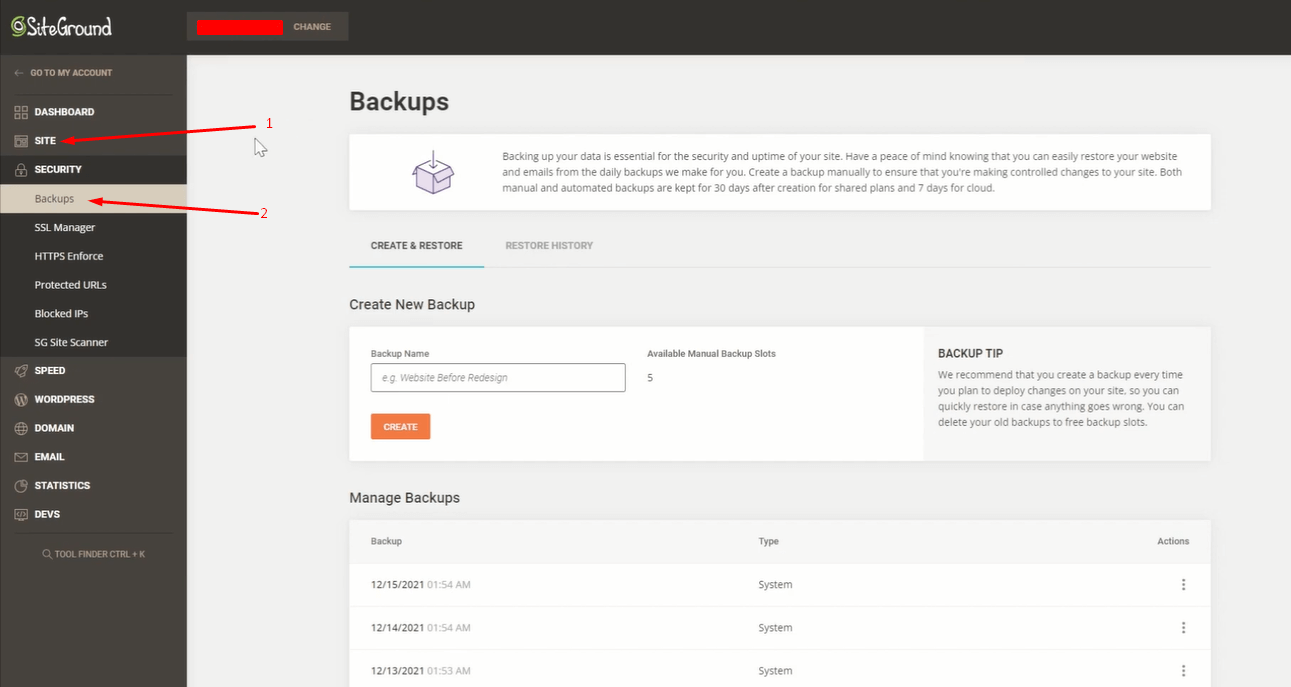 If you want to Backups your files, all you need to do is:
Click on the three dots in the Backups section (explained in the photo below).
select Restore all Files and Databases.

What we enjoyed about it was as follows:
Backups for each website are maintained separately, so you may generate a backup for just one of your websites rather than having to create backups for all of your SiteGround-hosted websites.
The backup option is deeply integrated into the SiteGround platform. As a result, no external system that might cause conflict must be employed.
For those delivering code or system and plugin changes, the ability to make on-demand backups is a dream come true. You can make a backup for your peace of mind before proceeding.
Backups are pointless unless they can be easily and quickly restored. SiteGround only requires a few mouse clicks.
Lastly, the on-demand and restoration backup solutions are offered at no additional cost in the GrowBig and GoGeek plans, other web hosting companies charge for similar (or even worse) functionality.
There are a few things we want to change, such as the quota restriction of 5 manual backups per website (you'll have to delete an old one if the limit is reached), and there's no option to download your backups; you can only restore them.
Keep in mind
that sophisticated backup features (creating on-demand and restoring) are only accessible with the GrowBig and GoGeek subscriptions. The entry-level plan includes 30-day backups, but you must call customer assistance to recover them; there is no on-demand backup.
SiteGround Speed Test Outcomes
Uptime checks
StatusCake (a program that checks each website every 5 minutes) was used to determine the availability (uptime) of SiteGround's servers. The fewer interruptions there are, the better. It is recommended that uptime rates exceed 99.95 percent.
SiteGround's uptime stats are remarkable, much better than most of their direct competitors. Only Cloudways and Kinsta outperform them in terms of uptime.
| | | | | |
| --- | --- | --- | --- | --- |
| PROVIDER | 2020 UPTIME | 2021 UPTIME | 2022 UPTIME | STARTS AT |
| Kinsta | 100% | 100% | 100% | $35/month |
| Cloudways | 100% | 100% | 100% | $10/month |
| SiteGround | 99.98% | 99.97% | 100% | $14.99/month |
| Namecheap | 100% | 100% | 100% | $2.40/month |
| WP Engine | 99.99% | 99.99% | 99.99% | $25/month |
| Bluehost | 99.98% | 99.96% | 99.99% | $9.99/month |
| HostGator | 99.94% | 99.91% | 99.99% | $8.95/month |
| A2 Hosting | 99.93% | 99.99% | 99.98% | $8.99/month |
| GreenGeeks | 99.98% | 99.98% | 99.98% | $10.95/month |
| DreamHost | 100% | 99.99% | 99.96% | $6.99/month |
| GoDaddy | 99.97% | 99.90% | 99.96% | $8.99/month |
| InMotion | 99.97% | 99.73% | 99.95% | $13.99/month |
| IONOS | 99.92% | 99.93% | 99.93% | $4/month |
| Hostinger | 99.75% | 99.90% | 99.95% | $5.99/month |
| iPage | 99.66% | 98.45% | 99.85% | $8.99/month |
Quick comparison Between SiteGround Uptime checks and other hosting providers.
And if your availability goes below 99.9%, this hosting service will return you a portion of your money. If availability is a problem for you, SiteGround is a reliable hosting company.
Is SiteGround quick?
One of the most crucial performance metrics to consider is speed. A quicker website provides a better user experience while also improving your SEO.
A single-second delay can result in a 7% loss in conversions, an 11% fall in page visits, and a 16% decrease in customer experience.
On SiteGround, we built a WordPress-powered test site and loaded it with dummy material for theme development, including photos.
Following that, we ran our tests using Pingdom's website speed test tool. We received the following results:

As you can see, our test site loaded in under a second (491 ms to be exact) and received a performance score of 94.
This is amazing, but because this website had little traffic, the Pingdom test alone was insufficient.
We utilized a program called K6. to see how SiteGround servers would react to increasing demand.
This program sends up to 100 users at a time to observe how the server reacts to increasing traffic from numerous connections.
The findings are shown in the graph below: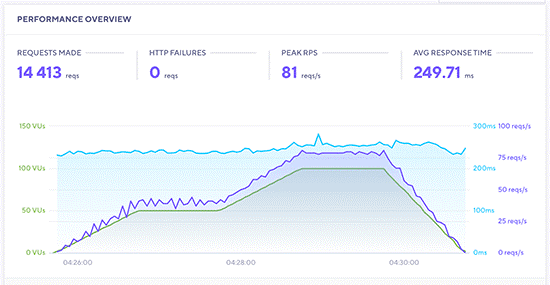 The green line represents the number of current virtual users on the site, while the blue line represents the server response time. SiteGround operated well during the testing period.
This test demonstrates that if you need a super fast website, SiteGround is an excellent solution.
One of the reasons SiteGround did so well in our performance tests is the latest advancements they've implemented.
The Google Cloud Platform now hosts almost all SiteGround servers. They've also included UltraFast PHP and a unique WordPress plugin for optimization (SG Optimizer), putting them squarely in the premium web hosting category.
In our experience, SiteGround is without a doubt one of the quickest and most dependable web providers. Its loading time is remarkable when compared to another web hosting.
| | | | | | |
| --- | --- | --- | --- | --- | --- |
| WEB HOST | PINGDOM | GTMETRIX | PAGESPEED INSIGHTS | WEBPAGE TEST | TOTAL |
| SiteGround | 0.71 | 0.71 | 1.78 | 2.94 | 1.54 |
| GreenGeeks | 1.49 | 0.81 | 1.79 | 2.2 | 1.56 |
| Namecheap | 1.40 | 0.99 | 1.92 | 2.08 | 1.60 |
| Hostinger | 2.07 | 097 | 1.77 | 1.62 | 1.61 |
| WP Engine | 1.99 | 1 | 1.46 | 2.2 | 1.65 |
| Cloudways | 1.39 | 0.80 | 1.89 | 2.84 | 1.73 |
| Kinsta | 2.18 | 0.78 | 2.17 | 1.98 | 1.77 |
| DreamHost | 1.72 | 1.16 | 2.56 | 1.92 | 1.84 |
| GoDaddy | 2.27 | 1.14 | 2.23 | 2.1 | 1.94 |
| IONOS | 2.08 | 1.21 | 1.74 | 2.78 | 1.95 |
| A2 Hosting | 1.40 | 0.96 | 3.78 | 1.9 | 2.01 |
| InMotion | 2.86 | 0.02 | 2.61 | 3.52 | 2.75 |
| iPage | 2.82 | 1.76 | 2.73 | 3.74 | 2.76 |
| HostGator | 5.21 | 2.4 | 1.87 | 1.65 | 2.78 |
| Bluehost | 4.5 | 1.74 | 2.42 | 2.82 | 2.87 |
Results are obtained in seconds.
As you've seen, SiteGround's loading times are extremely outstanding, and they came out on top in all of our tests; in fact, they have always had top results in the last five years. This is fantastic news, as our research repeatedly demonstrates the significance of website performance for SEO, User experience, and conversions!
The WordPress Hosting Optimization Plugin by SiteGround
SiteGround provides a WordPress plugin for optimizing websites that makes it simple for WordPress users to optimize their websites. It's incredible—it accomplishes the work of three or four plugins. Aside from customizing your website's cache parameters, SiteGround WordPress hosting also provides choices for:
HTML, CSS, JavaScript, and pictures are compressed.
Browser cache optimization
Compression with GZIP
CSS file combination.
Lazy loading images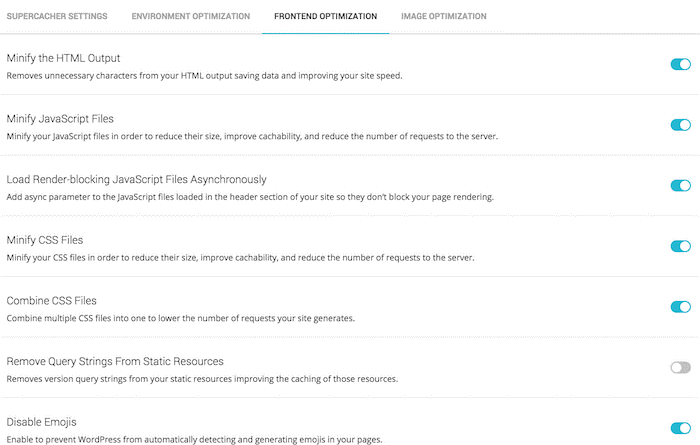 The outcomes are outstanding. That is why I believe SiteGround is one of the fastest web hosting providers We have ever used. We strongly suggest it if you require high-speed WordPress hosting for your project.
CDN examinations
Even though SiteGround now has its CDN, we argue that having CloudFlare's CDN pre-integrated is one of SiteGround's benefits. Cloudflare is a popular service that provides a fully free account. Although the free plan has certain limits, it can considerably enhance your loading speed.
We tested how a single webpage loads with and without the CDN enabled. The test website is hosted on a server in England, and we wanted to see how it loaded from a different location. For this reason, we elected to perform load testing in Dallas. We used the free Pingdom program.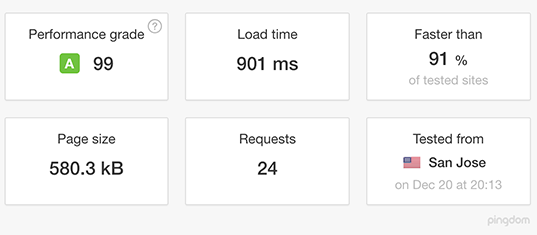 We can see that even without the CDN, the results are satisfactory. The whole loading time was 0.9 seconds. We loaded 580.3 kb, and it earned 99 out of 100 scores.
The following are the results with the CDN enabled: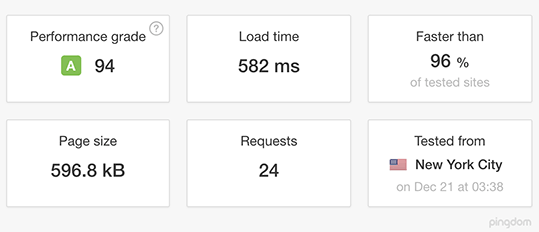 When we repeat the test with Cloudflare's CDN enabled (in its free version), the loading time improves by approximately 0.4 seconds. The page size increased by about 16 kb, but our final loading score is 94. it's not like the first test but it is faster.
So, if you're going to utilize SiteGround for your website, you might want to enable Cloudflare's CDN. Even the free version will assist in enhancing the speed of your website.
If you have any questions about this topic, don't hesitate to leave us a comment below. Thanks for reading.