There are several business ideas for making money online, but the majority of these ideas, such as affiliate marketing or selling things online, might be difficult for certain newcomers. Fortunately, there is one simple method to begin earning money online, and that is by blogging.
However, the most typical question from newcomers is, "How will I make money blogging online in 2023?" "Is it difficult to start blogging?" Some think, "How can I start blogging for free?"
We will attempt to address all of your questions in this article, which may be too long for you to read. If you don't want to keep reading, you may use the table below to browse the article.
What is Blogging?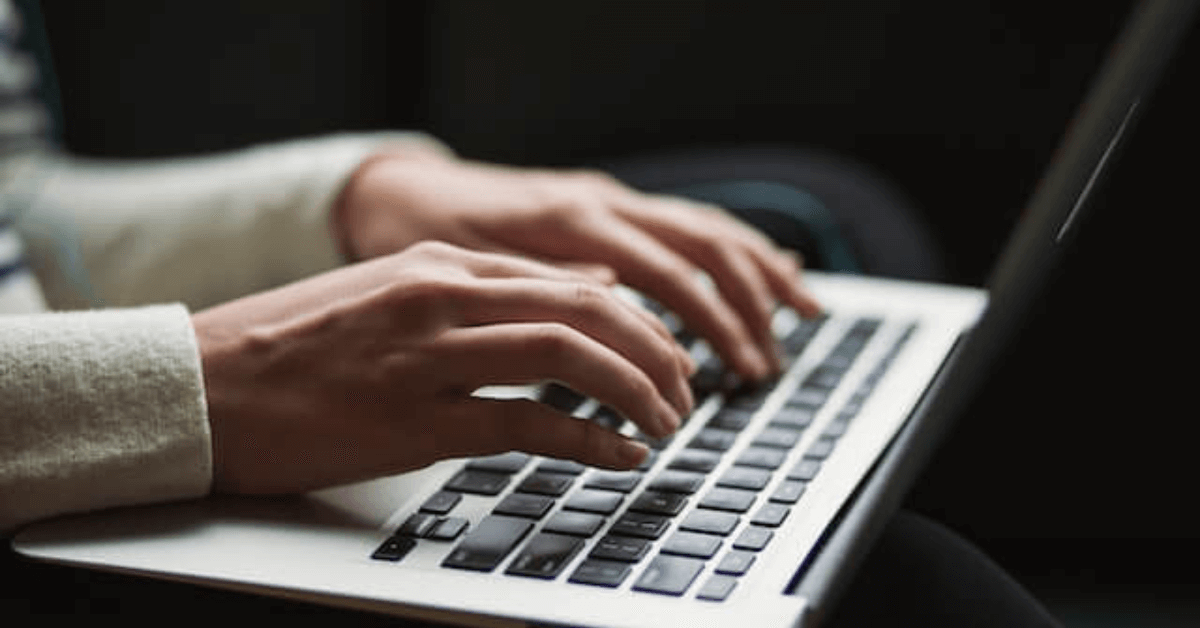 Blogging has evolved into a common method for people to express their ideas and interact with a worldwide audience. You can easily start your blog with blogging services such as Medium and Tumblr, by making your own personal website with WordPress or Blogger, or by using website builders such as Squarespace, Wix, or Strikingly.
It has also become a legitimate method of making money online, However, to make money blogging, on the other hand, takes time, work, and attention. It does not happen immediately; many impatient people begin their blogging journey but do not complete it due to a lack of patience and dedicated effort.
In this post, we'll teach you how to get started blogging correctly, as well as look at the numerous methods bloggers may monetize their blogs and convert their passion for writing into a viable career. From affiliate marketing to sponsored articles and advertising, we'll look at the various ways bloggers may make money online and the procedures they might take to get started.
This post is for you if you're a blogger (or you want to be one in the future) trying to monetize your material and start making money online from blogging.
What should you think about before you start blogging?
We recommend that you consider the following before establishing a blog:
Continuity is essential: Did you know that posting daily on a blog can get a business five times more traffic than one that does not? you need to keep your viewers interested by releasing fresh information regularly and sticking to your posting schedule. If your readers know when to expect new entries, they will begin to expect new and fresh content from you, and they'll be more willing to return to your site.
Your blogging platform: There are several blogging platforms available, including WordPress, Blogger, Squarespace, and others. Because each platform has its unique collection of features and capabilities, it is critical to investigate and select the one that best meets your needs and goals.
Some platforms may be more suitable for novices, such as Blogger or Squarespace, than others, like WordPress. Additionally, as your blog expands, consider the scalability of your platform by using more professional platforms, like WordPress. You can check our comparison of all the blogging platforms available.
Your niche or subject: This relates to your blog's main subject or concept. What will your blog's topic be? It might range from travel, food, and fashion to personal growth, parenthood, technology, and various other topics.
It is critical to select a niche in which you are interested and have knowledge or skill so that you can deliver quality and entertaining material to your audience. When selecting a niche, consider the type of material you love writing and the type of audience you want to target. It's also a good idea to look into other blogs in your field to see what kinds of material and subjects are popular and profitable.
Who is your intended audience?: Understanding your intended audience is essential for creating material that will appeal to them. Consider their hobbies, demographics, and difficulty zones so that you may personalize your material to match their requirements.
For instance, if your blog is about health, your target audience would be men and women who are overweight or obese and wish to reduce weight. You can generate material that is relevant and interesting to your audience if you understand them. Furthermore, it is critical to examine the audience you wish to attract rather than just the one you already have.
Search engine optimization (SEO): SEO is necessary to ensure that search engines may quickly and easily find your content. You should do keyword research and ensure that your blog is search engine optimized. This involves keyword research, optimizing the structure and content of your blog for search engines, and creating backlinks to your site.
By optimizing your blog for SEO, you enhance the likelihood that potential readers will find it. Consider reviewing the most recent SEO best practices and approaches, as well as testing various strategies to find what works best for your blog.
Your Branding: How would you like your blog and yourself to be perceived? The title, structure, and design of your blog should all be consistent with your brand. Branding is crucial because it helps you build trust and confidence with your audience while also distinguishing you from your competitors.
Your brand must be consistent throughout all parts of your site, such as your logo, colors, and voice tone. Consider developing a distinct visual identity for your site, such as a distinctive color scheme or typeface, to help it stand out from the crowd.
Time and dedication: Blogging takes time and effort. You'll need to upload fresh content frequently and interact with your readers. and you must be ready to put time and effort into your blog since that will be essential to its success.
It is essential to create and commit to a regular publishing schedule, whether daily, weekly, or monthly. Furthermore, whether through comments, social media, or email, it is necessary to be active and connect with your audience.
Your Long-Term Goals: What do you expect to accomplish with your blog? Do you want to start a community, make money, enhance your writing abilities, or advertise a certain idea or product? It's critical to set clear and defined goals for your blog since they will help you evaluate your performance and keep you inspired. Additionally, it is critical to creating short-term and long-term goals so that you have a clear sense of direction and progress.
Be patient: building a following and making money with blogging takes time and effort. maybe one year, two years, and maybe five, it depends on your activities in your blog. You just need to be patient and keep working hard, and you will soon enjoy the benefits.
What are the different blogging platforms?
When it comes to blogging, you have three standard options: start blogging on popular blogging platforms like Medium and Tumblr; create your blog utilizing website builders such as Wix, Squarespace, or Blogger; or use the most popular CMS, which is WordPress.
If you have yet to gain expertise in building websites, we recommend going with blogging platforms or website builders; however, if you want more professional work, you may quickly set up your WordPress website by following our complete tutorial on how to establish a WordPress website.
We will go through all of the advantages and disadvantages of employing one of these methods:
Create a website using WordPress
WordPress is a well-known, open-source, user-friendly CMS (content management system) that enables people to develop and maintain sites with ease. With its extensive library of plugins and themes, you can build a professional-looking website with no coding experience.
WordPress allows you to develop a website in five simple steps:
Select a hosting service and purchase a domain name.
Select a theme for your site.
Modify your site using widgets and plugins from the WordPress dashboard.
Construct your website's pages and articles.
Publish your website and make it available to the public.
If you've never done anything like this before, setting up your WordPress website may look difficult. We didn't go into detail on how to make a WordPress website since we have a complete step-by-step guide that will explain how to do it even if it's your first time.
Fortunately, one of the nicest aspects of WordPress is how easy and user-friendly it is. It's something that anybody could do! Simply follow the instructions in our guide, and you'll be fine.
Pros and cons of using WordPress
WordPress is a powerful platform utilized by numerous bloggers and site owners. Still, WordPress, like every other platform, has advantages and disadvantages, We shall submit them in the following way:
Pros:
Customizable: WordPress has a plethora of layouts and themes that can be readily changed to meet your branding and site design. It also allows you to develop custom functionality by using plugins and widgets.
Ease of use: WordPress is well-known for its ease of use, even for individuals with little technical knowledge. The system is simple to use and straightforward, making it simple to construct and administer a website.
Various monetization opportunities: since it's your website, you are free to monetize it with any monetization option you want, using Google AdSense, affiliate marketing, paid promotions, etc, unlike certain platforms, like Medium, which have some restrictive rules and may not be suitable for people looking to make money blogging.
Large community: WordPress does indeed have a huge user and developer community, which means that there is a plethora of knowledge and assistance available. This also implies that there are numerous plugins, themes, and other resources accessible to improve the operation of your website.
SEO-friendly: WordPress is search engine optimization (SEO) friendly, which makes it simpler for your site to rank higher in the search engine results, which will drive you more traffic.
RELATED: Check out our full step-by-step guide on how to create a WordPress website.
Cons:
Web hosting: Unlike website builders and blogging platforms, Web hosting is required to utilize WordPress, and it will cost between $2.90 and $10 per month. The cost is determined by the kind of server (shared hosting, cloud hosting, VPS, etc.) and the hosting provider. We propose that you look through our list of the best hosting companies in 2023.
Security risks: WordPress is subject to security vulnerabilities since it is an open-source platform. To reduce these dangers, it is critical to maintaining the platform, as well as any plugins and themes, up to date. and use some security plugins to secure your site.
Management over the site's infrastructure is limited: there are two versions of WordPress, WordPress.com, and WordPress.org, and many newcomers mix the two. WordPress.com is more similar to website builders than WordPress.org.
You will have minimal access to the infrastructure and may not be able to properly optimize it for performance if you host your site on wordpress.com. Unlike WordPress.org, which allows you more control over your website's management.
This may be confusing; for more information, see our comprehensive comparison of WordPress.com versus WordPress.org.
Plugin dependency: While plugins are a terrific way to add functions to your site, having too many installed or not optimizing them might cause your site to slow down. As a result, pick plugins that you want to use wisely. then uninstall those you don't want.
Customization restrictions: Some templates and themes may have modification limitations, and you might have to engage a programmer to make specific adjustments.
To summarize, WordPress is an excellent platform for developing and maintaining websites, but it is critical to be aware of its advantages and disadvantages. While it is user-friendly and adaptable, there are security threats and customization limits. WordPress may be a fantastic choice for your website as long as you are aware of these cons and take efforts to minimize them.
Create a website using Website Builders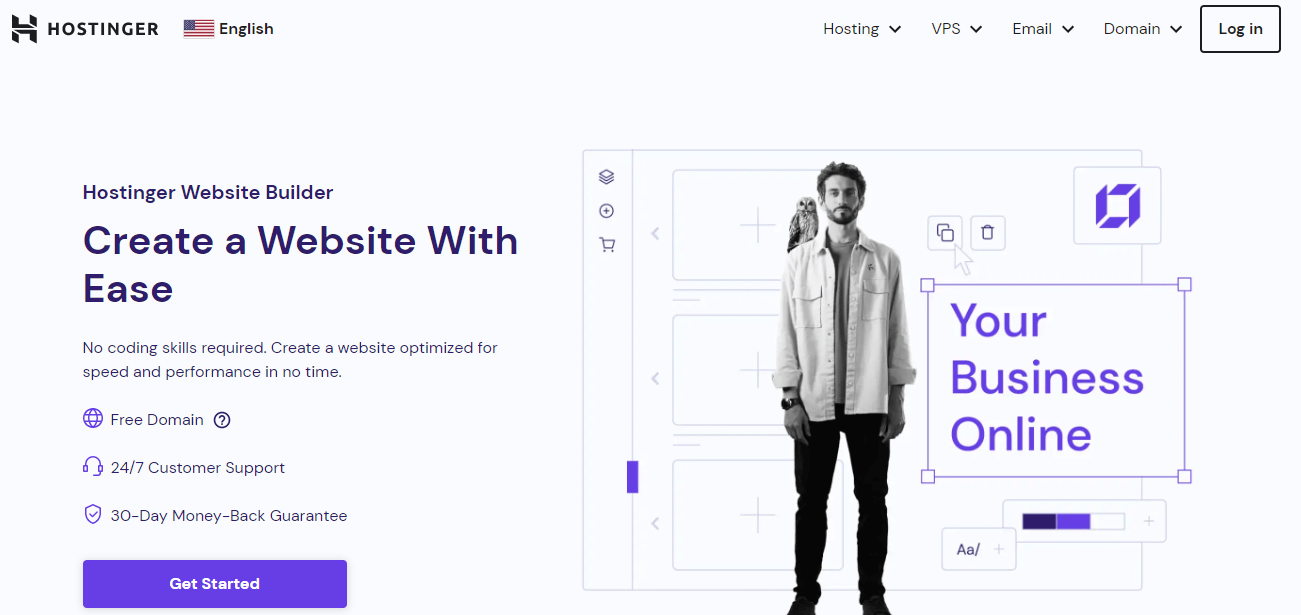 A website builder is an application that allows clients to construct websites with no coding knowledge. Such website builders include an easy-to-use interface and several themes to pick from, allowing anybody to build a professional-looking website.
Here are the steps for utilizing a website builder to create a website:
Select a website builder: Wix, Weebly, Squarespace, and Shopify are just a few of the website builders accessible, each with its own set of features and pricing options.
Once you've decided on a website builder, create an account and choose a template that best suits your needs.
Make changes to your template: You may change the style and look of your website by adding your text, photos, and videos to the template.
Make pages and fill them with content: You may use a website builder to construct pages such as a home page, about page, and contact page, as well as additional material such as text, photographs, and videos.
Launch your website: After you've completed modifying and uploading content to your website, you may publish it and make it available to the public.
Use website optimization and analytics tools and functionalities: Most website builders also include SEO tools, analytics, and other capabilities for website optimization and analytics; you can use them to improve your website.
Just like any other tool, website builders, however, have their own set of advantages and disadvantages, and they are as follows:
Pros and cons of using the Website builders
Pros:
No need for hosting: Using website builders, unlike WordPress, does not require web hosting since your website will be hosted instantly on the servers of the website builders you pick.
Simple to use: Website builders are meant for non-technical users, allowing anybody to construct a website without knowing how to code.
Cost-effective: Because many website builders provide free plans or low-cost monthly subscriptions, they are an affordable solution for small enterprises or individuals.
Customizable: Several website builders include a wide range of themes and modification possibilities, enabling users to construct a one-of-a-kind website that expresses their business and personality.
Time-saving: Website builders simplify the process of building a website, allowing customers to get their site up and running rapidly.
Cons:
Limited functionality: Website builders sometimes limit the sorts of features that can be added to a site, such as e-commerce or social network integrations.
Limited scalability: Website builders may be unable to manage high traffic volumes or handle business expansion.
Design possibilities are limited: Though website builders provide adjustable templates, the choices may be limited when compared to hiring a professional web designer.
Limited SEO: SEO optimization on website builders could be challenging to apply, making it tough for your website to rank higher in search engines.
Generally, website builders are an excellent alternative for people wishing to quickly develop a small website. However, for more sophisticated websites or organizations with specialized requirements, employing a professional web designer or developer may be worthwhile.
RELATED: Check out our article on the best website builders available on the market.
Create a website using Blogging platforms like Medium and Tumblr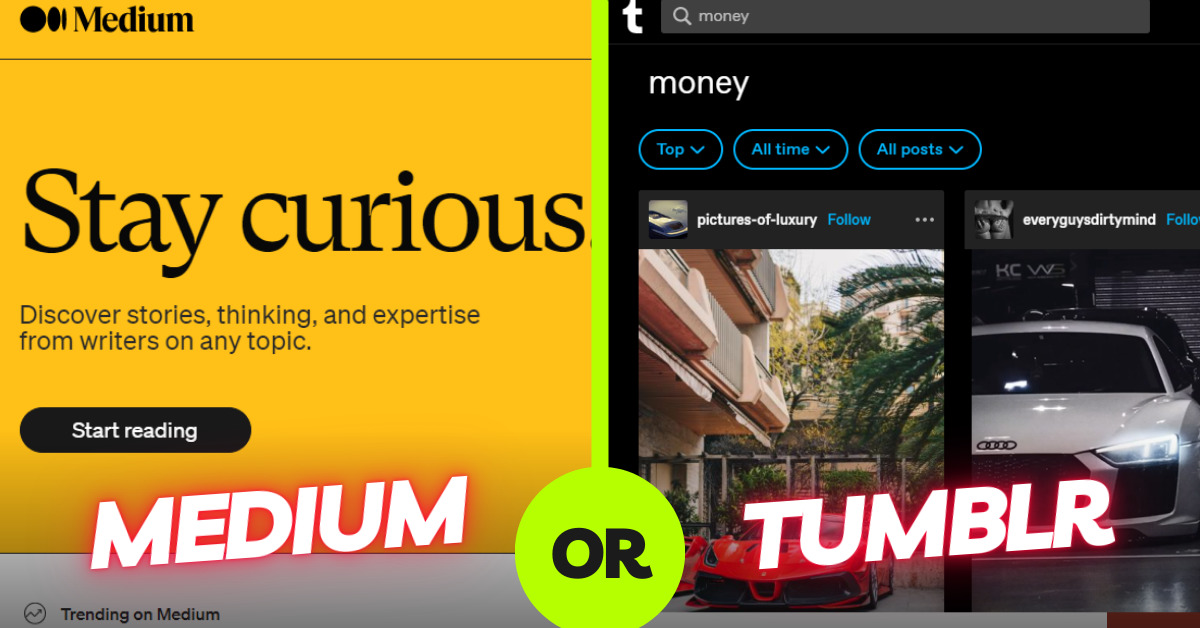 When it comes to building a website, blogging platforms like Medium and Tumblr have been becoming more popular in recent years, particularly for people who prefer to focus on writing and posting content by providing users with an easy and accessible option to express their thoughts and ideas online.
The following are the procedures for building a website with a blogging platform:
Select a blogging platform: there are so many other possibilities, but Tumblr and Medium are two popular options, each with its own set of tools and community.
Create an account and personalize your profile: Sign up for an account and create your profile once you've decided on a blogging platform. You must enter some basic information and select a username.
Make your profile unique: You may add a bio, profile photo, and background image to your profile.
Begin composing and posting blog content: Blogging platforms enable you to create and publish entries that may contain text, photographs, or videos.
Use the built-in website optimization and analytics functions: Most blogging platforms include SEO tools, analytics, and other features for website optimization and analytics.
Use social media to promote your website: Medium and Tumblr allow you to publish your posts on social media to gain more readers and followers.
Pros and cons of using blogging platforms like Medium and Tumblr
Pros:
There is no requirement for hosting: Utilizing blogging platforms, like website builders, will save you from using web hosting because you are posting material on the website servers.
Simple to use: Blogging systems such as Medium and Tumblr are meant to be user-friendly, allowing anybody to establish a blog and begin publishing their work.
Built-in audience: Medium and Tumblr have huge and active communities that may boost your blog's exposure and reach.
Cost-effective: Blogging platforms are often free to use, making them a cost-effective solution for individuals or small enterprises.
Integration with social media: Many blogging systems allow users to readily post their material on social media, making it easier to reach a larger audience.
Cons:
Limited control: Blogging sites such as Medium and Tumblr have firm limits on what content is permitted, which might limit writers' creative flexibility.
Limited monetization opportunities: While certain platforms, like Medium, offer built-in monetization options, they are restrictive and may not be suitable for people looking to make an income from blogging.
Limited customization: Blogging systems frequently limit the sorts of modifications that may be made to a blog, making it challenging to create a genuinely unique and customized experience.
Limited analytics: The built-in analytics on blogging platforms may be less powerful than other solutions, making monitoring your blog's performance more difficult.
Generally, blogging platforms such as Medium and Tumblr are excellent choices for anyone who wants to establish a blog quickly and just focus on creating and producing content. They are simple to use and don't necessitate any coding knowledge. You may design a professional-looking website that meets your requirements using a range of built-in features and tools. Furthermore, many platforms provide built-in communities that may assist you in promoting and growing your website.
Self-hosted blogs or websites created with WordPress, on the other hand, maybe a preferable alternative for individuals seeking greater control, customizability, and monetization opportunities.
RELATED: See our step-by-step guide on building a website in 2023.
How to start blogging?
Creating a blog using the methods outlined above is quite comparable, and the procedures are the same. Whatever approach you use, you must complete this stage to create a blog that gives valuable content to your readers, since they are the most important people to please. If your viewers are unhappy with your content, they will never return, which means no visits and no money for you. Prioritize your readers as your first emphasis.
Choose a niche
The very first step in starting a blog is to select a topic in which you are interested and believe you can write regularly. you can choose between aesthetics, Personal finance, clothing, and vacation are all possibilities. Consider what you are skilled and experienced in, as well as what you would like to write about.
It is important to think about the audience you wish to attract and the type of information that will interest them. This will assist you in defining your blog's niche and making it stand out from the crowd. You should also analyze the competitors in your selected sector and try to uncover market gaps that you can fill with your unique content.
How to choose the best niche?
Implementing these steps will allow you to select a niche that you are passionate about and that is relevant to your target audience, allowing you to develop a successful blog:
Begin by determining your hobbies and passions: What are some of your areas of expertise and experience? What are your favorite topics to read and learn about? These are the topics you should consider covering on your blog.
Consider your audience: For whom are you writing? What are their interests and requirements? Understanding your target audience allows you to develop material that will resonate with them and keep them interested.
Investigate your competitors: Examine other blogs in your selected area to discover what they do effectively and what they don't. This will assist you in identifying market gaps that you can address with your unique content and strategy.
Narrow down your subject: Once you've decided on a main overview for your article, you must limit it to a specialized niche. This will assist you in distinguishing your blog from others and attracting more focused readers.
Make certain that your subject is sustainable: Blogging involves regularity and dedication, so select a topic that you can write about for an extended period. Consider if you can generate fresh ideas and viewpoints to write about, as well as whether your subject will remain relevant and intriguing to readers in the upcoming years.
Select a blogging platform
There are numerous different blogging platforms to select from, as indicated in the "blogging platforms" section above, including WordPress, Blogger, and Squarespace. Each has a unique set of skills, benefits, and downsides. It is essential to research each choice and select the one that best matches your requirements and helps you to construct a professional-looking blog. So be cautious when studying and comparing various blogging sites.
We will again provide a quick comparison of all platforms, but we strongly advise you to read the pros and cons section for more extensive information:
WordPress: is a popular and adaptable platform with several customization possibilities. It is also free to use and modify because it is an open-source CMS. It is the most popular blogging platform, but it requires web hosting and some technical ability to set up and maintain.
Blogger: is a Google-owned platform that is simple, free to use, and ideal for novices. It is perfect for people who wish to build a blog fast, conveniently, and for free.
Website builders: Squarespace, Wix, Weebly, and Shopify are some of the top website builders on the market. They provide a wide range of templates and customization choices. It is ideal for folks who want a clean, professional-looking blog without having to learn any technical jargon. However, it will cost you money to get started.
Blogging platforms: In recent years, blogging platforms such as Medium and Tumblr have grown in popularity, especially among those who like to focus on creating and sharing material. They give consumers a simple and quick way to communicate their views and ideas online. They are also free to begin.
Finally, remember to evaluate the platform's scalability; as your blog develops and changes, you may want extra capability, such as the ability to add more pages, alter the design, or interact with other applications.
Some platforms are free to use but have limited functionality and customization choices, while others charge a monthly or annual subscription, but it gives you more freedom with your website. So, if you wish to grow your firm, consider the expense.
Choose a domain name and hosting
After you've decided on a niche, you'll need to choose a domain name (for example, www.yourwebsitename.com) and a hosting provider. A domain name is the address of your website; it is critical to select a domain name that is simple to remember, simple to spell, and related to the content of your blog. You may get it for $0.99 to $10 per year through Namecheap or GoDaddy.
RELATED: Follow our step-by-step guide on purchasing a domain name and connecting it to your website.
In regards to web hosting, which is the organization that hosts your website's files and makes them available on the internet. There are several forms of web hosting you can choose from, such as shared hosting, cloud hosting, VPS, and so on.
As a beginning, we suggest shared hosting since it is less expensive and easier to use than the other two options, and you may upgrade as your website grows. Bluehost, Siteground, Hostinger, and DreamHost are some popular hosting companies. You should select a hosting company that provides consistent uptime, quick loading speeds, and excellent customer service.
RELATED: Check out our comparison of the top shared hosting companies.
Alternatively, if you are familiar with cloud hosting, VPS, or dedicated servers, you may use them; however, remember that they will cost you more than shared hosting.
RELATED:
Check out our comparison of the best cloud hosting services.
Check out our comparison of the best VPS hosting services.
Design and customize your blog
It's time to set up and modify your blog now that you've decided on a domain name and hosting provider. You should create a well-designed site that represents your business and attracts visitors by creating and personalizing your blog.Most blogging systems have a wide range of layouts and styles, as well as modification choices such as colors, fonts, and layouts. When developing your blog, keep readability and user experience in mind.
Here are some pointers to help you develop a visually appealing website:
Designs and themes give your blog a pre-designed structure and design, saving you time and effort. They also make it simple to establish a professional-looking blog without any design abilities.
Customization options allow you to personalize your blog and make it match your business. You may customize the colors, fonts, and layout of your blog to reflect the look of your brand.
When developing your blog, keep the user experience in mind; it should be simple to navigate, quick to load, easy to read, and accessible on a variety of devices.
Make your material more eye-catching and engaging by including photos, videos, and infographics.
Consider using social sharing buttons, contact forms, and search functions to improve the user experience and make it easier for your visitors to connect with your blog.
Create content
After you've established and launched your blog, it's time to start generating content. This is the most important step in creating a blog since it is what will attract new visitors and bring the old ones back to your blog for more content.
By consistently producing high-quality material, you will be able to attract and maintain readers while also establishing your blog as a reputable source of information in your field.
So, how can I generate material for my blog? You can do this by doing the following steps:
Create an editorial schedule to help you organize and plan your articles, as well as to guarantee that you're continuously posting fresh content frequently to keep your visitors interested and returning to your blog.
Analyze keywords relevant to your subject; this will assist you in optimizing your material for search engines and making it more searchable for your potential audience.
It is necessary to provide high-quality, engaging content that is appropriate for your target audience, as well as keep your materials new and entertaining, and to do that, Consider including photos, videos, and infographics in your posts to make them more visually engaging.
Make certain that your information is well-written, comprehensive, and simple to understand. Break up the content with headings, subheadings, bullet points, and graphics to make it more visually appealing.
Include calls to action, ask for feedback, and reply to comments to engage your audience.
RELATED: You can read the whole guide on how to write better blog articles here.
Promote your blog
Now, it's time to start advertising your blog once you've written a few articles. There are several ways to accomplish this, including social networking (using social media), guest posting, and email marketing. The more readers who are aware of your blog, the more visits you will receive.
Here are some pointers to help you gain more visitors.
Share your blog entries and communicate with your audience on social media sites like Facebook, Twitter, Instagram, and LinkedIn.
Create an email list and send out frequent newsletters and updates to your readers to capitalize on the power of email marketing.
Use the latest SEO (search engine optimization) strategies to improve the visibility of your blog's articles for your readers on search engines.
Create some guest posts on other related blogs and websites. It can help you expand your reach and attract new readers to your blog.
Connect with other bloggers and influencers in your sector to boost your visibility and position yourself as an authority on your subject.
RELATED:
You can check our Ultimate guide on Guest posting here.
What is SEO and how to use it to drive more visitors to your blog?
Monetize your blog
Now that you've established a reader base and constructed a following, and your blog is attracting a substantial amount of traffic, you may be trying to figure out how to monetize it. You may accomplish this by including advertising, affiliate links, selling your own products, or providing sponsored content. This might be an excellent approach to monetizing your site.
Keep in mind that these aren't the only ways to make money blogging; we will go over each strategy in detail in the following section, so keep reading if you want to learn more about them.
How to make money blogging?
If you want to make money blogging, there are several methods you can use to get some extra income, including:
Google AdSense
Google AdSense is one of the most common ways to make money blogging. AdSense is a Google platform that allows site owners to display advertisements on their sites and earn money when people click on them.
You may begin making money with AdSense in four easy steps:
1. Create an AdSense account: To make money blogging with AdSense you need to create an AdSense account. To do so, go to the AdSense website and click on "Get started", and then log in with our Gmail account. You will be asked for some basic information regarding your blog, such as its URL, as well as your agreement to the terms and conditions.
2. Generate ad units: After signing up for AdSense, you must create ad units to post on your website. These ad units might take the form of text, picture, or video advertisements. By navigating to the AdSense dashboard and selecting the "Ad Unit" option, you may create ad units. You may next select the sort of ad unit you wish to create and tweak its look to match the style of your website.
3. Add ad units to your blog: Once you have built your ad units, you must add them to your blog. This may be accomplished simply by copying and pasting the ad code into your blog's HTML. Ad units should be placed in noticeable areas of the blog where they would be seen by users, like the header, sidebar, or inside the content.
4. Keep track of your income: Once you've put your ad units on your blog, you'll start earning money when anyone clicks on one of the advertisements. Log in to your AdSense account and go to the "Earnings" page to keep track of your earnings. You can check how much money you've made as well as the number of hits and impressions your advertisements have received.
RELATED: For more information on Google AdSense, check out our comprehensive tutorial on how to make money online with Google AdSense.
Affiliate marketing
Affiliate marketing is a powerful way to monetize a blog and make money blogging. you can make money by promoting other people's products or services without the need to deal with storage and call center problems and leave that to the main company.
By partnering with merchants and promoting their products to your readers, you can earn a commission for each sale made through your affiliate link. We will discuss how to make money blogging using affiliate marketing in seven easy steps:
1. Research affiliate programs: The first step in making money from your blog through affiliate marketing is to research affiliate programs that are relevant to your blog's niche. There are many different affiliate programs to choose from, so it's important to find ones that match the content of your blog. Some popular affiliate networks include Amazon Associates, ShareASale, Impact, and Commission Junction (CJ Affiliate).
2. Sign up for affiliate programs: Once you have found the affiliate programs that are relevant to your blog, you will need to sign up for them. This is typically done by filling out an application and providing some basic information about yourself and your website.
You may also be required to provide information about your audience and the types of products or services you plan to promote, as well as the methods you will use to drive sales to them. The registration process is similar for all affiliate platforms, just follow the steps and you will be good to go.
RELATED: Check out our full comparison of all affiliate platforms that you can use to start making money with affiliate marketing.
3. Create affiliate content: After you have signed up for the affiliate program, you will need to create content that promotes the products or services of the merchants you are working with. This can be done in the form of product reviews, tutorials, or resource lists.
It's important to provide honest and unbiased information about the products or services you are promoting so that your readers trust your recommendations.
4. Use affiliate links: When you create content that promotes a product or service, you will need to include your affiliate link. This is the link that you will use to direct your readers to the merchant's website, and it is how you will earn your commission for each sale made through your link.
It's important to use your affiliate links correctly and to disclose that you are using affiliate links in your content. Some affiliate programs will provide you with a unique tracking link, while others may allow you to create your own links.
5. Track your performance: It's important to track your performance as an affiliate marketer to see what's working and what's not. By tracking your affiliate sales, clicks, and conversions, you can see which products or services are generating the most revenue and focus your efforts on promoting them.
Many affiliate programs will provide you with access to analytics and reporting tools, or you can use third-party analytics tools like Google Analytics.
6. Engage with your readers: Engaging with your readers is essential for building trust and fostering a loyal following. By responding to comments and questions, you can establish yourself as an authority in your niche and build relationships with your readers. This will increase the likelihood that your readers will click on your affiliate links and make a purchase.
7. Continuously improve and update: The world of affiliate marketing is continuously evolving, and new products and services are being launched all the time. It's important to stay up-to-date with the latest trends and opportunities in your niche and to continuously improve your approach to affiliate marketing.
Remember to test new techniques, try new products and services, and always be on the lookout for new ways to monetize your blog and make money blogging.
RELATED: To learn more about affiliate marketing, you can read our ultimate guide on how to make money online with affiliate marketing in 2023.
Sponsored Content
A common way to make money blogging is through sponsored content or paid advertising. Part of this is collaborating with firms and businesses to create material that promotes their products or services. Sponsored content can take many forms, including a blog article, a social media post, or a video. The key to creating great sponsored content is to generate material that is both authentic and entertaining for your audience while also adding value to the business.
To begin with sponsored content, you must first develop an audience and establish yourself as an influencer in your field. This may be accomplished by publishing high-quality information frequently, connecting with your audience, and marketing your blog on social media. Once you've established an engaged following, you can begin approaching businesses and offering them your services.
When developing sponsored material, it's critical to declare that it's sponsored. This can be accomplished by inserting a disclaimer at the start or conclusion of the article or by using the hashtag "#sponsored" on social media sites like Tiktok or Instagram. The Federal Trade Commission (FTC) required that sponsored material be declared; therefore, following these requirements is critical to preventing legal concerns.
It's also essential to only work with businesses that are relevant to your blog's niche and content. This will allow you to develop material that is both honest and entertaining for your audience.
Revenue from sponsored content varies according to the type of material and the volume of your audience; the larger your audience, the more money you may make. When proposing to brands, it's a good idea to understand benchmarks and have a pricing sheet available.
RELATED: Read our whole guide on creating sponsored content.
Selling your products
Selling your own products is another method to make money blogging. If you have a product or a series of products relevant to your blog's niche, you may sell them directly to your followers.
You may offer digital items like ebooks, courses, and printables as well as physical products like weight loss supplements, vitamins, clothes, jewelry, and cosmetics.
You may sell a variety of products: digital products, physical products, and clothes.
Whenever it comes to digital items, you may sell them directly from your website using shopping carts plugins like WooCommerce or BigCommerce or through online selling platforms like Gumroad or Shopify.
You can use shopping cart plugins as well as fulfillment services like Amazon FBA (Fulfillment by Amazon) to sell physical items or use online e-commerce platforms such as Shopify. Unlike Shopify, where you must do everything yourself, Amazon will manage storage, shipping, and customer care for you for a fee.
If you have a brand and/or wish to make your merch, you may utilize online POD (print on demand) services such as Printful, Teespring, or Merch by Amazon (Amazon MBA) to create and sell your merch to your audience. They will handle the production, storage, shipping, and customer care for you.
To advertise your products:
You can set up a special page for your product on your website.
Integrate product links into your blog's content.
Take advantage of social media to promote your services.
Provide unique discounts or promotions to your email subscribers to entice them to buy.
Selling your items is an excellent way to monetize your site since you have complete control over the pricing and profit margins. Furthermore, it helps you to interact with your audience on a higher level and give them a product that fits with the topic of your blog.
However, if you're just getting started, it's essential to concentrate on a few goods at first and dedicate all of your attention to them to minimize distraction. You should also ensure to test the market before increasing your offers.
RELATED: You can read our entire Amazon FBA vs. Shopify comparison here.
Selling your courses
Creating and selling online courses is another option to monetize your blog. If you're an expert in a certain domain, such as fitness coaching or being an online instructor, you may make money blogging by creating and selling a course that teaches your audience a new skill or gives them valuable information.
Online courses enable you to share your skills and expertise with your readers, which is a wonderful way to monetize your blog. They also enable you to generate passive income and reach a worldwide audience.
This may be done by creating your online teaching platform or by using services like Udemy, Coursera, Teachable, and Thinkific. You simply select a platform, create an account, upload your course, and advertise it to your audience. You will be able to earn money if your course is excellent enough for your audience and solves their issues.
You may market your course by doing the following:
Make a landing page or a sales page for your course on your website.
Add it to your website's products page.
Promote your course on social media.
Use email marketing to contact your subscribers and inform them about your course.
RELATED: You can read our full guide on creating a course from scratch here.
Create a membership or a subscription plan
Having a membership or subscription plan is also another option to make money blogging. Offering these types of plans for your blog readers is an excellent method to monetize it while also offering your audience exclusive material and useful advantages.
Membership and subscription websites are related but not equal.
A membership site allows consumers to become members of a group or club; for example, if you have an online blog or website, you may allow your readers to sign up for it and share expertise between them.
While a subscription site allows your clients to pay to use your product or service for a specified period. For example, if you are a gym coach, you may charge your audience a monthly or yearly subscription fee to access your online training.
simply, A subscription website is described by the business agreement it requires. A membership site, on the other hand, may or may not need a subscription.
You can build your membership plans with one of the WordPress membership plugins, such as WooCommerce Memberships or MemberPress, or with one of many other different providers, such as Weebly or Wix.
You may offer your audience special material, access to a special community or group, VIP support via audio or video chats, or other benefits reserved for paying members.
You need to promote your membership plan to get subscribers. To do that, you can create a special page on your website, use email marketing to reach out to your subscribers, and use social media to highlight the benefits to your audience of becoming a member of your plans.
RELATED: Read the complete guide on how to build a membership plan.
Selling Your site
Last, one method to monetize your site is to sell it. This could be a good choice if you've built up a large following and have strong money-making strategies in place.
Selling your blog may be a time-consuming process that necessitates some understanding of website appraisals, negotiation strategies, website migration, and the long sales process.
Whenever it is time to sell your website, you have two options: sell it to an individual buyer or sell it on a marketplace such as Flippa or Empire Flippers. It is critical to set reasonable expectations and recognize that the process will be difficult and may take several months.
Many newbies attempt to construct sites and sell them directly in the hopes of finding consumers, but this does not work. Before trying to sell your site, it's necessary to take some steps to increase its value. The more famous your site is, the more money you'll make when you sell it. and you can do that by:
Increasing your visitors, and creating different income streams.
Developing an email list of active subscribers.
Improving the design and user experience of your website.
Optimizing your website's SEO in order to rank higher than your competition.
RELATED: Read our article on how to sell your website correctly.
FAQs
Is blogging dead in 2023?
No, blogging is not dead and will not be gone in 2023. People continue to write and read blogs, and blogging is still a popular method of expression and communication, in addition to a source of revenue. However, as new technologies and platforms have arrived, the way people read blog material has evolved, but adopting the latest blogging methods can effectively allow you to manage your blog in the manner you want.
Is blogging still profitable in 2023?
Yes, blogging may be profitable, but it's not assured and is entirely dependent on your work. Many bloggers make money from their blogs through advertising, sponsored content, affiliate marketing, and other means. The quality of your content, your topic, your audience, and your advertising techniques, on the other hand, will determine the success of your blog.
Is blogging a good side hustle?
Blogging may be a profitable and successful side hustle for people who have a passion for writing and sharing knowledge on a certain subject and are prepared to devote the time and effort necessary to create an audience.
You can make money blogging through advertising, affiliate marketing, sponsored content, and the sale of niche-related items or services.
However, blogging, like any other side hustle, involves hard work and attention, and outcomes may vary. It's critical to set reasonable goals, focus on giving value to your audience, and regularly produce high-quality material.
How to grow a blog in 2023?
To grow your blog, you simply need to work on your niche content, write well, market it via social media or your email list, and use the latest SEO tactics to rank better in search engines.
However, keep in mind that the effects will take time to appear. Otherwise, if you want quick results, you may promote your blog with sponsored advertisements on Facebook ads, Google ads, or other PPC networks.
Is blogging a waste of time?
No, blogging is not really a waste of time. When approached with a specific plan and goal, it may help grow an online presence, build expertise, drive a significant amount of traffic, and create a passive income. Unfortunately, it takes time and work to see benefits, and it may not be appropriate for everyone's objectives and priorities.
What is "guest blogging"?
Guest blogging is a content marketing technique in which a blogger produces an article for another blog or website, usually in their niche, to connect with a new audience, create relationships, and increase their website traffic. The guest blogger gains visibility and reputation from participating on another website, while the host blog gains unique, relevant content and higher audience interaction.
How can beginners make money blogging?
Making money blogging for newbies may be done using a variety of methods, including affiliate marketing, advertising, sponsored content, selling items or services relating to your niche, and providing email marketing services.
It is critical to acquire a strong following and establish your knowledge in your sector in order to be successful. Your success will also be influenced by consistency, hard work, and a planned approach to monetization.
Furthermore, it is critical to keep a balance between revenue and offering relevant information to your audience.
How much money can you make with blogging?
The amount of money you can make from blogging varies widely and is determined by a number of factors, including your topic, audience size, monetization tactics, and the amount of time and effort you are willing to dedicate to your blog.
Sometimes bloggers earn a few dollars per month, while others earn between $30,000 and $50,000 per year, and some earn up to $300,000 per year.
To make money blogging, you need to invest time and regular work, and outcomes may vary. As a result, it is critical to set realistic goals and not anticipate immediate achievement.
How much money do blogs make?
Earnings from blogs are determined by a number of factors, including traffic volume, promotion techniques, and the niche of your site. There are some niches that will earn you more money than others; for example, the insurance niche will make you more money than the swimming equipment niche since it is more popular and has more potential to generate money.
Why do bloggers quit?
Bloggers may quit for a number of reasons, including a lack of motivation, time pressure, bad performance, exhaustion, and competition.
Some bloggers may also discover that they are not earning enough money to justify the time and effort they invest in their blog or that they find it difficult to select a successful niche.
Bloggers may also experience technological challenges or a lack of support from their readers in some circumstances. To avoid quitting, it is critical to have a clear aim, a success plan, and a support structure in place. Taking pauses and staying motivated can also assist in preventing burnout and ensuring long-term success.
Is there a future for blogging?
Yes, blogging does have a future. While the manner in which people consume content and information online is continually changing, the need for quality material, as well as the necessity for an online presence and personal branding, will most certainly fuel demand for bloggers and their content.
Blogging will remain a relevant and important venue for personal and commercial expression as long as there is an audience for the information being published.
Is blogging worth it in 2023?
Blogging can be profitable in 2023 if done correctly with a well-structured strategy and modern and powerful writing and promotion methods. This will assist you in developing your personal brand, driving traffic, and generating passive income.
Remember that success requires time, effort, and consistency. So be patient and keep working, and you'll see the fruits of your efforts.
Finally, whether blogging is worthwhile in 2023 or not, will be determined by your own situations and the objectives you aim to accomplish.
Conclusion
Make money blogging is one of the best methods to make money online in 2023 and create a side hustle, but one thing we want to mention and we saw that a lot of bloggers do is that they prioritize the money before their audience, and that's a wrong act.
You need to take care of your audience and deliver them good content and not just any content just to gain more visitors and more clicks to your links which will lead to more income for you.
Your reputation is very important if you lose it, anything you've built with the help of this article or any other resources online will go in vain, and your readers will never return to your blog if you keep delivering them poor content, so keep that in mind.
Always be open, transparent, and honest with your audience, and only deal with businesses and services that match your principles and niche. You can convert your blog into a successful company with hard work and patience; just don't lose focus.
If you have any questions about how to make money blogging, please express them in the comments section below. Thank you for your time in reading our article.