In recent years, chatbots have evolved into a vital aspect of modern companies' activities. They save significant time for staff members and business owners by offering a 24/7 customer care service, boosting lead creation, and automating processes. ChatGPT is among the most common chatbots available today. Nevertheless, because of the high demand for the ChatGPT service, many users have issues while attempting to access it, such as "ChatGPT is at capacity right now", "ChatGPT can't log in", or even "There are too many requests; please try again later".
Therefore, you're probably asking, "What are the best ChatGpt alternatives?" Or are there any other ChatGPT-like chatbots?
In this post, we've presented several different free and paid alternatives to ChatGPT that provide comparable functionality as well as certain unique features that people can simply utilize. Some of the options are charged, while others are completely free.
What is ChatGPT?
ChatGPT is an AI-powered chatbot that can perform almost anything. To name a few capabilities, it can write code, compose an article, assist you in organizing your home, and even create a training plan for you. It was designed by OpenAI, the company behind the well-known AI bot DALL-E, which can make exact, realistic photos in any style on practically any topic, Depending on user-supplied data.
RELATED: For more details, see our entire ChatGPT review.
Is it beneficial for businesses to use ChatGPT or another AI tool?
If you are an entrepreneur, you are most likely searching for new ways to reach your target audience and develop your business. You may have considered employing a standard chatbot to assist with customer support or marketing, but you may be unfamiliar with the advantages of adopting an AI-powered (artificial intelligence) chatbot like ChatGPT.
AI is currently considered a common technology by 80% of corporate leaders. Several experts believe that in 2023, consumer satisfaction in AI-enabled firms will improve by 27% to 35% as the interaction between businesses and AI technology develops.
Especially with the rise of novel technologies and new chatbots like ChatGPT and other ChatGPT alternatives (which we shall discuss in this article) that can create human-like writing in a discussion scenario quickly and efficiently, and even without prior knowledge in some cases.
ChatGPT's one-of-a-kind capability makes it potentially advantageous for a wide range of commercial applications, particularly when it comes to automating client interactions. Furthermore, it is a robust chatbot solution that can be utilized to improve numerous elements of your business operations.
There are multiple methods for B2B and even B2C businesses to employ AI tools like ChatGPT to assist them in achieving their objectives. Here are some of these methods:
Enhancing customer support: AI-powered Chatbots may provide 24/7 customer assistance, answering common queries, delivering information, and fixing difficulties swiftly without the need for human participation. This may greatly increase response times, increase customer satisfaction, and generate more leads.
Consumer data analysis and insight generation: AI-powered chatbots may collect data on your clients' routines and hobbies and give insight into their behavior, interests, and problematic challenges. This may help your company make data-driven decisions and improve overall performance by developing effective and lucrative advertising and product development plans.
Boosting sales: An AI-powered chatbot may help you qualify leads and close sales with little expense, which will maximize your income and boost your ROI.
Growing customer engagement: AI-powered chatbots may also keep consumers connected with your business by delivering them customized information and suggestions (maybe as newsletters or notifications) based on their data, such as habits and tastes, and also boosting the possibility of generating more sales and boosting conversion rates.
Task automation: AI tools may help with many business-related tasks, such as appointment scheduling, order processing, and lead generation. This may save business owners important time and money while allowing them to focus on more critical activities.
Perform surveys and collect feedback: AI-powered survey-generating technologies may be used to perform customer surveys and obtain their feedback, which may let you know your business's deficiencies and help you fix them. This may help organizations improve their goods and services, increase customer happiness, and develop stronger customer connections.
Finally, to answer this question, AI-powered tools, such as ChatGPT or any other tool, might be a valuable tools for solving difficulties in your firm or startup, and they can assist you in reaching your stated objectives, improving services, improving customer service, generating leads, creating high-quality content, or doing research.
Ultimately, AI technologies have the potential to assist you in achieving your goals; you simply need to know how to use them.
How to use ChatGPT for your business?
In today's business world, rapidity and productivity are the two most important factors in determining a company's success. As a result, an increasing number of firms are exploring employing AI-powered tools for their B2B or B2C purposes.
AI-powered live chat chatbots, which are live chat systems that allow companies to communicate with their clients in real-time using artificial intelligence, are one example of a business adopting AI.
The primary advantage of such tools (ChatGPT alternatives) is their low price of usage; they are also much more productive than people (in some aspects, although not entirely) and standard live chat chatbots. As a result, this may be a terrific method to enhance customer service, build relationships, and make sales faster at the lowest possible cost to the company.
Before you begin using AI-powered tools in your business, you need to:
First, define your business objectives and goals.
Second, identify where these technologies may add the most value to your business.
Third, create a chatbot strategy that meets your company's objectives.
Next, select the proper AI tools for your needs and, as needed, integrate these tools with other services and systems.
Lastly, check and adjust the efficiency of these tools regularly to verify that they are producing the expected outcomes.
By using AI tools (ChatGPT alternatives), you can close deals faster by interacting directly with your customers and getting their immediate feedback. This allows you to save both money and time while offering outstanding service.
Is ChatGPT a Google killer?
The short answer is no; ChatGPT, like all other AI technologies, is not a Google competitor. While ChatGPT is an effective chatbot solution for improving different parts of business operations, it is not intended to compete with or replace Google.
ChatGPT is an OpenAI language model that uses artificial intelligence and machine learning to provide human-like replies to user questions.
Google, on the other hand, is a massive technological corporation that offers a wide range of products and services, such as a search engine, email (Gmail), cloud computing, YouTube, and many more.
Google has also created chatbot systems such as Dialogflow, LaMDA, and Bard AI (we will talk about them later in this article), and they serve distinct goals and are used in various ways.
AI-powered technologies and Google may be used in tandem to deliver more complete and efficient business solutions. A business, for example, may utilize AI technologies to handle simple searches and make personalized suggestions while using Google's search engine and other Google tools to deliver more in-depth information and services.
In conclusion, AI-powered tools (like ChatGPT and ChatGPT alternatives) and Google are complementary technologies that may be utilized in combination to improve business processes and consumer experiences.
Why do people prefer ChatGPT alternatives?
While ChatGPT is a powerful chatbot solution that can be used to enhance various aspects of business operations, it may not be the best fit for every business owner due to some issues.
Here are some reasons why a business may choose not to use ChatGPT:
1. Complexity: ChatGPT is a sophisticated AI system that requires technical expertise to implement and customize. If a business does not have the necessary technical skills or resources, it may find it difficult to integrate ChatGPT into its existing systems.
2. Capacity issues: ChatGPT has been dealing with capacity issues due to the high volume of traffic the chatbot has received since becoming an Internet sensation. Many potential new users have been unable to create new accounts and have been met with notices that say "Oops!, something went wrong", "Chat GPT is at capacity right now", or any other issue.
So if you need an AI-powered chatbot with zero downtime, consider using some unfamous ChatGPT alternatives.
3. Cost: If you just want to use ChatGPT for fun, you can do it for free or pay $20 for some extra exclusive features. On the other hand, implementing ChatGPT for small businesses or startups can be expensive.
The costs associated with building, training, and deploying the system can add up quickly, and ongoing maintenance and support costs can be significant.
4. Out-dating problems: ChatGPT has experienced outdated issues that have been extensively recognized since its creation, despite its broad use. According to OpenAI, the chatbot has "poor knowledge of global events after 2021" and also is likely to reply with incorrect information whenever there is incomplete data available on a particular subject.
5. Privacy and security concerns: ChatGPT is a machine learning model that relies on large amounts of data to generate responses. Businesses that handle sensitive information or operate in highly regulated industries may be hesitant to use ChatGPT due to privacy and security concerns.
6. Limited customization: While ChatGPT can generate human-like responses to a wide range of queries, it may not be able to provide the level of customization or personalization that some businesses require.
For example, a business that offers highly specialized products or services may need a chatbot that is tailored to its specific industry or niche.
7. Reliance on third-party technology: ChatGPT is developed and maintained by OpenAI, which is a third-party provider. Businesses that rely on ChatGPT may be subject to changes in pricing, features, or availability that are beyond their control.
Those were a few problems to mention, but regardless of those issues, we don't deny that ChatGPT is among the best tools that can help you expand your business, besides other tools that we will discuss later. So if you want to use it or not, the choice is yours.
The Best ChatGPT Alternatives in 2023 (Free and Paid)
As AI advances, AI-powered chatbots have become increasingly popular tools for business owners looking to improve their customer service, increase productivity, and expand their businesses.
While ChatGPT is a powerful AI chatbot solution, it may not be the best fit for every organization. Fortunately, many free and paid ChatGPT alternatives can be used to enhance various aspects of business operations.
We'll look at a few of the top ChatGPT alternatives you may use for writing, translating, productivity, research, and even SEO. These ChatGPT alternatives can assist you in automating jobs, streamlining procedures, and enhancing client experiences, whether you run a small business or a huge company.
Best ChatGPT Alternatives for Translation
Do you work in the translation industry? Are you interested in learning a new language, or do you wish to offer your clients translation services? Here are some helpful AI-powered translation tools that you can use to accomplish your work: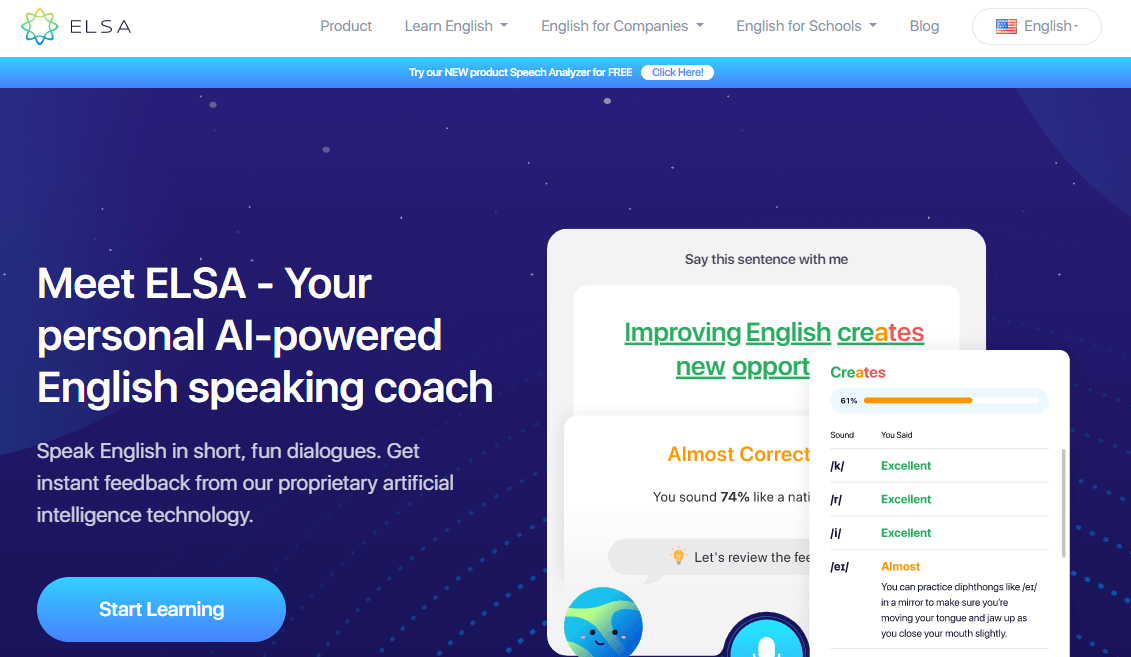 Elsa Speaks is an AI-based language learning application founded in 2019 that uses AI to teach you and improve your pronunciation, vocabulary, and grammar. It was created by a team of language experts, tech specialists, and data scientists to help you improve your translation business. Simply put, Elsa is an English-language speech assistant who helps you translate different languages into English.
The app uses AI speech recognition technology powered by deep learning algorithms and provides real-time feedback by running a user's speech examination and then formulating a set of tasks that the user can comprehend with ease.
The software can help businesses attract varied talent, increase their worldwide reach, and enhance communication with international partners as part of their staff development projects.
These are some of the key features of Elsa Speaks:
It has 3,000 lessons to manage the 22 skills needed to master English pronunciation.
It's an AI-powered speech recognition technology for accurate analysis and feedback.
It has an activity tracker to monitor and track improvements.
It gives you real-time feedback on pronunciation and speech clarity.
It provides you with interactive conversation simulations to practice speaking.
It tracks your progress using articulation, pronunciation, and listening scores.
It gives you real-time speech recognition feedback.
It's customizable to meet specific language training needs, and it's suitable for use by companies as part of employee development programs.
Also, Elsa provides bite-sized, customized lessons to improve your English, a progress tracking board and graphs to show your accomplishments, a quick assessment to test your progress, as well as artificial intelligence mentoring assistance to keep you inspired and laser-focused.
Elsa's Pricing
Elsa has two plans: a free plan and a paid plan. The free plan comes with limited lessons covering 44 English language sounds and various topics, an ad-free experience to help you stay focused, and many other features.
While Elsa's pro plan starts at $11.99/month, billed monthly, quarterly, or annually, it comes with free-plan features plus a detailed analysis of your speaking score, a daily customized coaching program, and tools to track your progress and achievements.
Elsa also has a 7-day free trial to test it out. so you can test it before actually spending your money.
RELATED: Check out our full Elsa Speaks tutorial here.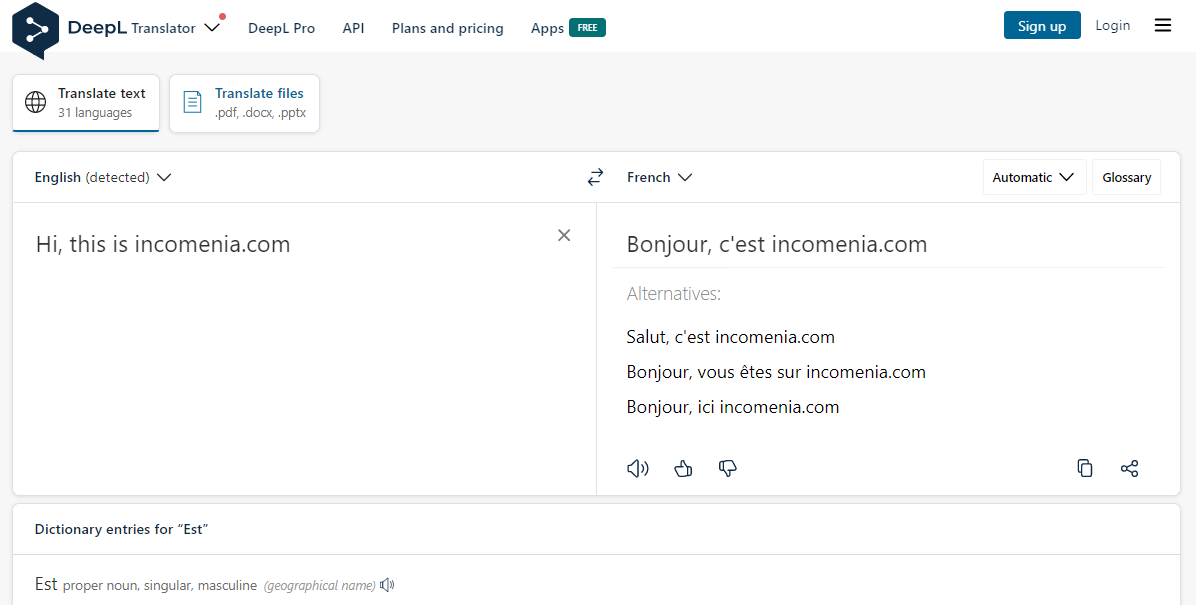 DeepL Translator is an AI-powered language translation tool launched in 2017 and developed by the German company DeepL GmbH that uses deep learning algorithms to provide highly accurate translations.
Unlike traditional translation tools that rely on rule-based systems, DeepL uses neural networks to understand the context and meaning of a text, leading to more natural and fluid translations.
That's why DeepL Translator is known for producing translations that are more accurate and natural-sounding than those of many other machine translation services.
The tool is an ideal solution for global enterprises, supporting up to 31 different languages, including English, German, French, Spanish, Italian, Dutch, Chinese, and more. Also, its free version is easy to use, with no need to register or log in.
DeepL is among the best ChatGPT alternatives if you prefer a simple interface to a conversational UI for working on your translations.
And about pricing, DeepL has two plans: a free plan if you want to test it out and translate a few words, and a paid plan that starts at $8.74 for US citizens and €7.49 for Europeans. This plan is perfect for entrepreneurs who want to use it for their businesses.
RELATED: Check out our full DeepL tutorial here.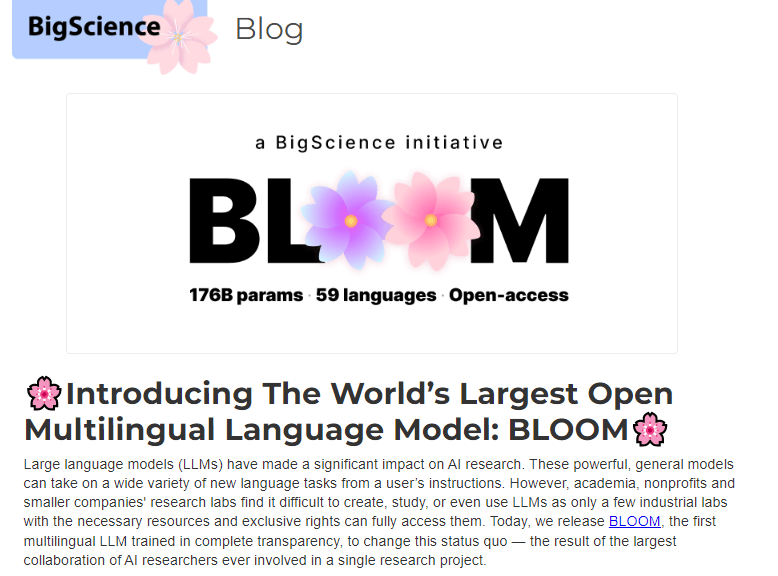 Bloom is a free, open-source desktop program developed by SIL International, a non-profit organization dedicated to promoting language development around the world.
Bloom is designed to help people create and publish materials in local languages, particularly in areas where resources for literacy and education are limited.
Bloom has been developed with the assistance of a collective of over 1,000 artificial intelligence specialists. is a cutting-edge multilingual language model that is widely regarded as one of the top ChatGPT alternatives.
It can also help you create books, posters, and other materials in a variety of formats by providing you with tools and features that make these tasks easy. Besides that, users can choose from a library of over 12,000 illustrations, customize the text and layout of their materials, and even record audio to accompany their content.
Some of Bloom's main features include its capability of taking on text assignments that he has not been taught to do specifically by viewing them as opportunities to generate text, As well as generating text in a total of 46 languages and 13 programming languages, all of which are incredibly similar to something a human would write.
Bloom Pricing
Bloom is free software developed by SIL International, and it can be downloaded and used without any cost.
Best ChatGPT Alternatives for Writing
AI-powered content writing tools can help content creators who lack inspiration or have some writing and grammar issues improve the quality of their articles in several ways.
These tools can provide suggestions for topic ideas, help with keyword research, and even generate outlines or drafts based on specific parameters.
Additionally, they can help writers optimize their content for SEO and readability, ensuring that their articles are more likely to be ranked higher in SERPs and receive more clicks and engagement.
By leveraging the power of some of the AI-powered tools that we will talk about below to enhance your writing process, you can save time, increase efficiency, and produce higher-quality articles that resonate with your readers.
Jasper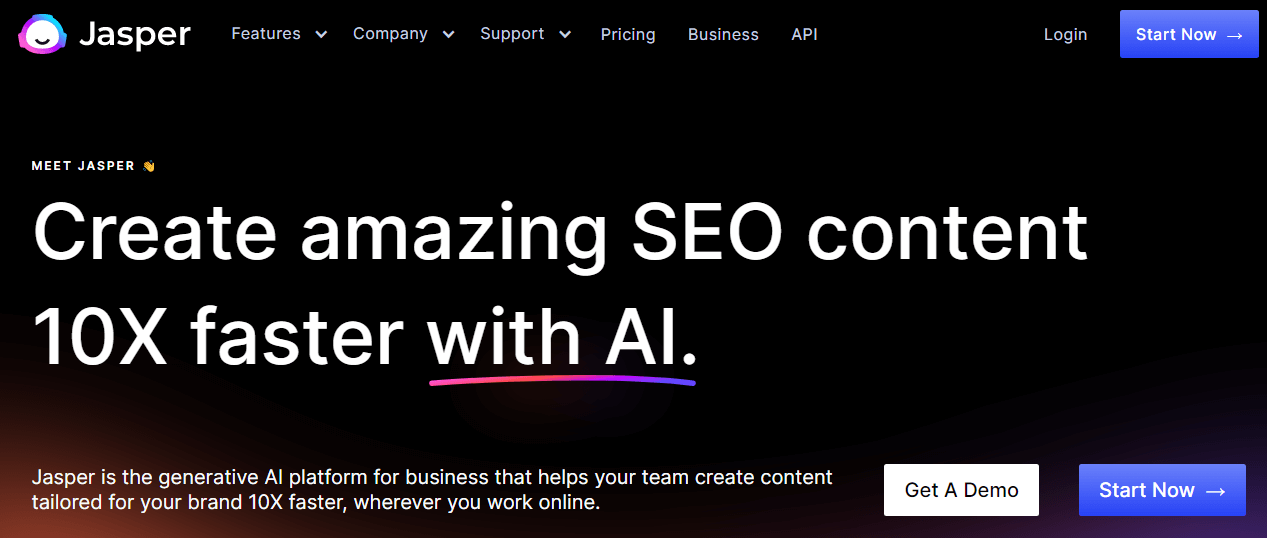 Jasper (formerly known as Jarvis) is an AI-powered content writing tool developed by Cognitives that uses natural language processing (NLP) and machine learning algorithms to analyze user input and generate high-quality content in a matter of seconds.
Jasper is one of the most used AI-powered writing tools by content creators. It creates original blog posts and articles, social media content, video scripts, and SEO content with minimal effort. Thanks to its new chat interface and cutting-edge technology, it helps you create content as quickly (10X faster) and efficiently as possible.
For the pricing, Jasper is available on a subscription basis, so to use it, you need to buy the "Boss Mode" plan, which will cost you 59$ a month and allow you to create 50,000 words per month.
You can upgrade the plan whenever you want to the "Business plan" if you'd like to create more content and receive more features.
RELATED: Check out our full step-by-step guide on how to use Jasper to create content.
ChatSonic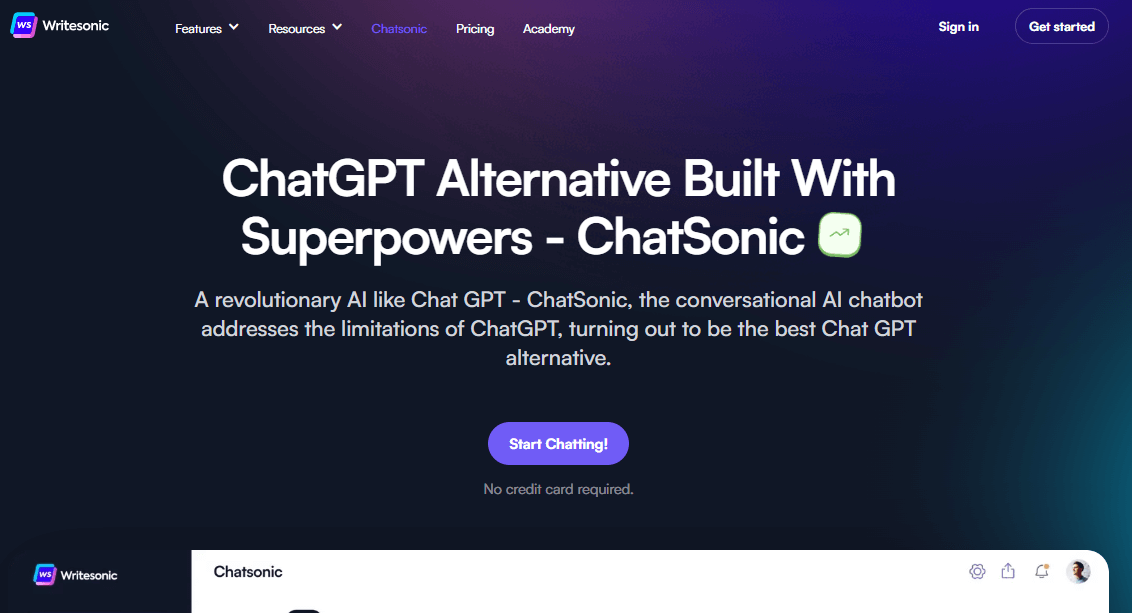 ChatSonic is an AI-powered chatbot platform developed by Sonic.AI, a California-based startup. The platform uses natural language processing (NLP) and machine learning algorithms to enable businesses to use custom chatbots that can interact with customers and automate customer service and support tasks, such as answering common questions, providing product recommendations, and even processing transactions.
You can integrate ChatSonic with a range of popular messaging channels, including Facebook Messenger, WhatsApp, and SMS, allowing you to reach your customers wherever they are.
ChatSonic offers a range of customization options, allowing businesses to create chatbots that reflect their brand voice and tone, and to tailor the user experience to their customers' needs.
The platform also provides analytics and reporting tools to help businesses track engagement, monitor performance, and identify areas for improvement. In summary, ChatSonic is like ChatGPT but with images, Google integration, voice, and API.
ChatSonic is available on a subscription basis, with pricing based on the number of active users and the level of access to features and customization options such as the number of words you want to create.
It has 2 plans: a free plan to limit up to 2500 words with one user, and a paid plan that starts at $12.67 and goes up to $666 per month, which gives you the ability to create 19,000 words plus some other features such as API access, bulk processing, and priority support.
RELATED: You can check out our full ChatSonic tutorial for more information.
SurferSEO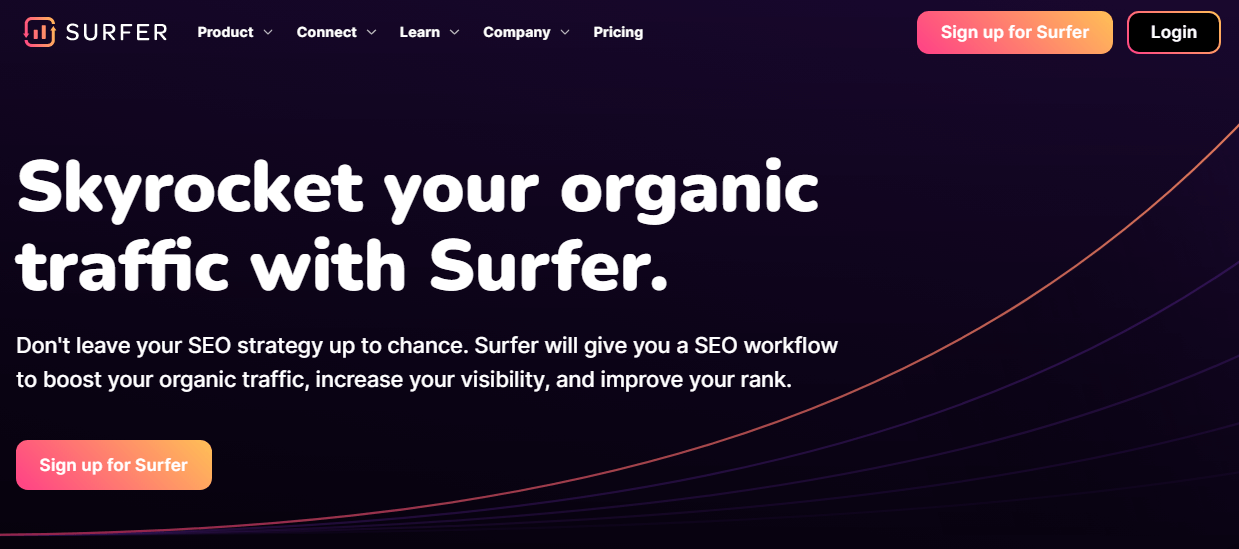 SurferSEO is a cloud-based on-page optimization tool that allows you to analyze and compare your content against what currently ranks on the SERPs, which will provide you with an SEO workflow to enhance organic traffic, awareness, and website rank.
SurferSEO is among the best AI-powered SEO tools that you can use, whether you're running a blog and want to rank it higher in SERPs (search engine results pages), if you produce content as a freelance copywriter, or if you own a copywriting agency.
The tool provides actionable recommendations and suggestions for improving your on-page SEO by editing factors such as content length, keyword density, meta tags, and more. allowing you to rank higher than your competitors.
SurferSEO also offers a range of tools and features to help businesses optimize their content, including a content editor, a site audit, keyword research and analysis, a SERP analyzer, and more.
It also can be integrated with many other AI-powered content creation tools, such as Jasper (the AI-powered content writing tool that we've spoken about earlier), Semrush, WordPress, and Google Docs.
To use SurferSEO, you need to choose from 3 available plans: The Basic, which will cost you $49 per month; the Pro plan, which will cost $99 per month; and the Business plan, which will cost you $199 per month.
SurferSeo has a 7-Day Money-Back Guarantee, so you can use it by yourself, test its features, and decide later whether you want to stick with them or choose another AI-powered writing tool from the ones we spoke about.
RELATED: For more information about SurferSeo, read our full step-by-step guide on how to use it for optimizing your content.

OpenAI Playground is a web-based platform that allows users to experiment and interact with various artificial intelligence (AI) models and algorithms developed by OpenAI (the company that created ChatGPT).
OpenAI Playground provides a user-friendly interface for testing and exploring different AI technologies without requiring any programming knowledge or experience.
As well as many other different tools, including language generation, question answering, and sentiment analysis. It also includes computer vision models for image classification, object detection, and image generation.
OpenAI Playground isn't suitable for the average user, yet it's a fantastic way for people who can't access ChatGPT to gain a taste of its advanced features. It functions similarly to ChatGPT on the web, allowing users to experiment with various language models.
For the pricing, OpenAI Playground is a free and open-source platform that is accessible to anyone with an Internet connection (after creating an account), but if your usage is high, you'll have to opt for a premium subscription.
RELATED: For more information, Check out our full ChatGPT review here.
MarketMuse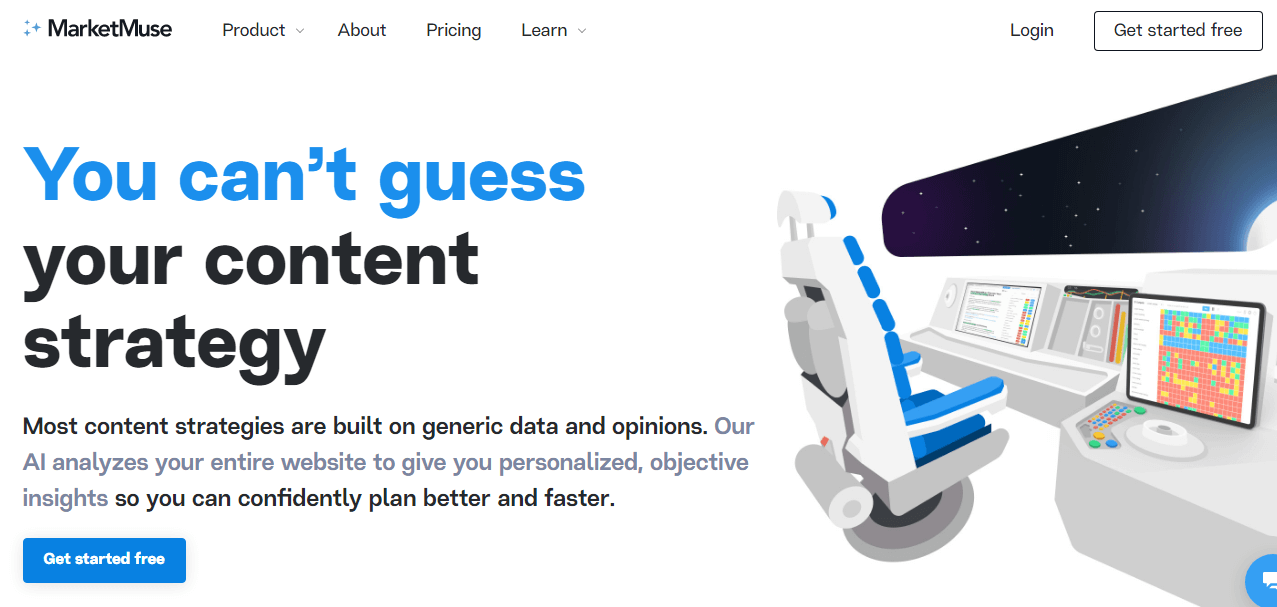 MarketMuse is an AI-powered content planning and keyword research tool, created by Aki Balogh and Jeff Coyle in 2013. It helps users improve their content quality, increase organic traffic, create a wide presence, improve productivity, and boost their revenue.
It uses machine learning and artificial intelligence to collect and analyze content and suggest topics to cover and develop briefs to help your brand or agency create better content for your audience.
MarketMuse is designed for businesses of all sizes, from small SEO writers looking to create highly effective content or marketing strategies for their blogs or to provide freelance copywriting jobs, to big agencies that want to create highly engaging content for their clients.
MarketMuse is one of the best tools that can help content marketers, SEO professionals, and digital marketing agencies complete their jobs easily and rapidly.
For the price, they have three plans: the free plan, which you can start using for free; the standard plan, which starts at $149 per month; and the premium plan, which, if you want to get, you need to contact the sales team.
RELATED: Read our complete MarketMuse tutorial for more information.
Frase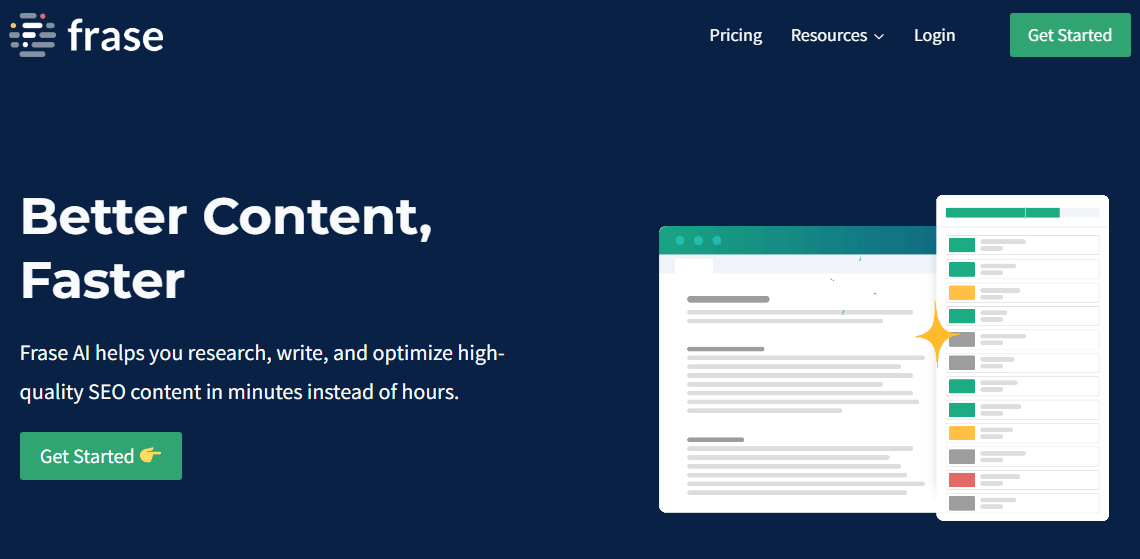 Frase.io is an AI-powered content optimization platform that helps businesses and individuals create unique and high-quality content that ranks higher in search engines and engages their target audience.
It was launched in 2018, and since then, the platform has gained popularity among content marketers, SEO professionals, and digital marketing agencies for its ability to improve content quality and SEO performance.
The platform uses natural language processing and machine learning algorithms to analyze and optimize content for search intent, relevance, and readability.
Also, Frase.io offers a suite of tools for content research, optimization, and performance tracking, and their importance is:
The content research tool: It helps users find relevant topics and keywords for their content based on search volume, competition, and relevance.
The performance tracking tool: It allows users to monitor and analyze the impact of their content on their website traffic, engagement, and conversions.
The optimization tool: It provides real-time feedback on how to improve content quality, readability, and SEO performance.
The content briefs feature: It allows users to generate comprehensive briefs for content writers based on target keywords, questions, and search intent.
You can integrate Frase with many popular content management systems (CMSs), such as WordPress and HubSpot, to streamline content creation and publishing workflows.
Frase.io offers three pricing plans to suit different needs and budgets, which are:
The Solo plan starts at $14.99 per month and includes 1 user seat, the ability to write and optimize 4 articles, and the ability to generate 4,000 AI words per month.
The Basic plan starts at $44.99 per month and includes 1 user seat, writing and optimizing 30 articles, and the ability to generate 4,000 AI words per month.
The Team plan starts at $114.99 per month and includes 3 user seats, the ability to write and optimize unlimited articles, and the ability to generate 4,000 AI words per month.
To get unlimited AI-Generated Words as well as other premium features, you need to pay an additional $35/mo. But the good thing about Frase is that you can get started with a 5-day trial for only $1, and you can cancel anytime you want, so you lose nothing, test it, and see if it fits you.
RELATED: Check out our full Frase.io tutorial for more in-depth information.
Rytr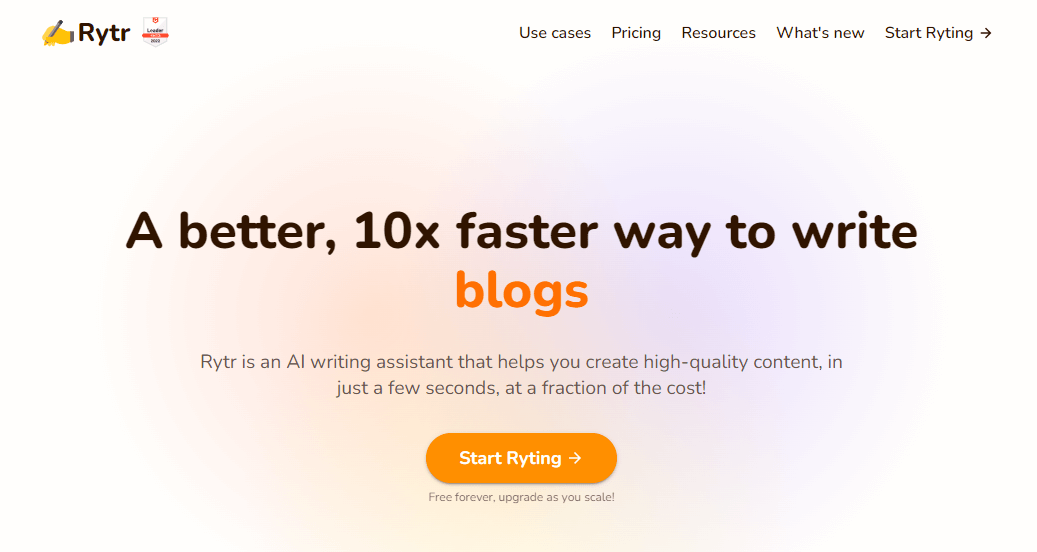 Rytr is an AI-powered writing assistant that was launched in 2020 to help users create high-quality content quickly and easily. The tool uses advanced natural language processing and machine learning algorithms to analyze user inputs and generate human-like writing outputs in various formats, such as blog posts, social media posts, emails, and more.
Rytr offers a user-friendly interface that allows users to input their content ideas, topics, and keywords and generate unique, high-quality writing outputs within minutes with the help of AI technologies.
The platform also includes a built-in editor that allows users to review and edit their content before publishing or sharing it, besides many other tools that are designed for various use cases such as content creation, marketing, e-commerce, and more.
Different from Jasper and ChatSonic, which are AI-powered content writing tools, Rytr is primarily an AI-powered writing assistant. Supporting more than 40 languages, it can help you write a business plan, a business idea pitch, improve your knowledge base article, or simply write a better email.
The platform offers three pricing plans to suit different needs and budgets, ranging from a "Free plan" that you can start using for free to a "Saver plan" that starts at $9 per month to the "Unlimited plan," which starts at $29 per month.
Of course, all the plans are suitable for individual users, small enterprises, and large teams and organizations. You can begin using Rytr for free and then upgrade your plan as your needs grow.
RELATED: Read our full Ryrt.ai tutorial for more in-depth information.
Copy.ai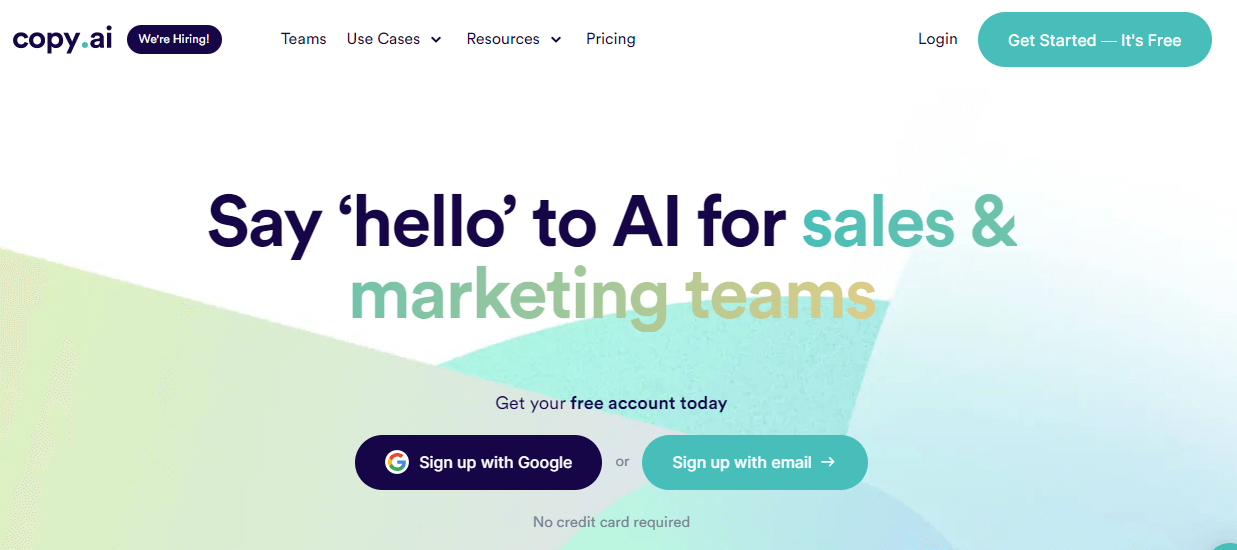 Copy.ai is a user-friendly, AI-powered writing assistant that uses advanced natural language processing and machine learning algorithms to help users generate unique and high-quality content in various formats quickly and easily.
Whether you need blog posts, social media content, emails, or any other type of content, Copy.ai can analyze your inputs and create content ideas, topics, and keywords to help generate human-like writing outputs in just a few minutes.
Copy.ai also includes a built-in editor that allows users to review and edit their content before publishing or sharing it to make sure it's perfect and ready to use.
The platform offers three pricing plans with no credit card required to suit different needs and budgets, ranging from a "Free plan" that allows you to create 2,000 words per month plus other features to a "Pro plan," which starts at $36 per month for unlimited words and more premium features, and an "Enterprise plan," for which you need to contact them and request a demo.
Finally, this tool is good for either individuals or large teams, and it's also free to start, so you can test them and decide later whether you want to continue with them or move to another tool.
RELATED: For more information, check out the full Copy.ai tutorial here.
Best ChatGPT alternatives for coding
If you are a programmer or a coder and you're looking for AI-powered tools that can help you write your code, these are some of the best ChatGPT alternatives to use for creating codes.
Remember, ChatGPT and other AI language models are not specifically designed for coding tasks. However, several AI-powered coding tools can help developers improve their productivity and efficiency and also save them some time and money. Here are some of the best ChatGPT alternatives for coding: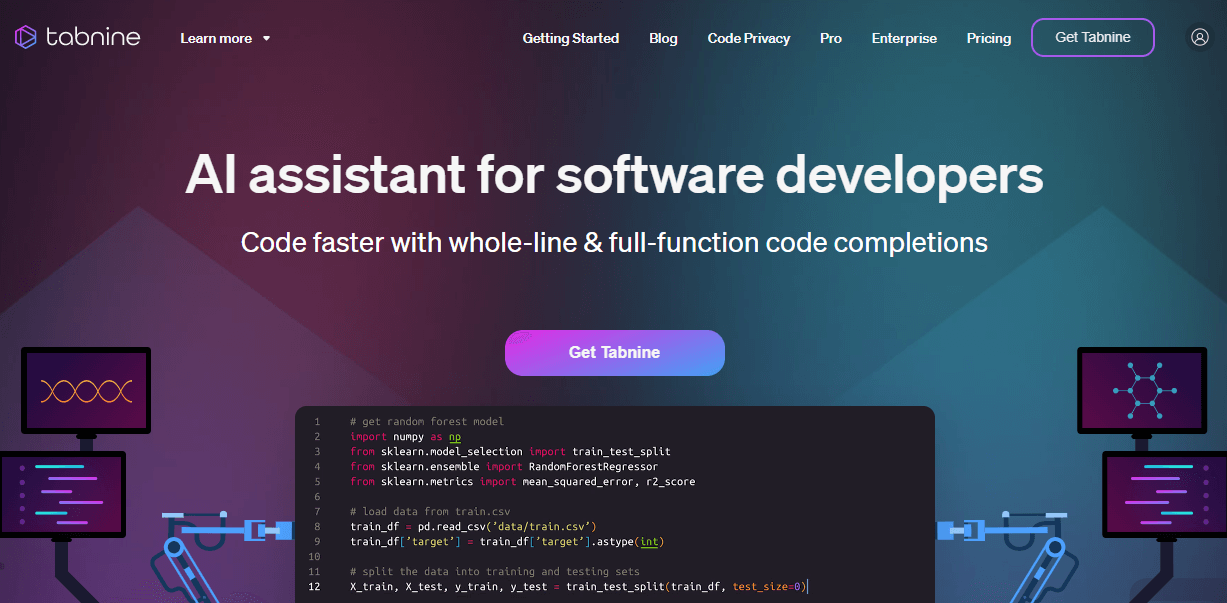 Tabnine (formerly Codota) is an AI-powered auto-completion tool for popular programming languages such as Python, TypeScript/JavaScript, and Java.
It offers function suggestions based on the information the customer provides, as well as having recently updated its engine to start competing with its competitors.
Tabnine has been a pioneer in its field, debuting as Codota and quickly making a name for itself in the IDE market. Its code completion plugin has grown into a user standard, with assistance for the vast bulk of languages, libraries, and frameworks.
It is reported that Tabnine requires more input from the user to make suggestions compared to other AI auto-completion tools like Copilot (We will speak about this AI later in this article).
Tabnine strictly adheres to open-source licensing and keeps your code free of potential plagiarism or copyright infringement. With Tabnine Pro, you can further customize your experience with a private AI model that can be trained to fit your coding style and patterns.
Other Tabnine characteristics include: Users can keep scripts safe on your company servers by hosting and training their own AI models. In contrast to comparable apps, Tabnine only needs a small quantity of context to provide midline suggestions as you code, trying to make the coding procedure more effective and comfortable.
Tabnine offers three plans. Whether you choose the "Starter plan" which is free, the "Pro plan", which will cost you $12 per month, or the "Enterprise plan", which you'll need to talk to the firm's support team to get. Also, every plan is adjustable to fit your needs.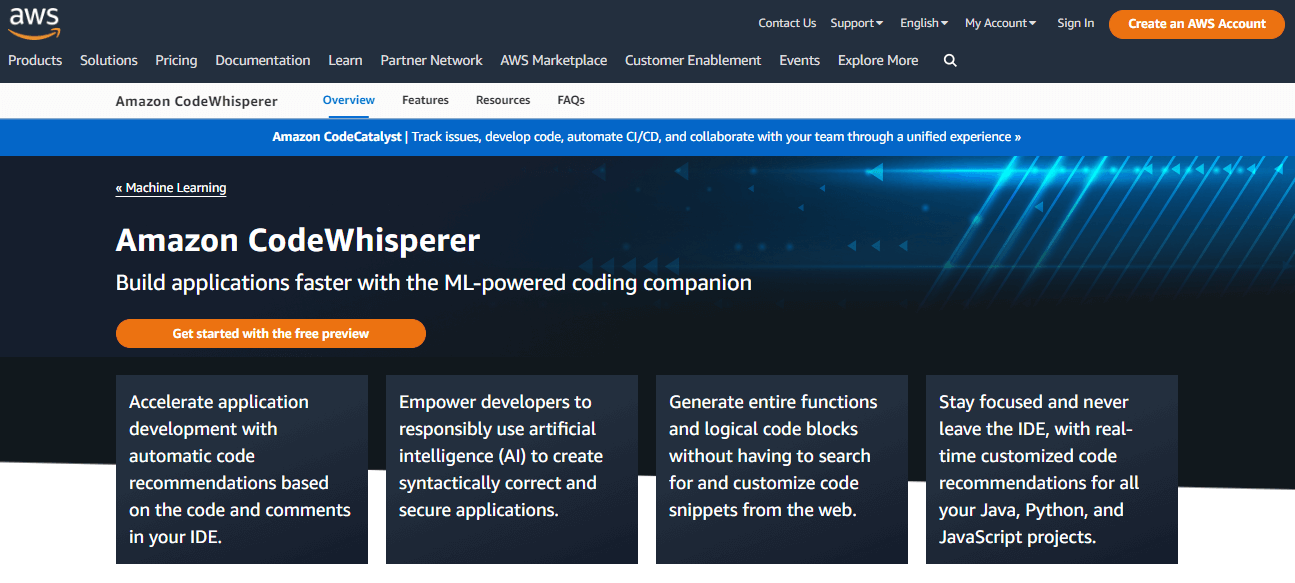 Amazon Codewhisperer is a proprietary tool that assists programmers in quickly identifying, understanding, and debugging code issues.
It uses advanced machine learning algorithms and natural language processing techniques to analyze code and identify patterns and issues.
This same system gives programmers a comprehensive report on the behavior and attitude of the script, such as potential bugs and performance problems, as well as fix recommendations. This saves programmers valuable time by allowing them to resolve issues quickly and enhances the quality of their code.
CodeWhisper has an intuitive and easy-to-use design with a user-friendly interface and a range of customization options, making it a great choice for developers of all skill levels, from beginners to experts.
It's also easily scalable to handle large code bases and integrates with popular development tools and platforms like GitHub, allowing developers to quickly add it to their existing workflows.
The best thing about Amazon Codewhisperer is that it's available to developers at no charge.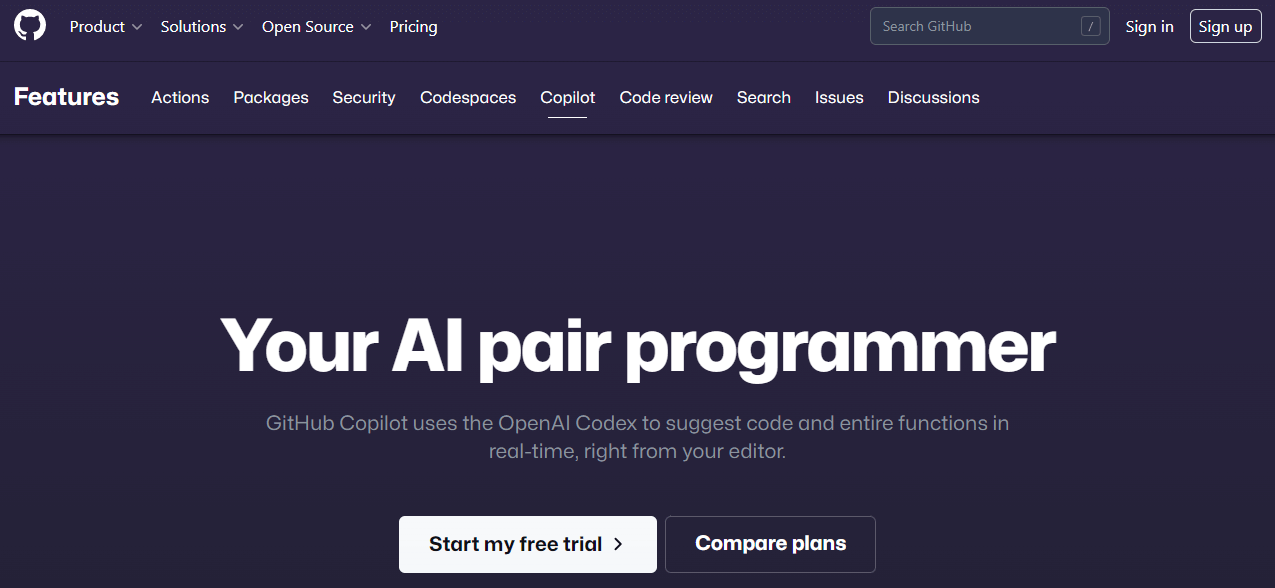 GitHub Copilot is GitHub's auto-completion tool within popular development environments like VS Code, Neovim, and JetBrains, and even in the cloud with GitHub Codespaces, powered by OpenAI Codex's GPT-3 model.
The model reportedly generates code in at least 12 languages, including JavaScript, Go, Perl, PHP, Ruby, Swift, TypeScript, and BASH. The model is trained on billions of lines of code available in the public domain, such as in GitHub repositories.
GitHub Copilot ranks as one of the best ChatGPT alternatives that provide multi-language coding assistance. and it's also compatible with popular coding platforms like VS Code, Neovim, and JetBrains.
If you're a student or have made a significant contribution to widely used open-source projects, you can use Copilot for free. Other individuals can subscribe for $10 per month. CoPilot is also available for businesses at a monthly cost of $19.
Best ChatGPT Alternatives for Research
AI-powered research tools can help researchers and students efficiently process and analyze large volumes of information in a short period. These tools use natural language processing and machine learning algorithms to extract relevant information from vast amounts of data, saving researchers time and effort.
They can also help identify patterns and trends in data, which can be valuable in fields such as economics, social sciences, and medicine.
By providing faster and more accurate analysis, these tools can help researchers make more informed decisions and draw more insightful conclusions. And some of these tools are: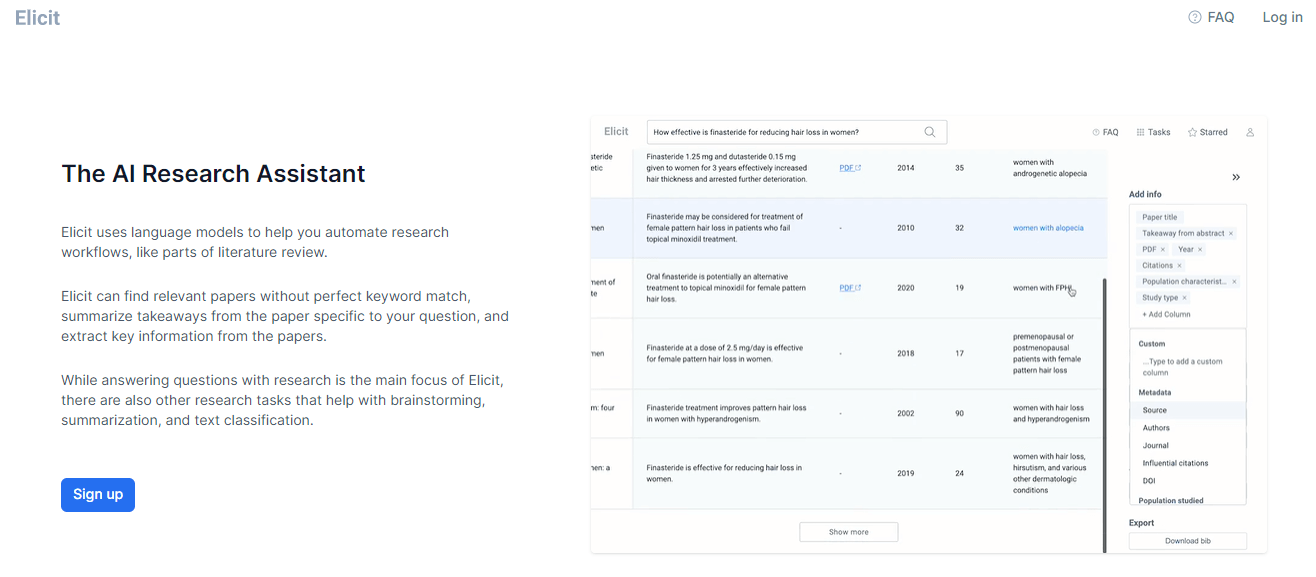 Elicit is a research assistant that automates areas of a researcher's work process using language models such as GPT-3.
Now, at the moment of creating this article, the main market for Elicit is scientists and students. It is used primarily to find papers to cite and define research directions. Many students say they use Elicit to find clues for papers, answer questions, and score well in exams.
The review of the literature is now the leading sequence of tasks in Elicit. That means When you ask a question, Elicit displays relevant papers and summaries of key information about those papers in an easy-to-use table.
Some of Elicit's main features are: gaining access to a thorough collection of publications pertinent to your inquiry in a timely fashion; discovering the datasets analyzed and the results achieved by different authors; and, for students, helping them uncover information that is relevant to their coursework as well as answer questions.
Finally, Elicit is free to use, you can visit the Elicit official website and start discovering its features.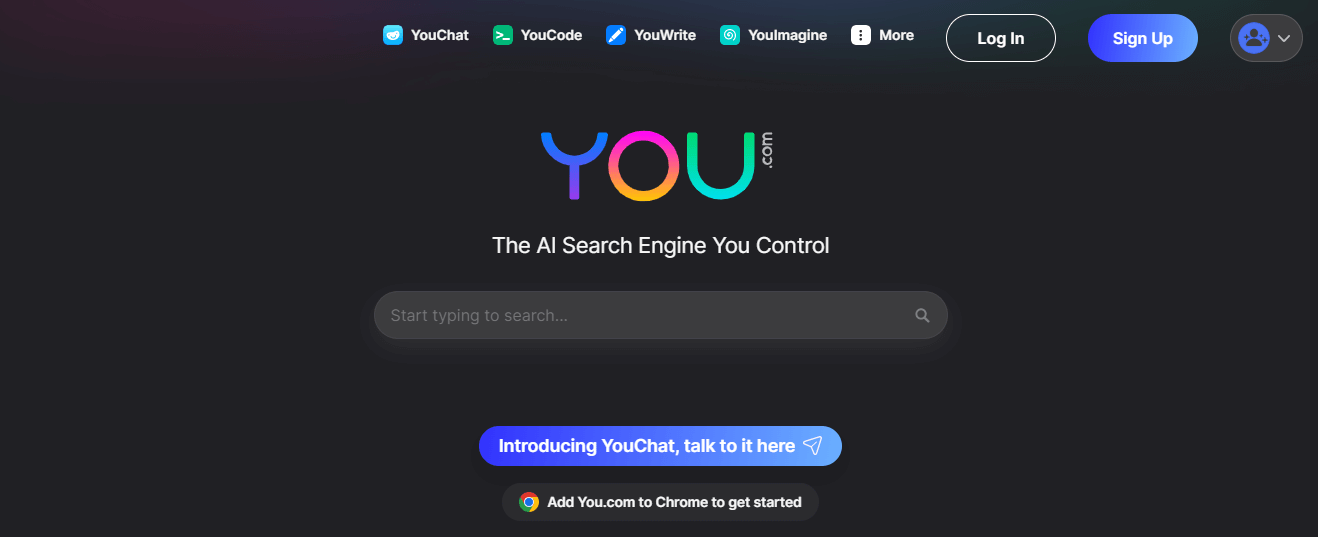 YouChat is another conversational ChatGPT-like AI search assistant that uses artificial intelligence and natural language processing to converse like humans. It was launched by You.com, a search engine that works pretty much like Google (though not quite as well, of course), and to use it, simply make a query on You.com.
It functions similarly to ChatGPT in that it can reply to general inquiries, translate, summarize text, suggest ideas, write code, and build emails. It provides average responses because it continues to be in the development stage.
Simply submit an inquiry and you'll be given responses in addition to similar subjects and search engine results. YouChat has been designed to have natural-sounding discussions as well as provide accurate and in-depth replies to several inquiries due to its capacity to provide detailed descriptions and explain a varied subject matter that ranges from public knowledge to niche themes, including computer languages and web-based applications.
YouChat is still in the development phase, but it is free to use.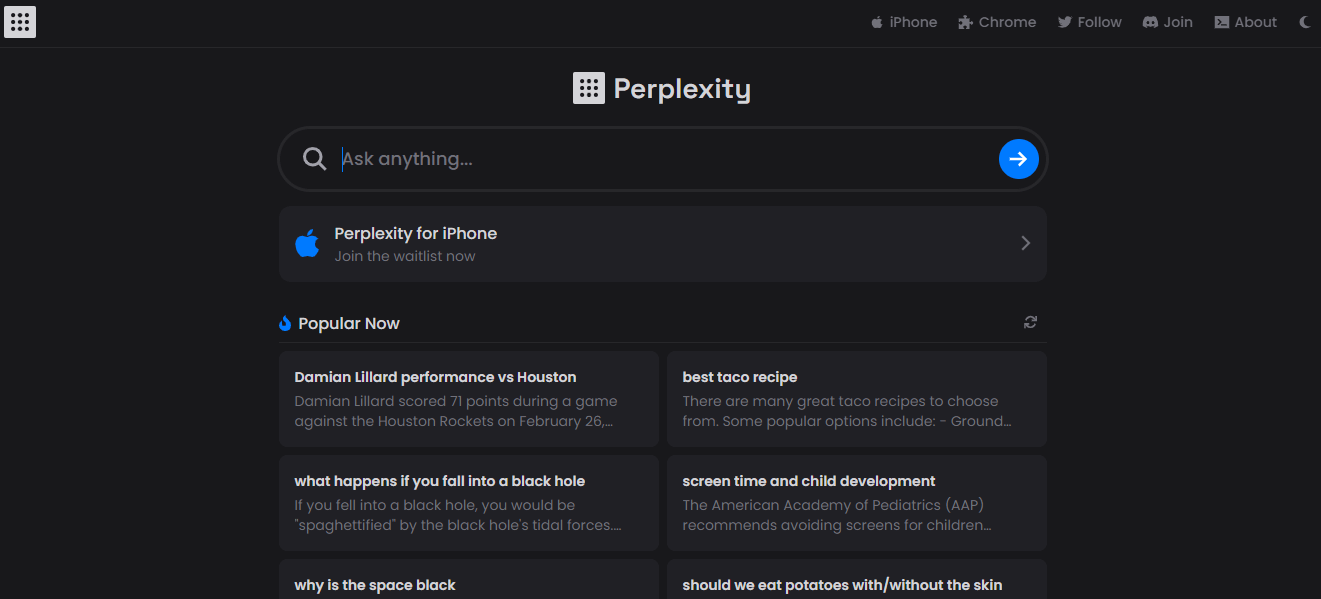 Perplexity is another great option among ChatGPT alternatives. It was recently launched in the conversational AI space by a team of former Meta, Google, Quora, and Palantir AI engineers who want to improve the way people find and access information.
It has strong similarities to ChatGPT, such as dialogic answers as well as content creation.
With its conversational UI features, you can ask Perplexity anything, and you will get an answer to your question, citing its sources. The tool provides follow-up questions to your original query.
Large language models are additionally employed to energize Perplexity AI (OpenAI API). You can see it collecting information from various popular platforms like Wikipedia, LinkedIn, and Amazon to Generate short conversational responses similar to ChatGPT.
It has a simple interface without many features to complicate things. However, it's still in the beta phase, so sometimes it can pick up the information as it is, leading to plagiarized content.
You can start using Perplexity because it is free to use as of now.
Best ChatGPT Alternatives for Productivity
Artificial intelligence tools have revolutionized productivity by automating repetitive tasks and providing suggestions for optimization. AI-powered productivity tools can help individuals and organizations manage their time more effectively, prioritize tasks, and streamline workflows.
These tools can also help reduce errors and improve accuracy, leading to higher-quality work output. Moreover, AI tools can analyze data and provide insights that can help identify areas for improvement and increase productivity.
By freeing up time and improving efficiency, AI-powered productivity tools can help individuals and organizations achieve their goals and maximize their productivity quickly and with less cost, and some of these tools that are somehow considered ChatGPT alternatives are: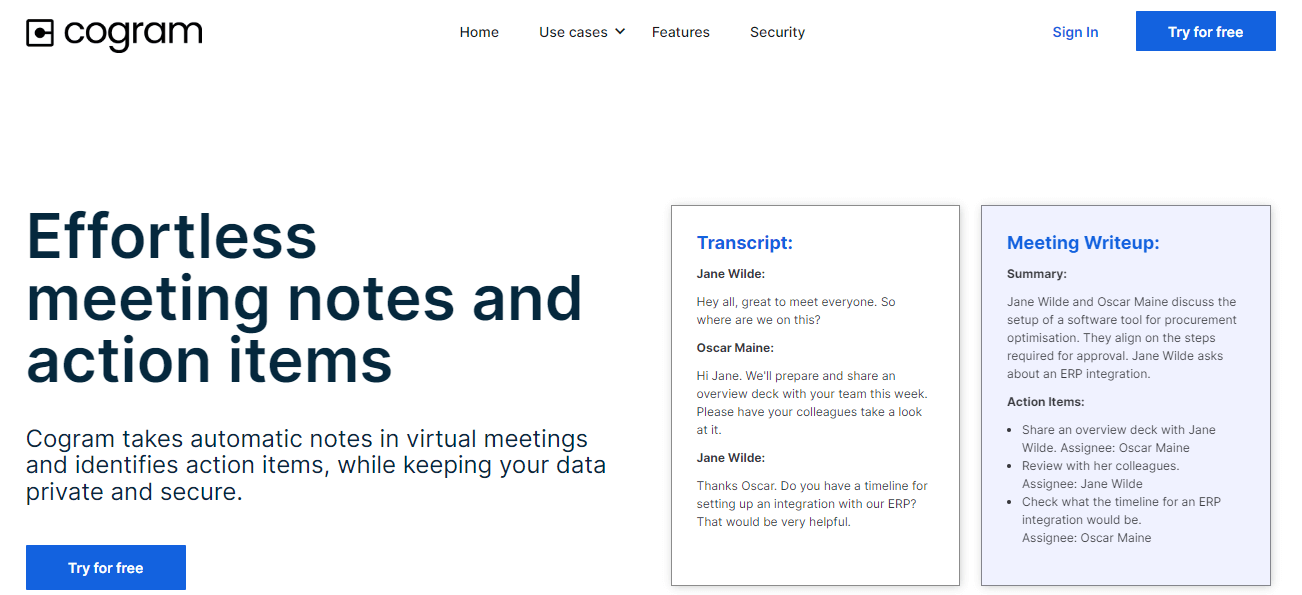 CoGram is an AI-powered note-taking software that uses natural language processing (NLP) to generate summaries of text-based content. It works by analyzing text and extracting the most relevant information to create a condensed version that captures the key points. This can be helpful in situations where someone needs to quickly get a general understanding of a lengthy document or presentation.
CoGram allows users to import content from various sources, such as web pages, PDFs, and Microsoft Office documents. Once the content is imported, the software generates a summary that can be edited, saved, and exported to other formats.
The software can also be integrated with other tools, such as Google Meet, Microsoft Teams, Zoom, and any other note-taking apps and project management software, to help users stay organized and productive by automatically taking notes of any virtual meeting, writing summaries, and identifying action points.
Overall, CoGram can save time and effort by quickly generating summaries of important information, which can help users stay focused and make more informed decisions.
You can try CoGram for free by visiting their official website.
Otter.ai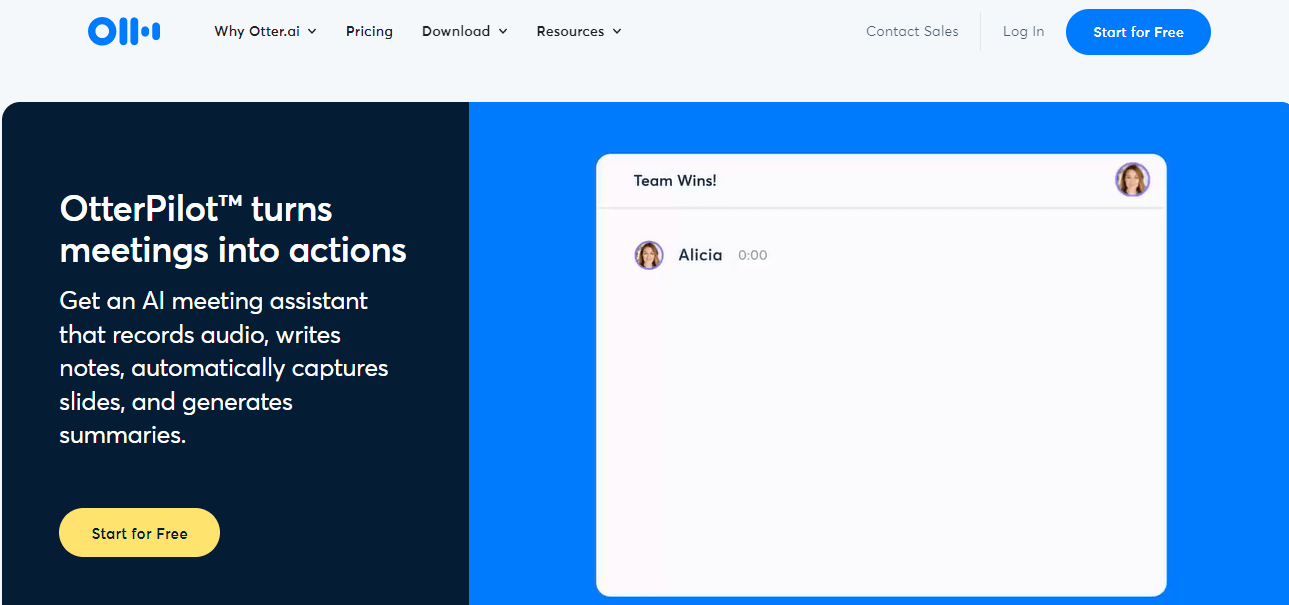 Otter.ai is an artificial intelligence-powered transcription software that is designed to turn audio recordings into text in real-time. The software uses machine learning algorithms to transcribe conversations, meetings, lectures, interviews, and other types of spoken content. The software can recognize different speakers and automatically assign names to them, making it easier to follow the conversation.
It's much Similar to CoGram and with more features, it can connect to your favorite meetings platform and transcript group conversations, take notes, and create summaries. Plus the ability to highlight key points, add comments, and share transcripts with others.
The software can also sync with other tools, such as calendars and to-do lists, to help users stay organized and productive. All these features make it one of the best ChatGPT alternatives.
Overall, Otter.ai can be a valuable tool for anyone who needs to transcribe spoken content quickly and accurately. It can save time and effort by automating the transcription process, allowing users to focus on other tasks. You can try it for free for up to 300 minutes transcribed per month.
RELATED: For more details, check out our in-depth Otter.ai review.
ChatGPT alternatives by Google
We can't talk about AI tools without mentioning Google. Google has created numerous AI technologies that are considered ChatGPT alternatives, including: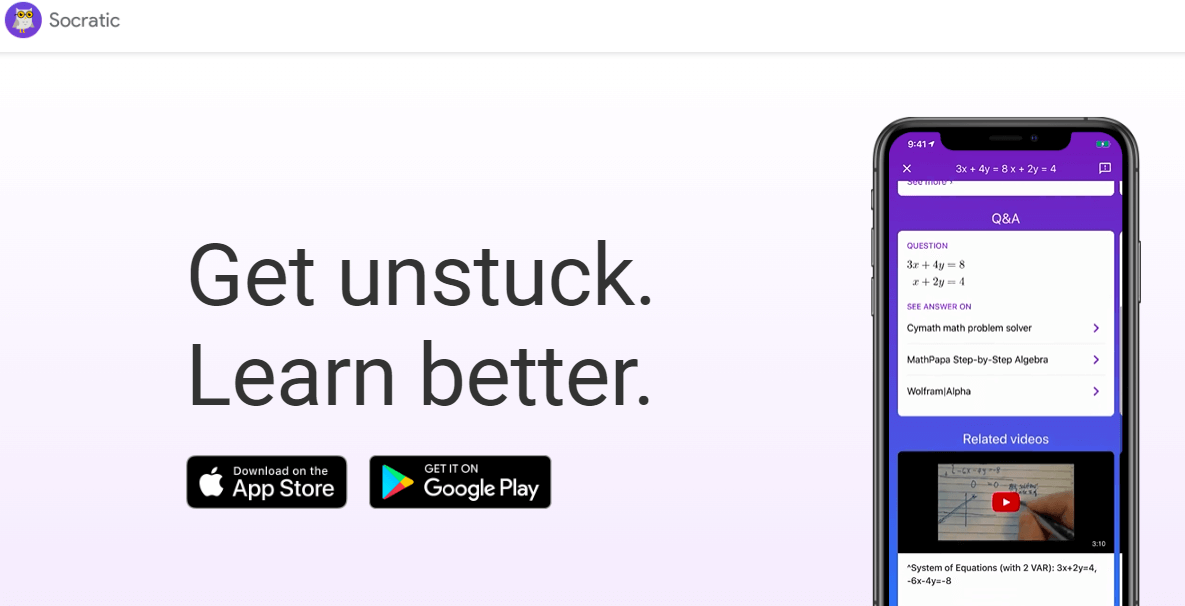 Socratic is an AI-powered educational and learning app from Google that helps high school and university students understand their schoolwork. It's available on both the App Store and Google Play Store, which provides instant homework help to students. It uses computer vision technology to scan and analyze homework questions and provide step-by-step explanations and solutions.
Socratic covers a wide range of subjects, including math, science, literature, social studies, and more. The app is available for free on both Android and iOS platforms and can be a valuable tool for students who need help with homework or want to improve their understanding of a particular subject.
With Socratic, students can simply type in their school queries and get a human-like response, complete with fun illustrations to better explain things. And it's kid-friendly, which makes it among the best ChatGPT alternatives.
Socrates is available for $4.99 for the first child each month and then 50% off for each extra kid.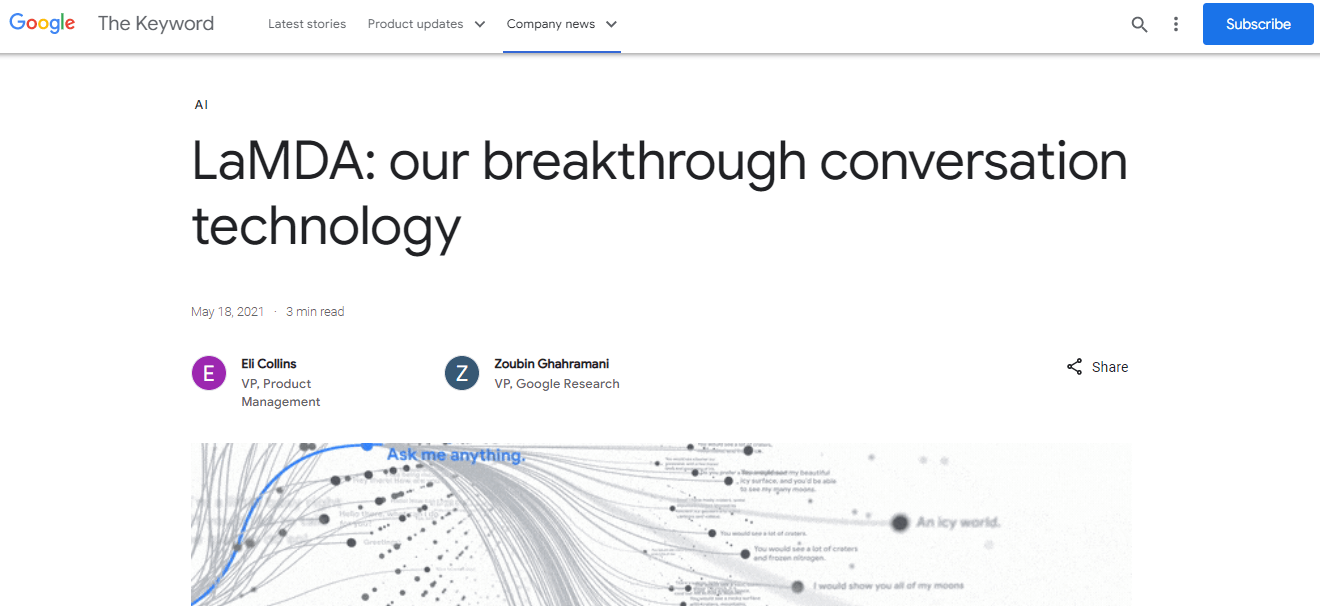 LaMDA is an AI-powered dialogue system from Google that can take natural language input and generate a response that is context-aware, coherent, and natural. LaMDA additionally possesses the exceptional capacity to respond to follow-up queries, making it one of the viable ChatGPT alternatives.
LaMDA is considered a revolution in the NLP (natural language processing) world. This same revolutionary model has been optimized based on three criteria: performance, security, and reliability.
LaMDA is developed with 137 billion parameters and pre-trained on 1.56 trillion words of publicly available web documents and dialog data.
You can test LaMDA in Google's AI Test Kitchen. and to take advantage of it, you must first register and join the waitlist before downloading the app for Android or iOS.
Bard is an experimental conversational AI service, powered by LaMDA. Built using our large language models and drawing on information from the web, it's a launchpad for curiosity and can help simplify complex topics → https://t.co/fSp531xKy3 pic.twitter.com/JecHXVmt8l

— Google (@Google) February 6, 2023
Bard AI is Google's latest, ground-breaking AI-powered chatbot. Bard AI, which is the same as ChatGPT, is built on its established LaMDA AI platform. It's an experimental conversational AI service that has the potential to have a major effect on the development of AI.
LaMDA enhances Bard's natural language processing abilities by enabling it to understand and respond to human inputs with better accuracy, removing the limitation of data being restricted to a precise year. To summarize, Bard AI is Google's reply to ChatGPT.
According to Google, Bard could create writings, respond to questions, as well as summarize texts. Furthermore, unlike ChatGPT, which is based on a set of data that was last up-to-date in September 2021, Bard is not restricted within the knowledge base to any particular year.
Because this is an experimental project, Google has not yet declared pricing.
It is now available for limited testing as of February 6, 2023, with more widespread use planned for later this year.
ChatGPT alternatives by Microsoft
Whenever it comes to conversational AI, Microsoft, like Google, had also started experimenting with a variety of AI-powered models. Here are some of the sites like ChatGPT that are giving Microsoft tough competition: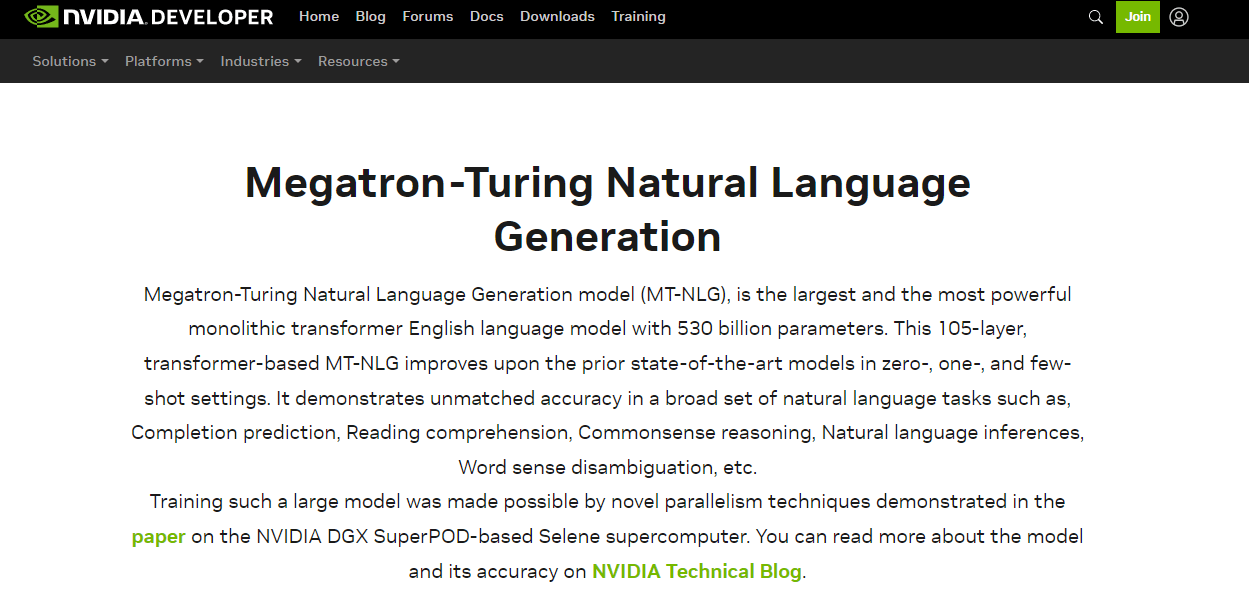 With 530 billion variables, it's among the biggest language models developed by NVIDIA and Microsoft.
The NVIDIA DGX SuperPOD-based Selene supercomputer was used to train the extremely accurate Megatron-Turing NLG, a transformer-based 105-layer LLM. It outperforms state-of-the-art models in regards to precision at zero-, one-, and few-shot configurations.
It is specialized in English language models, and it can carry out tasks like reading comprehension, word sense disambiguation, completion prediction, natural language inferences, commonsense reasoning, etc.
The pricing structure can only be found once you submit your collaboration request with Nivida Developers since they offer various other B2B solutions.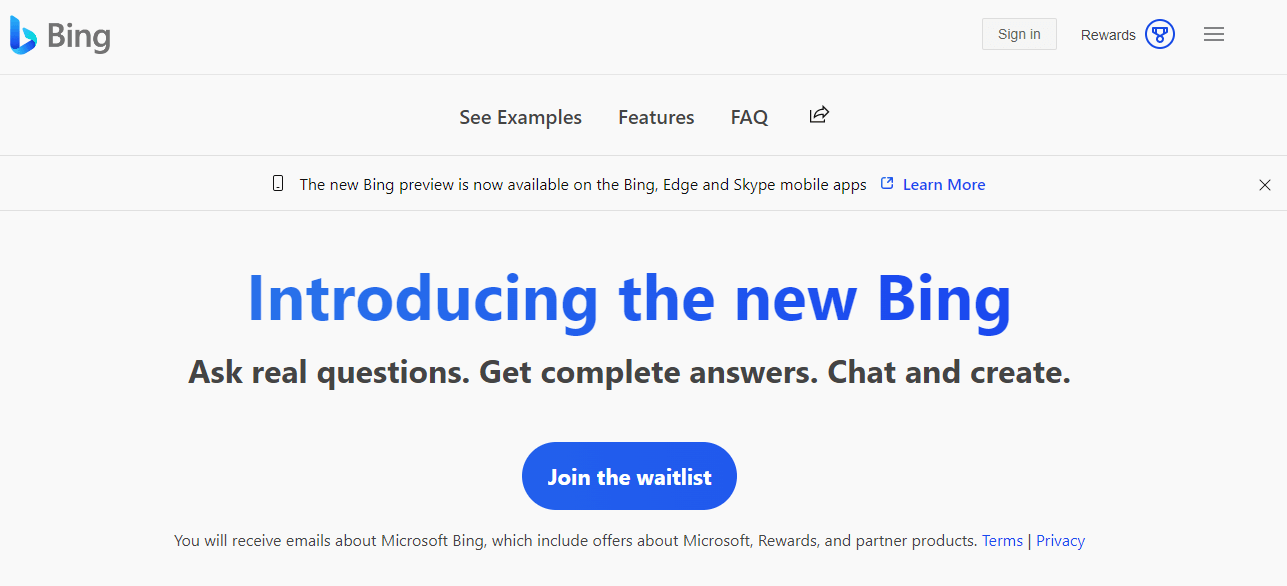 If you don't know yet, Microsoft is heavily invested in OpenAI's ChatGPT(a $10 billion investment), so it's not surprising their recent announcement to release their OpenAI-powered new Bing. So, what's new with the new Bing?
Microsoft launched its own Edge browser with the latest AI-boosted functionality entitled 'Chat' and 'Compose'. This development is in addition to their existing Bing tool. Furthermore, Microsoft recently released smartphone applications for Bing and Edge for users of iOS and Android.
Bing AI is particularly aimed at taking search to a higher tier, and its features have been customized to achieve maximum speed, precision, and effectiveness. It is based on the OpenAI large language model, which is far more effective than ChatGPT as well as GPT-3.5. It incorporates learnings and breakthroughs from its predecessors to ensure that users get the greatest possible outcomes.
Some of the top features of Bing AI are its conversational UI, which gives users the ability to ask queries with up to 1,000 words, understand their queries no matter how they ask it, and provide them with detailed responses; it delivers a summarized answer to a query instead of a list of links; and it provides sources to each piece of data provided.
And for the pricing, there is no upfront cost. Alternatively, a "pay as you go" system will be applied, including 1,000 free transactions per month. For more information, visit the official Microsoft website.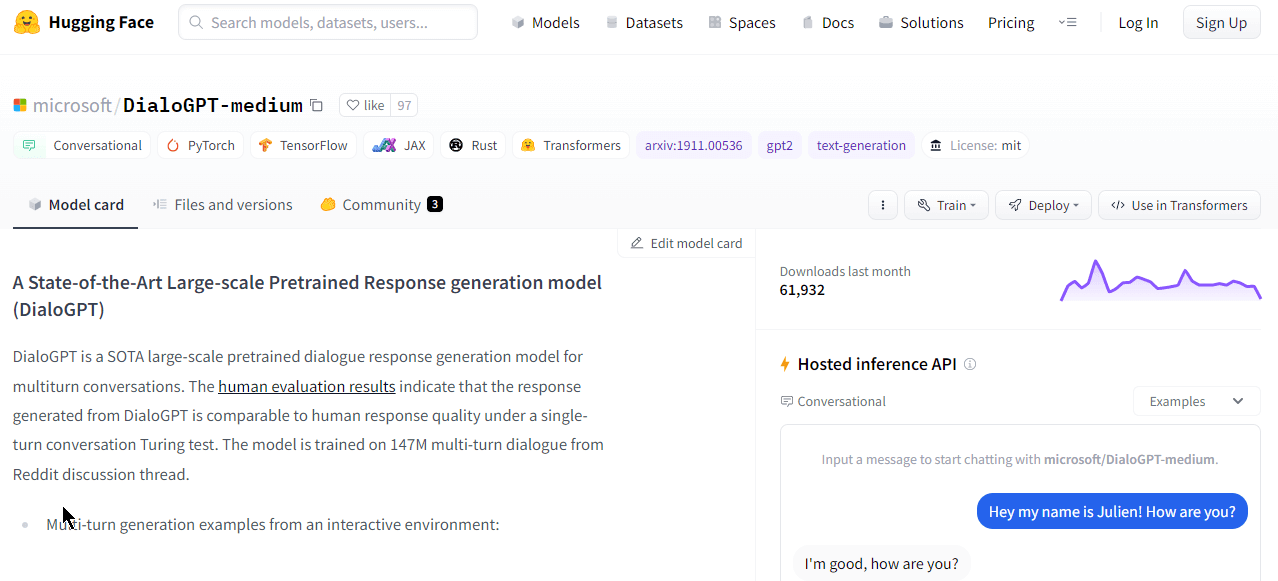 DialoGPT is a powerful, pre-programmed structure for generating responses that can be employed in numerous conversation exchanges. It has been trained with a vast number of 147 million multi-turn conversations taken from Reddit dialogue threads from 2005 until 2017.
DialoGPT from Microsoft is a large-scale, pre-trained dialogue reply generation model made especially for multi-turn discussions. It is one of the best ChatGPT alternatives out there.
DialoGPT's phrases seem to be surprisingly diversified and also include details related to the original request, similar to GPT-2's outputs. Also, Microsoft points out that DialoGPT is more conversational, energetic, often lighthearted, and usually quite lively, which could suit the purpose you're considering.
Since this is a new launch with a large language model (which is usually hard to come by), there's no concrete information available about its pricing structure. but have a look at the original DialoGPT repository to know more.
The Best ChatGPT alternatives you can Talk to
The best and most interesting thing to do with AI-powered chatbots nowadays is to converse with them as if they were friends. Unfortunately, there are no chatbots that can provide the full experience, but we did our best to list the ones that can. Here are a few examples of the best ChatGPT alternatives that can talk to you: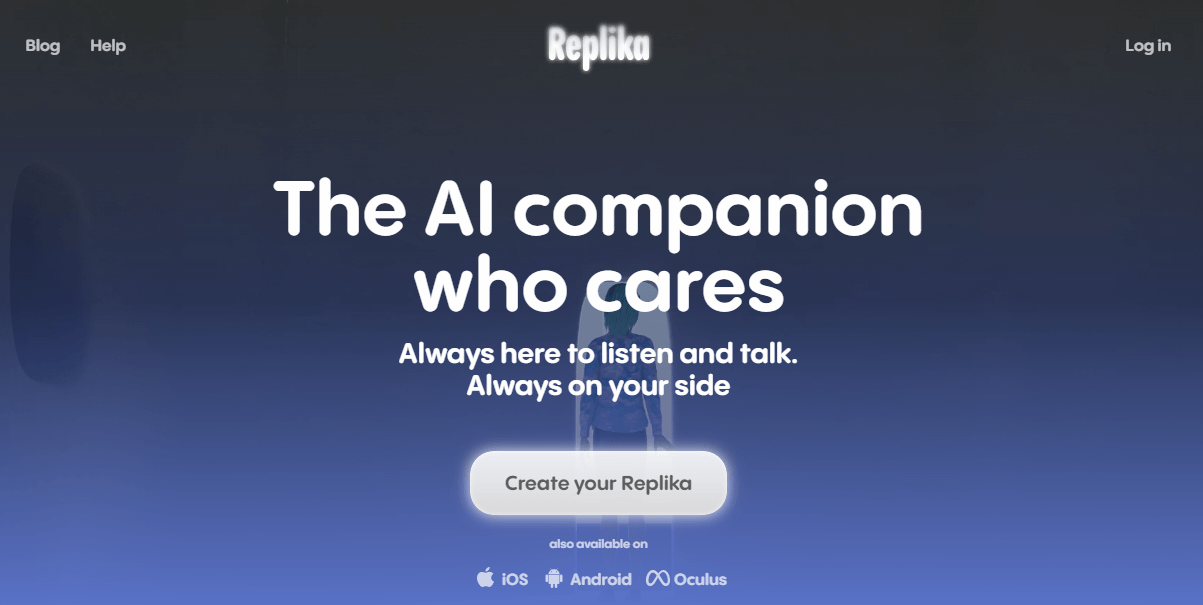 Replika is a sophisticated AI-powered chatbot with over ten million users worldwide. It is operated by an advanced GPT-3 autoregressive language model that uses deep learning to generate content with a human-like quality. In this scenario, "autoregressive" means that the system understands previous values, which in this particular scenario are user inputs.
It is far more advanced than many of the chatbots you can talk to; it can recognize visual elements and use them to keep the conversation going. As a result, it is considered among the ChatGPT alternatives available in the market.
You can think of Replika as an AI-powered chatbot that acts like a friend and responds to your messages quickly. If you are feeling isolated, like you had a bad day, or like you are lonely, then Replika can be the app to assist you in getting out of this state.
You can converse with Replika on matters of life, culture, health, and other topics that you could discuss with your buddies and family.
In terms of price, having a chat with Replika will always be free, which includes creating your customized avatar and a lot more.
A paid subscription, on the other hand, will be your best choice if you're hoping to unleash other capabilities such as voice calls, changing avatars, learning coping mechanisms, and swapping among subjects.
Replika's pro plans begin at $19.99 per month. Users may also purchase their lifetime contract for $299.99.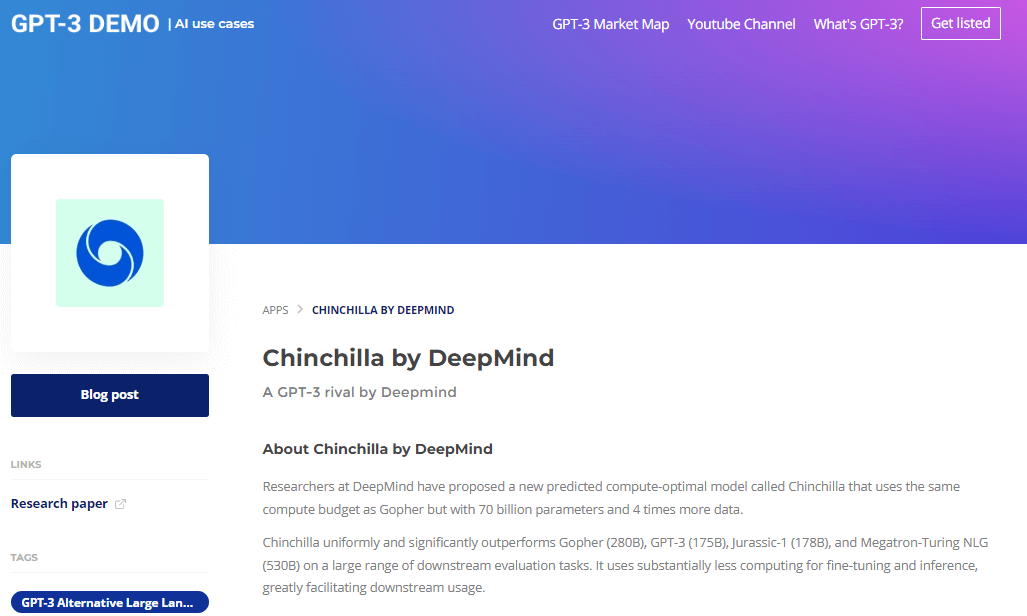 Chinchilla is another tool among ChatGPT alternatives that provides a wide range of functions and benefits. It's a DeepMind project that is viewed as the GPT-3 assassin. With 70 billion variables as well as four times as much data as Gopher, it's a computationally ideal example.
Chinchilla, similar to GPT-3 and BERT, is a transformer-based model that outperforms ChatGPT on the mathematical MMLU set of data. This helps make Chinchilla an interesting choice if you need to establish extra-advanced AI art, and search engines, and try to write tasks using a language model.
Some of the main features of Chinchilla are that, when compared against Megatron-Turing NLG (530B parameters), GPT-3 (175B parameters), Jurassic-1 (178B parameters), and Gopher (280B parameters) on a variety of downstream tasks, Chinchilla comes out on top in a major way. It also requires significantly less computing for fine-tuning and use in downstream applications, making it much easier to implement.
This model boasts a pretty impressive 67.5% accuracy rate, which is about 7% better than the widely used Gopher language model. It seems that individuals have been growingly preferring this model compared to the various choices available. Besides that, Chinchilla is 3x the size of OpenAI's GPT-3.
To obtain entry to Chinchilla, users must first call or email Deepmind. Since this is a new launch with a large language model (which is usually hard to come by), there's no concrete information available about its pricing structure.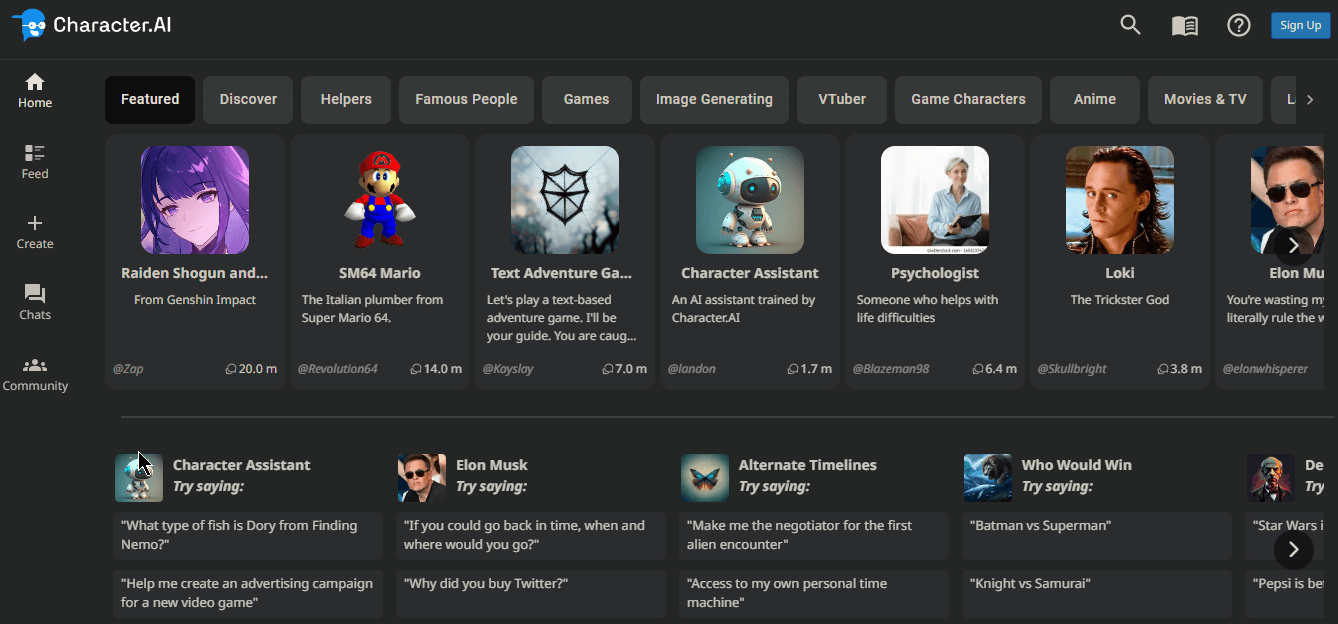 Character.ai, like Replika, lets you communicate with AI-powered characters, much like a chatbot. It offers an innovative and interactive way to experience and learn about different personalities and perspectives.
You can engage in conversations with AI representations of famous figures such as Elon Musk, Mario, Loki, or Tony Stark, or even create your own personalized AI personality to chat with. Simply put, Character.ai, which is based on neural language models (NLP), focuses on having a bit of fun and interacting with a conversational AI chatbot.
This type of tool could allow users to have realistic, dynamic conversations and learn more about the personalities they are chatting with through the use of advanced language models and AI technology.
Although Character.ai is free to use, you need to create an account with them; otherwise, your chats will get locked after a few messages.
Another AI tool to mention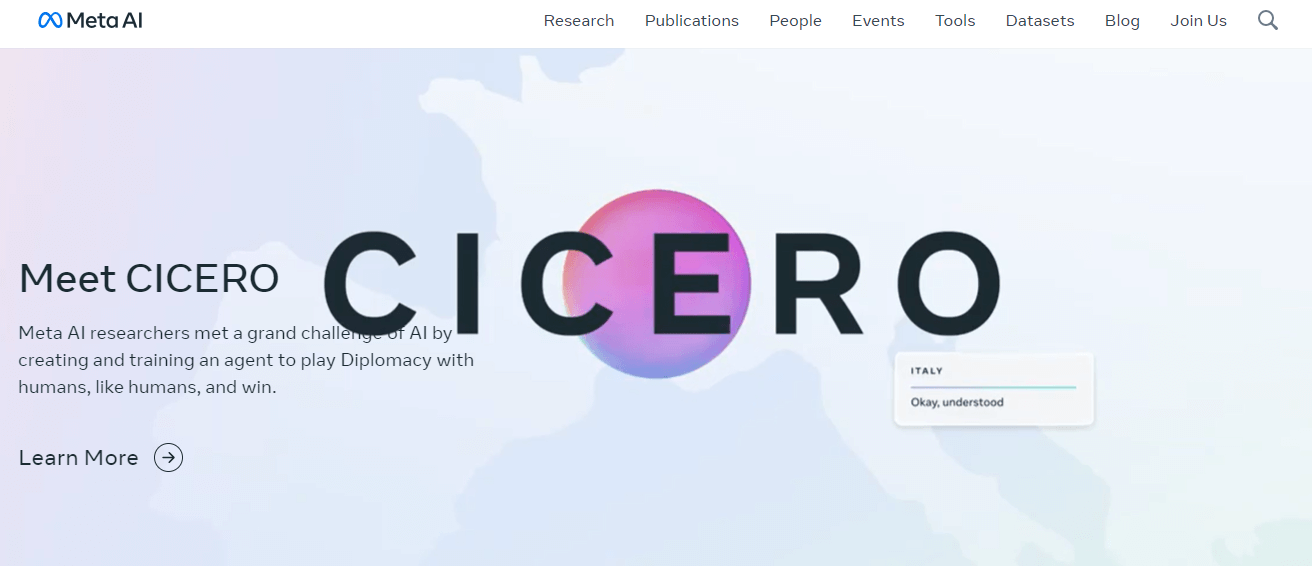 Facebook has been continuing to develop AI technologies, especially conversational AI. This sector is aimed at developing advanced AI models that really can converse with users in a human-like and natural manner.
The most important efforts in this area are the creation of language models, like the well-known OpenAI GPT-3 model.
Facebook is also experimenting with new dialogue management techniques that will enable AI technologies to comprehend things, formulate strategies, and create replies in real time.
In some other attempts, Facebook is striving to create AI systems that can truly understand and engage with people, helping to transform the way we communicate and interact with technology, as well as making them available to a broader audience by creating open-source libraries and tools that allow scientists and programmers to easily integrate conversational AI technologies into their projects.
While both Microsoft and Google have made noticeable movements in the ChatGPT alternatives area, we don't know to this day what Facebook is up to.
The Best ChatGPT Alternatives to Build Your Own Personal AI-Powered Tool:
Using popular AI-powered tools created by famous companies is good, but there is nothing like using an AI tool that was created by you. Want to know how? These ChatGPT alternatives can help: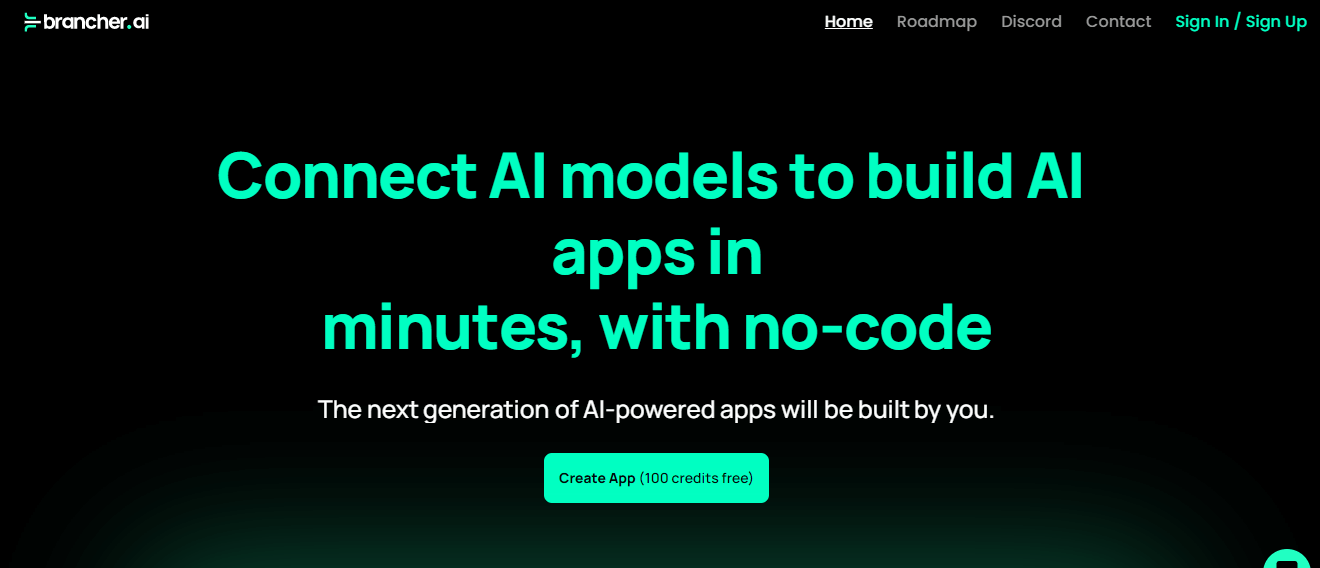 As you've read above in this article, many, if not all, of the AI-powered tools that we mention use OpenAI's GPT-3 AI models to power their platforms. But Brancher lets you create AI-powered apps without the need for coding.
Created in a hackathon (an event that brings together innovative data scientists and developers to solve real-world data challenges in applying artificial intelligence and machine learning) by the team of Fresh Labs led by the two geniuses Directors Johnny Rodriguez and Elisha Terada. Brancher is probably worth a look if you want to get into AI tool creation.
Less than a month after winning first place in an AI hackathon, Brancher now has over 3,000 users and has produced over 3,400 AI-powered apps.
FAQs
Because the topic of ChatGPT alternatives is so vast, we've created a list of the most frequently asked questions and tried to answer them briefly:
What does LaMDA stand for?
LaMDA stands for "Language Model for Dialogue Applications", and it is an AI-powered dialogue system from Google that can take natural language input and generate a response that is context-aware, coherent, and natural.
What is ChatGPT, and why would I need ChatGPT alternatives?
ChatGPT is a powerful language model created by OpenAI that can be used for a variety of natural language processing tasks, such as language translation, content generation, and chatbot development.
However, there are many reasons why someone might want to explore some of the ChatGPT alternatives, such as a desire for a different pricing model, a need for specific features that ChatGPT doesn't offer, or a preference for a different user interface.
How do I know which ChatGPT alternatives are right for me?
It depends on your specific needs and uses. Some ChatGPT alternatives might be better suited for certain tasks, such as translation or content generation, while others might offer more advanced features or integrations with other tools you use.
It's a good idea to evaluate your requirements and try out a few different options before committing to one of the ChatGPT alternatives.
Are ChatGPT alternatives expensive?
The cost of using ChatGPT alternatives can vary depending on the specific tool, the pricing model, and the specific features offered.
Some tools may offer a free version or a free trial or a limited version with basic functionality, while others may charge a monthly or annual subscription fee, and sometimes a one-time payment.
It's important to consider the features, capabilities, and pricing of each tool as well as consider your budget before choosing any of the ChatGPT alternatives that work for your needs and budget.
Do I need programming experience to use ChatGPT alternatives?
It depends on the specific tool. Some ChatGPT alternatives are designed to be user-friendly and don't require any programming knowledge, while others may be geared more toward developers.
It's important to evaluate the user interface and ease of use before deciding on a tool.
Can ChatGPT alternatives be used for commercial purposes?
Again, it depends on the specific tool and its licensing terms. Some ChatGPT alternatives may offer free or open-source licenses that allow for commercial use, while others may require a paid license or prohibit commercial use altogether.
It's important to review the licensing terms before using any ChatGPT alternatives for commercial purposes.
Is there any other tool like ChatGPT?
ChatGPT is undoubtedly introducing several exciting new features. Yet, just as any expert AI geek might inform you, whenever it comes to selecting the best tools, there are always alternatives.
For example, some of the other popular conversation AI tools include ChatSonic, DialoGPT, Chinchilla, Bloom, LaMDA, and Jasper (we spoke about them all earlier in this article), Each offers different features and capabilities, so it's important to understand the different tools and their strengths.
ChatGPT may be ideal for some tasks, yet it might not be suitable for all. Also, owing to increased demand, it may frequently display an error stating that ChatGPT is at capacity.
Hence, before making a decision, do your research and examine all of your possibilities. Moreover, if you're seeking a solution that extends the capabilities of ChatGPT, explore the tools listed earlier in this post.
How can I access ChatGPT?
Can I use ChatGPT like Google Search?
No, you can't use ChatGPT as Google because, first, it's only trained on data up to 2021, and second, it is a large language model and not a search engine.
So, it can help you if you ask him for data before September 2021, but if you are searching for new information and news above September 2021, sometimes ChatGPT may not help you get what you want.
What is OpenAI? And who owns it?
OpenAI is an artificial intelligence research laboratory made up of the for-profit company OpenAI LP as well as its parent company, the nonprofit organization "OpenAI Nonprofit" which was created in 2015.
OpenAI is motivated more by the desire to advance digital intelligence in a way that would most likely help people in general than by the necessity to create a financial return.
The OpenAI team is made up of a broad collection of researchers, technologists, and business experts that are committed to developing useful AI-powered tools.
The OpenAI Nonprofit owns OpenAI and is also ruled by a board of directors that includes OpenAI LP employees Greg Brockman (Chairman & President), Sam Altman (CEO), and Ilya Sutskever (Chief Scientist), as well as non-employees Reid Hoffman, Adam D'Angelo, Tasha McCauley, Will Hurd, Shivon Zilis, and Helen Toner.
OpenAI is also supported by Microsoft, Reid Hoffman's charity organization, and Khosla Ventures.
These funders give funds and processing capacity to OpenAI for it to develop AI-powered software.
Is Chatgpt down? Why is ChatGPT at capacity?
ChatGPT is an AI-powered chatbot created by OpenAI, a research center dedicated to the development of artificial intelligence technologies. It has recently become a popular tool for programmers, businessmen, and technophiles hoping to swiftly produce content using natural language processing.
The algorithm has been taught on a significant quantity of text material, such as archived books and Wikipedia, and it can produce text that replicates different writing styles.
Nevertheless, because of its huge success, the servers have become saturated, resulting in error messages and the inability of people to use the chatbot. Some ChatGPT members have lately received issue notices from the chatbot, such as "Oops!, something went wrong", and "Chat GPT is at capacity right now" and are wondering whether ChatGPT is down.
To avoid future crowding, OpenAI has restricted the number of people that may use the service at once.
They additionally offer a premium service for $20 a month called ChatGPT Plus that gives you special access with no interruptions.
RELATED: For more information on ChatGPT's costs, see our entire ChatGPT review.
What are the most frequently asked questions among ChatGPT users?
ChatGPT users usually resort to Google for assistance with a variety of problems, from obtaining knowledge about a specific subject to troubleshooting a technical issue.
General knowledge inquiries, studying a theme, discovering a service or good, diagnosing a gadget, resolving a mathematical issue, investigating a business or career opportunity, and looking for a particular object are among the most frequent searches by ChatGPT users.
ChatGPT users may also utilize Google to get information, look up an address, or locate a local company.
What is the smartest AI-powered chatbot?
Jasper, ChatSonic, SurferSEO, Rytr, and other AI-powered tools that we have mentioned earlier in this article are the best and smartest options for an advanced AI-powered chatbot that replies to all your questions in real-time with up-to-date information extracted from search engines, lets you perform voice searches and gives back voice responses (just like Google Assistant, Siri, and Alexa), allows you to create AI art, offers API support, has a Chrome extension, as well as a mobile app (for both Android and iOS devices).
They are among the best ChatGPT alternatives that you can use.
Who is ChatGPT's founder?
ChatGPT is built on GPT-3, a technology owned by OpenAI, an artificial intelligence research lab.
What are the key features to look for when choosing ChatGPT alternatives for content writing?
When choosing one of the ChatGPT alternatives for content writing, look for features such as natural language processing (NLP), the ability to generate coherent and grammatically correct text, support for various languages, and the ability to integrate with existing writing tools and workflows.
RELATED: Check out our full guide on how to create content using AI-powered tools like ChatGPT.
Can ChatGPT or any other ChatGPT alternatives be used for SEO and content optimization?
Yes, ChatGPT as well as many other ChatGPT alternatives offer features and tools specifically designed for SEO and content optimization. These can include keyword research and optimization, content analysis and recommendation tools, and other tools to help improve the performance and visibility of your content.
Some of these tools are Jasper, SurferSEO, Chatsonic, Rytr, and many others.
RELATED: Check out our list of the best AI-powered tools for SEO.
Are ChatGPT alternatives better than human writers?
While ChatGPT alternatives can be very useful for generating text quickly and efficiently, they are not necessarily better than human writers.
Human writers can bring a unique perspective and creativity to their work that cannot be replicated by AI. Additionally, AI-generated text may still require human editing and refinement to ensure accuracy, coherence, and tone.
How do ChatGPT alternatives compare to other AI-powered writing tools?
ChatGPT alternatives are just one of many types of AI-powered writing tools, and their specific features and capabilities may vary.
Some AI-powered writing tools may be more focused on specific use cases, such as social media or email marketing, or may offer different types of functionality, such as translation or transcription, like Jasper or SurferSEO.
While others may focus only on replying to general inquiries using inputs and data provided by users and generating content based on that specific data, such as ChatGPT or YouChat.
What should I do if I am unable to utilize ChatGPT?
ChatGPT is now experiencing several challenges as a result of its growing popularity.
Don't be concerned if you've lately seen ChatGPT down or ChatGPT having capacity problems. You'll be capable of using it after some time. or consider using one of the AI-powered tools we suggested earlier in this article.
Conclusion
ChatGPT, as an AI language model, has amazed the public with its capacity to create human-like replies to a variety of queries and requests. GPT-3's introduction as an open framework has cleared the path for dozens of fresh tools and apps to improve how we operate, connect, and engage with technologies.
Although ChatGPT is excellent for many things, we are witnessing an increase in competitors that have comparable features, allowing us to accomplish more with less time.
It's amazing to consider the many endless opportunities and breakthroughs that will appear as AI keeps on developing and developing, and how they will change and reshape our planet.
There are various ChatGPT alternatives to meet your requirements, regardless of whether you're searching for an AI tool with deeper learning ability, a streamlined user interface, or natural language processing capacity. But which is the most effective?
Every platform is distinct and has advantages and disadvantages; choosing the best is a matter of personal taste.
If you have any questions concerning ChatGPT alternatives, please express them in the comments section below. We appreciate you taking an interest in our article.