Artificial intelligence (AI) is a broad field of computer science that focuses on developing intelligent computers capable of doing activities that typically necessitate human understanding. AI is regarded as an integrative discipline with numerous methodologies, but advances in machine learning and deep learning are causing a change in thinking in almost every sector of the technology industry. AI enables machines to model and even build on the capabilities of the human mind. and one of the newest and latest AI tools that are trending today is ChatGPT.
AI is becoming more prevalent in daily life, from the creation of self-driving cars to the spread of smart assistants such as Google Assistant and Alexa. As a result, numerous technology businesses across a wide range of sectors are investing in artificially intelligent technologies.
So, what exactly is ChatGPT, and how does it function?
We understand that this review may be too lengthy for some readers, so we tried hard to include all of the important elements of ChatGPT. You may use the table below to browse this content if you don't want to keep reading:
What is ChatGPT?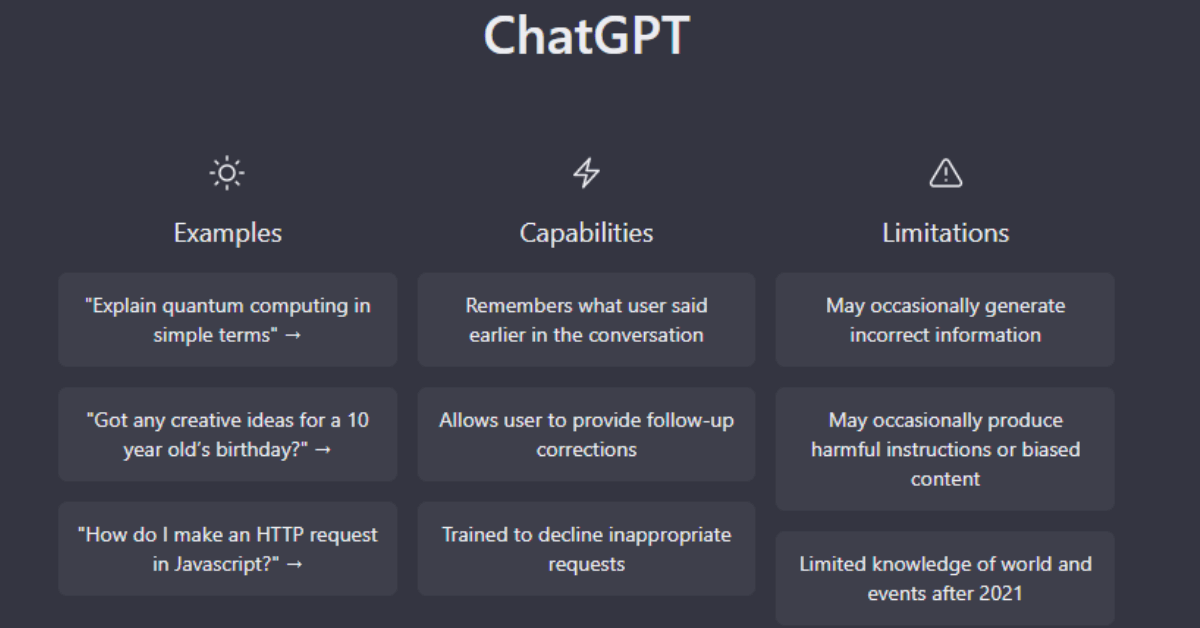 ChatGPT is an artificial intelligence chatbot that can perform almost anything. It can program, write an article, assist you in arranging your property, and even create a recipe for you, to name a few things. OpenAI, the team behind the popular artificial intelligence bot DALL-E, produced it. an AI that can make detailed, realistic graphics in any style on practically any subject based on textual input from users.
Elon Musk, Sam Altman, and others co-founded OpenAI in 2015. It was DALL-E who first gained mainstream recognition. OpenAI presented ChatGPT to the world last month, estimating that it will produce more than $200 million in income in 2023 and almost $1 billion by 2024 (OpenAI generates revenue by charging developers to license its text and picture generation technologies). ChatGPT, the chatbot that can execute search requests and compose full articles based on prompts, drew quick interest in the tech and media industries, not least from authors concerned that it is so excellent that it would soon replace them.
ChatGPT, or Chat Generative Pre-Training Transformer, is a natural language processing (NLP) technique used to increase the abilities of chatbots and other artificial intelligence (AI) communication systems. It is built on the GPT (Generative Pre-Training Transformer) model created by OpenAI and published in a seminal article in 2018.
GPT is a machine learning model trained on a huge dataset of human-generated text, such as news stories, novels, and web pages. The model learns about the structure and patterns of real language by using this training data, and it may then create new text that is comparable in style and substance to the training data.
ChatGPT expands GPT's capabilities by allowing it to handle conversational context and discourse. This enables it to converse with consumers in a more lifelike and human-like manner. ChatGPT, for example, may save the history of a conversation and utilize prior remarks to shape its answers, allowing it to comprehend and follow the discussion.
What is ChatGPT Plus?
On February 1, 2023, 2 months after the program was made public, OpenAI, the company that developed the most known AI chatbot, ChatGPT, introduced ChatGPT Plus, a premium version of it that offers users a fast experience, and early access to new technologies for $20 per month.
The tool will continue to be available for free to the general public. The new premium membership, on the other hand, gives ChatGPT users access to the AI chatbot during peak periods, as well as speedier response times and priority access to new features and enhancements. We believe that is a decent and beneficial decision for this AI chatbot's users because it breaks down frequently and causes you to wait during high traffic levels.
We are piloting ChatGPT Plus, a subscription plan that offers faster response times and reliability during peak hours. And of course, the free tier of ChatGPT is still available. https://t.co/2hEBw6h5Se

— OpenAI (@OpenAI) February 1, 2023
You may begin using ChatGPT Plus by joining the ChatGPT Plus waitlist, which is solely for regular users. If you are a developer or programmer interested in using the ChatGPT API, please join up on the ChatGPT API waitlist. Keep in mind that the service is presently only accessible in the United States, but other nations will be added later.
OpenAI stated that it will begin accepting people from its waitlist in the coming weeks. In addition, they are considering developing new lower-cost plans, business plans, and data packs for its subscribers in order to boost availability.
We'll begin to invite people from the waitlist and will broaden availability beyond the US soon. Join the waitlist here: https://t.co/fd11x9mrG9

— OpenAI (@OpenAI) February 1, 2023
How does ChatGPT work?
When a user enters a query or topic into ChatGPT, the model generates a response based on its training data and understanding of the conversational context. The answer can be adapted to the application's requirements, such as providing customer assistance or engaging in informal interactions with users.
First of all, go to the official ChatGPT website, and you will be taken to this page. You can either log in to your account or sign up for a new one. We'll make a new one for this article.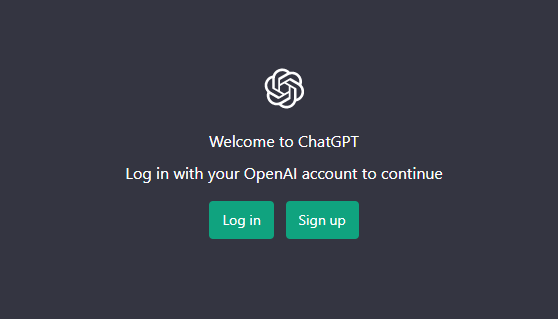 To create your account, click on "Sign up", enter your email, solve the captcha, and then click "Continue". You can create your account either with your Google or Microsoft account if you want.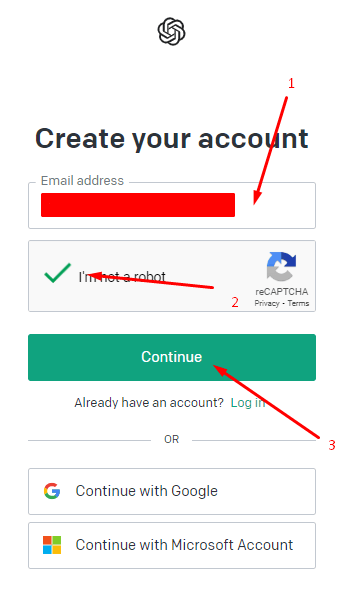 2. Create a password; your password must contain at least 8 characters.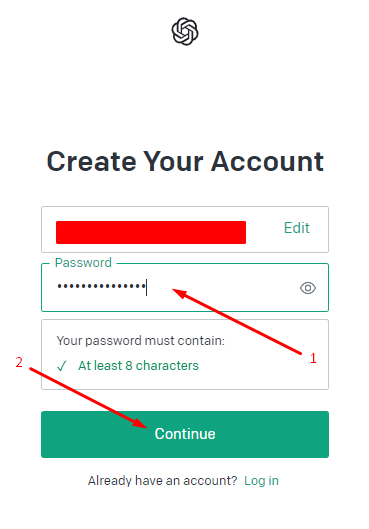 3. To verify your account, ChatGPT will send a confirmation email to your email address.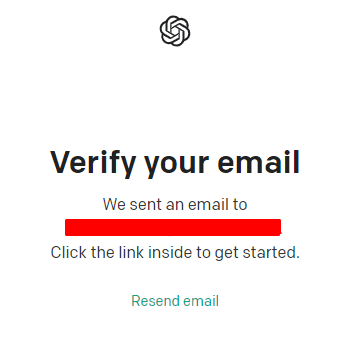 Just go to your mailbox and press "Verify email address".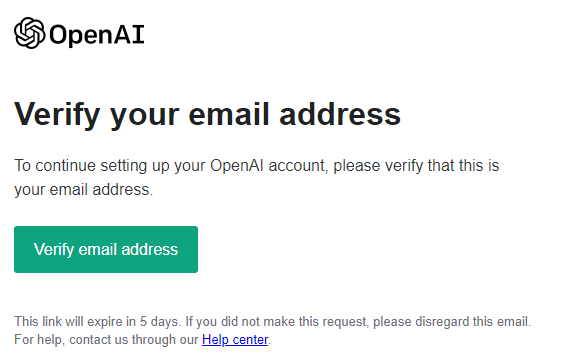 4. Now you will be asked for your first and last name, enter them and click "Continue".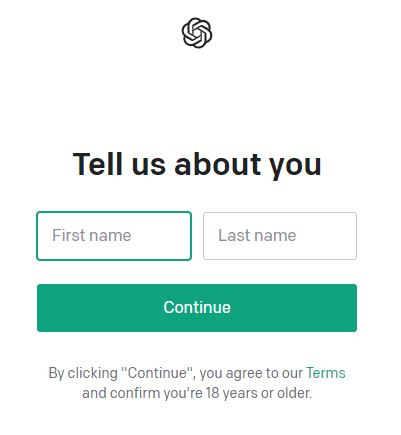 5. Last but not least, phone number verification. enter your phone number, and click "Send code". ChatGPT will send a six-digit code to your number.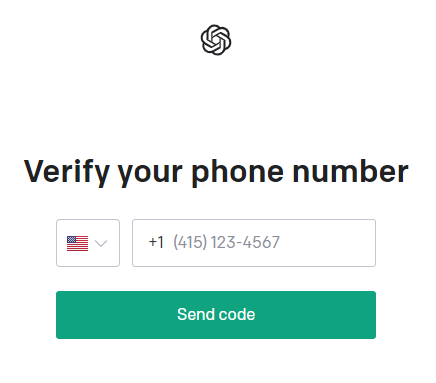 Enter the code, and your account will be activated automatically.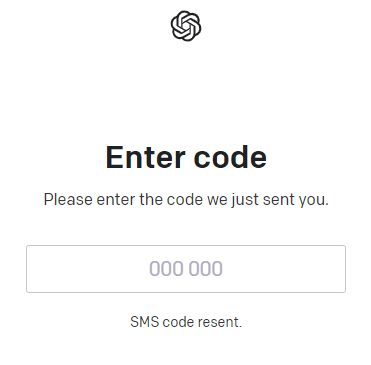 After completing all these steps, you will be taken to the main dashboard to start using ChatGPT.
Before you do, you will see some notices saying:
Our purpose is to gather external input to enhance and secure our systems.
Despite our safeguards, the system may occasionally create false or misleading information, as well as inappropriate or prejudiced content. It is not meant to provide advice.
Conversations may be reviewed by our AI trainers to improve our systems.
Please don't share any sensitive information in your conversations.
This system is optimized for dialogue. Please let us know if a specific response was helpful or not.
Share your feedback on our Discord server.
Just click "Next", and you will be able to use it immediately. To start using it, use the chat box mentioned in the picture below.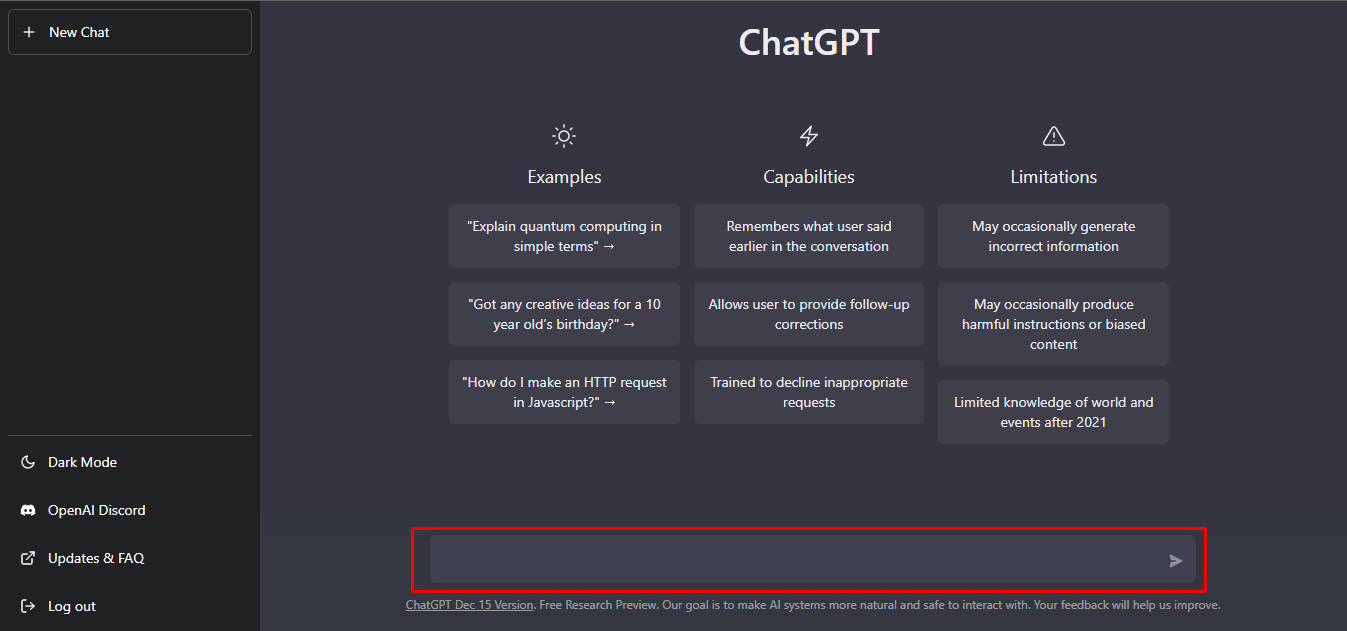 One of ChatGPT's primary benefits is its ability to generate human-like content that customers find challenging to distinguish from content written by a person. This can be beneficial in a range of applications, such as customer service, where ChatGPT-powered chatbots can deliver rapid and accurate answers to frequent concerns and difficulties.
ChatGPT can be utilized in various AI communication systems, such as voice assistants and text-based messaging platforms, in addition to chatbots. Its capacity to grasp and create natural language makes it a powerful tool for increasing these systems' efficiency and efficacy.
Despite its outstanding capabilities, ChatGPT has certain limitations. As with any AI system, it has limitations when it comes to activities that demand a high degree of comprehension and interpretation, such as comprehending jokes or sarcasm. It is also constrained by the quality and diversity of its training data, and it may give biased or erroneous results if the training data is not reflective of reality.
Is it possible that ChatGPT may cause issues in the future?
Many individuals all across the world dislike the public availability of AI-powered products, believing that it will bring actual difficulties by replacing humans in numerous sectors. If you ask them if this new ChatGpt tool can cause difficulties, they will simply say "Yes".
We can argue that it will lead to ethical (and non-ethical) issues in the future. Many instructors across the world are worried that their students may use ChatGPT to cheat on their exams, and this is only one of many examples of how this tremendously powerful technology can go awry.
Self-employed people (Freelancers), designers, copywriters, and web developers are all instances of this.
But, once again, the issue is the usage, not the product. If we only consider the technology component (which, admittedly, we are more interested in), it is freaking incredible.
Many developers have now utilized and tried this chatbot to try and develop their codes and AI concepts, and the use of this chatbot is entirely dependent on your background. For example, if you are a web developer, you may request that ChatGPT create a website in HTML. If you are a tester, you might ask ChatGPT to assist you in locating the problem in that particular system.
How can you make money with ChatGPT?
Write and sell e-books
Writing books is one of the most effective methods to make money online. You may utilize ChatGPT to request a whole book script (perhaps a tale), and you can then have this book published on e-book distribution platforms such as Amazon KDP. Short books, such as recipe books, short novels, or children's books, will be your major focus. because it's fairly simple; there aren't that many words in it, and you can publish it on Amazon KDP and start making money right away. What about the images, though? We'll show you how to make the photographs later, and everything is driven by another AI technique called Midjourney.
So you could simply go to ChatGPT and type something like: "Write a short narrative about a tiny kid who meets a little magical creature and becomes pals for life."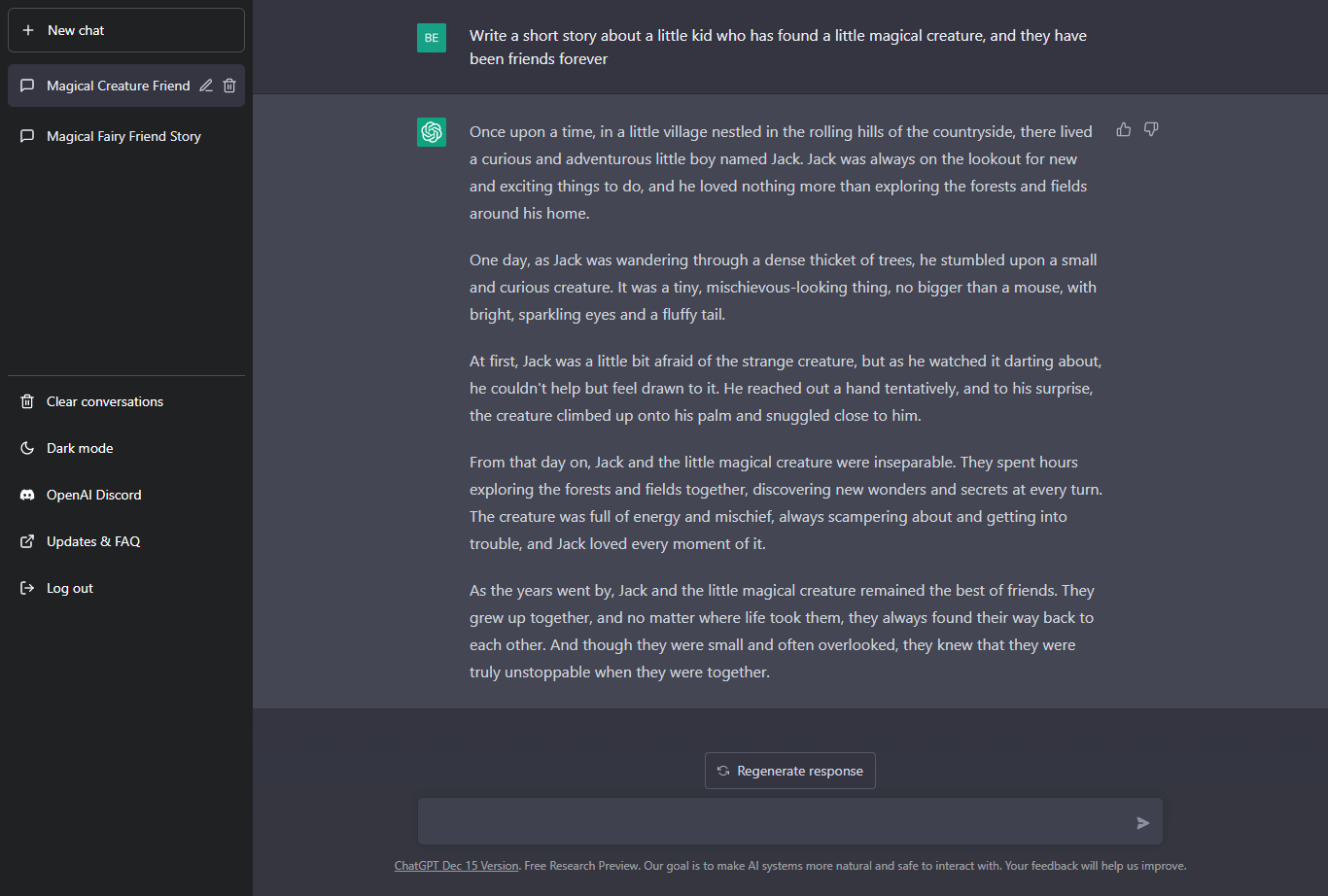 As you can see, ChatGPT creates a lovely short narrative about a little boy named Jack who discovers a small and strange creature in the jungle. The narrative was ready to be turned into a book; all we needed were some illustrations.
And now for the pictures. As previously stated, we will be employing an AI technology known as Midjourney. It's a Discord server that's currently on a free trial. You join their Discord group and paste your description into the group's text box. Then, within 60 seconds, it draws you pictures from AI-generated images.
You can download and use those pictures to make your storybook, and then you will be ready to publish it on Amazon KDP.
RELATED: Read our comprehensive guide to Amazon KDP and how to use it to make money online.
Create a trading bot indicator
ChatGPT can generate a trading bot indicator for you. This one is fantastic. If you've ever tried to invest in crypto or stocks, you've probably used a tool called Trading View, which is a monitoring tool that shows the price action of various coins and goods and services like Bitcoin or stocks like Apple and other things like that, and basically, people use it if they want to trade, buy and sell stocks and cryptos.
We won't go into too much depth about trading in this post (you can learn more about trading in this one), but what you can do with it is powerful, so we just wanted to share it with you. One of the primary components of the trading view is the indicators. As a result, each trading business offers its own set of indicators.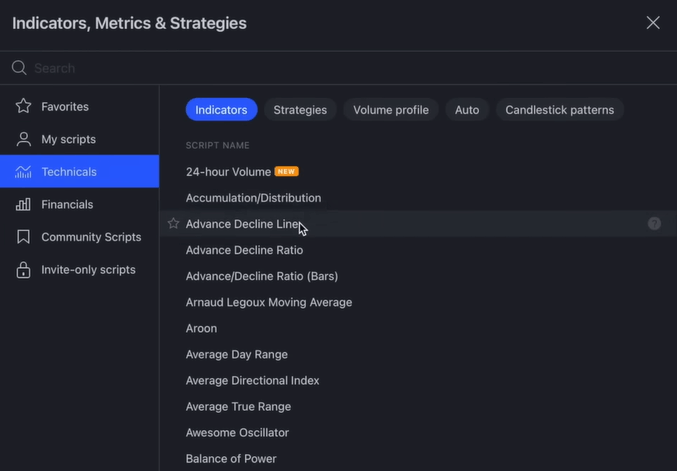 There are many free indicators, but there are also ones that you can buy, and they simply take some data and figure out the ideal moment to buy and sell and add features to the charts, giving you suggestions of when and if to buy or sell, and so on. For example, several of our readers pay for Market Spotter, a trading indicator that costs roughly 177 dollars each month.

To demonstrate how much money you can make from these indicators if you want to develop one. as we said, some of our readers paid around $177 per month for one of these indicators. So, imagine how much you could earn if you created one and sold it properly.
So, to develop one, you might come into ChatGPT and say, "Can you create a pinescript indicator that triggers a buy signal when the volume grows by 7% in the 30-minute time frame". And, as seen in the image below, ChatGPT generates a trading indicator script for us and instructs us on how to utilize it in the trading view.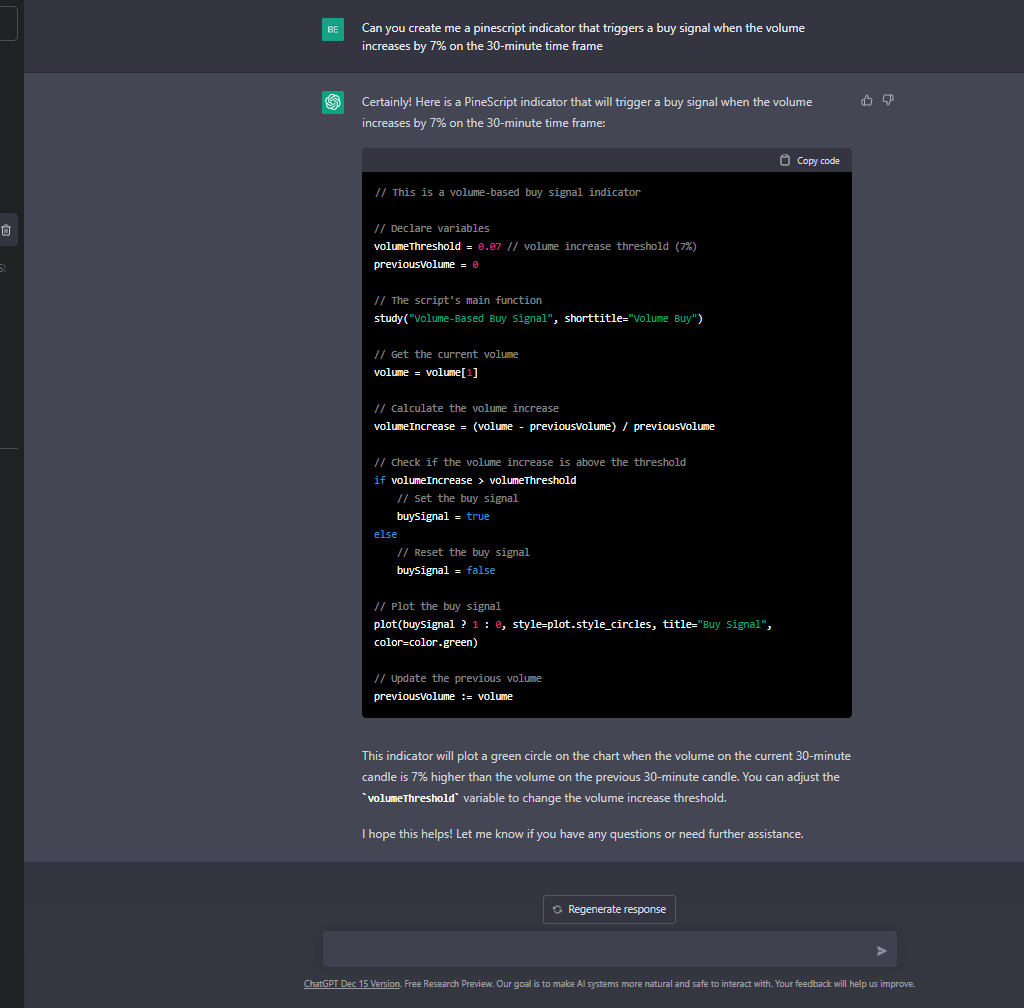 Now, after you develop the script, you can either save it for yourself and use it in your future trades by adding it to your indicator list as mentioned in the picture below,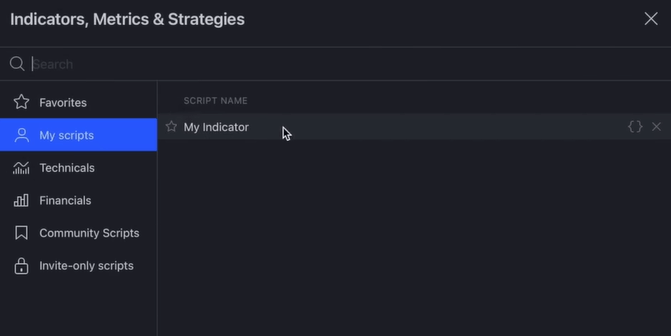 Or, you may also sell it to others for a set amount or as part of a membership plan. If yes, set up a website to market your indicator to traders looking for indicators. or by utilizing several marketing methods to optimize your revenue.
Create a money making chrome extension

The vast majority of those reading this post have used browser extensions from the Chrome Web store or another browser store. Extensions are little software modules that allow you to customize your web browser.
Browser extensions often include user interface customizations, cookie control, ad blocking, and custom scripting and style of online pages. Some examples of browser extensions:
AdBlock: Allows for both content screening and ad blocking.
SimilarWeb: provides website metrics such as monthly traffic and global rank.
Grammarly: a cloud-based typing aid. helps you examine your spelling, grammar, punctuation, clarity, and delivery faults in English documents identify plagiarism, and propose alternatives for the found flaws.
To start building the extension, go to ChatGPT and ask it, for example, "Can you create me a Chrome extension that can download YouTube videos from YouTube".
The chatbot will walk you through the process of creating a Chrome extension from a to z, as seen in the image below.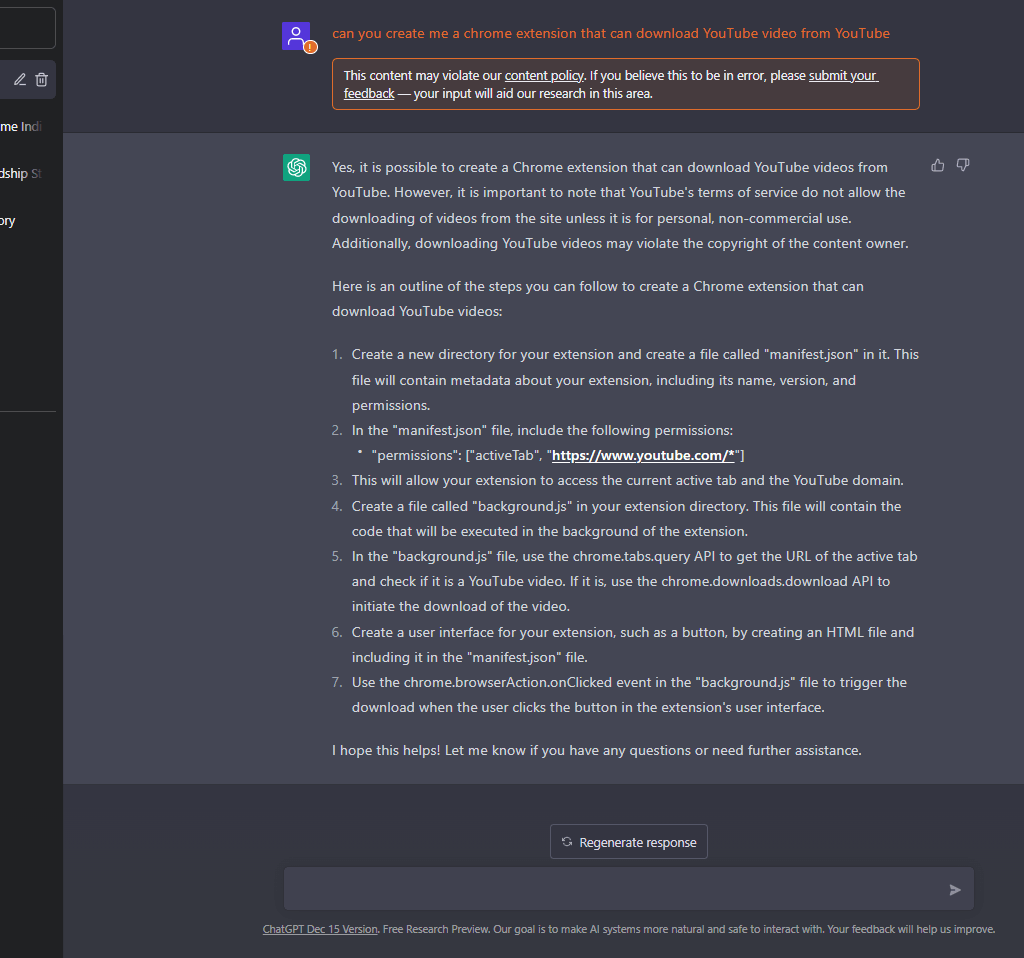 If you like, you may modify your query so that the chatbot can create the entire code for you. When it is complete, you can start building the full extension and host it on the Chrome Web Store. And for profit, you can either sell it or keep it freemium while adding advertisements using any advertising network, such as Google Adsense.
Create an online HTML tool
This strategy is similar to the last one (building a Chrome extension), but it may be monetized in a very different way. The best feature is that it can be used to generate revenue from free organic traffic generated by SEO, removing the requirement for paid advertising.
The Investment Calculator is an example of an online HTML utility. People who wish to calculate their ROI should only enter the initial amount, period of the investment, and return rate, and the tool will compute their profit.
To build an HTML online tool, you can get ChatGPT to generate some of these incredibly useful products by asking, for example, "Create me an HTML Investment Calculator tool that enables others to calculate their ROI.".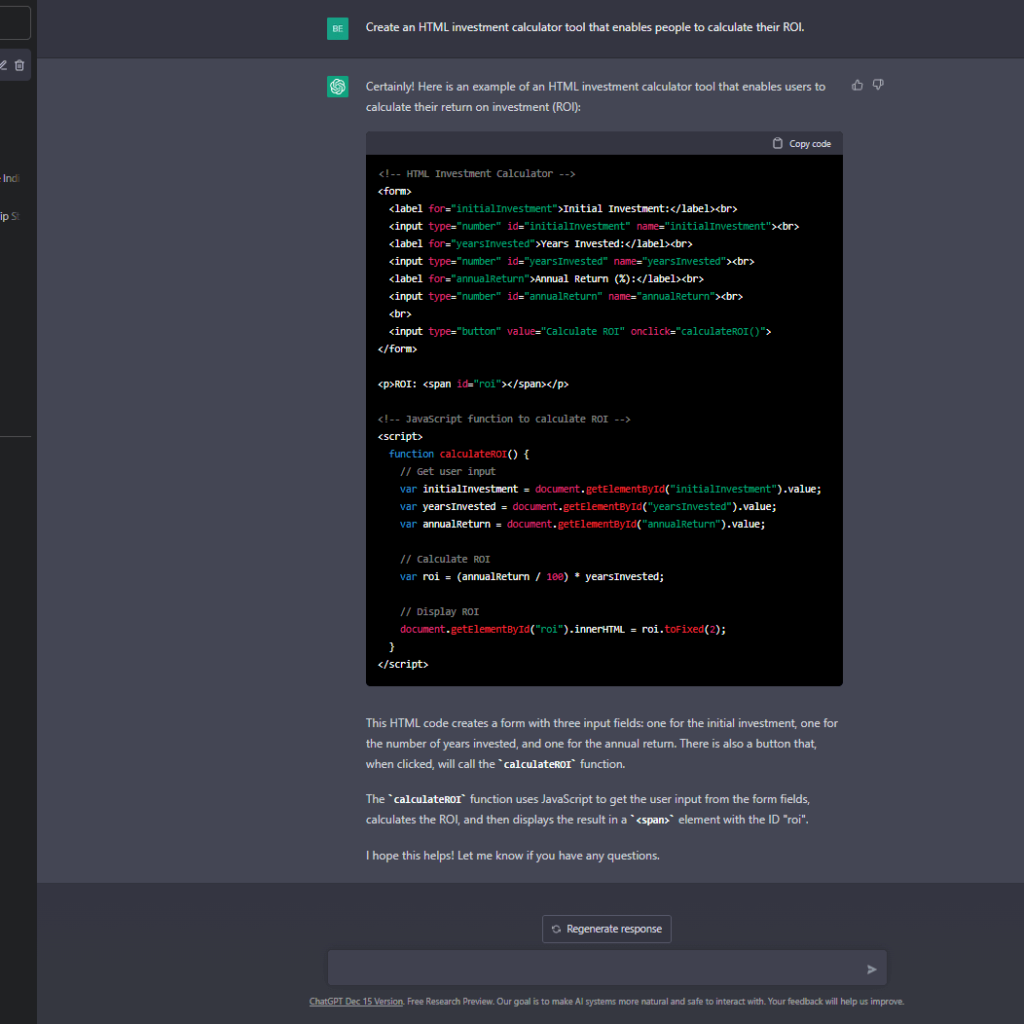 And, as seen in the image above, ChatGPT has developed a complete ROI calculator tool for us that is ready to use. To get started, purchase hosting from one of the most excellent hosting companies on the internet, such as Bluehost or Hostinger, upload the tool file into your database from your cPanel, and make it public to your audience.
To monetize your website, you can use any advertising network, such as Google Adsense, to easily add advertisements, and you'll be ready to generate money. Hopefully, it's not the only way; you can use other methods to make money with your website, and all of them are mentioned in this post.
Write Blogposts
This is the most well-known technique used by the majority of our visitors to generate money online. Even before the release of ChatGPT, various AI tools were offering content creation options for creating articles using AI, like Jasper and Rytr (you can read our full reviews of Jasper here and Rytr here). However, because many visitors do not want to pay to generate content, they prefer ChatGPT because it is free.
For example, if you want to write a comprehensive post on how to generate money online, Go to ChatGPT and ask, "Create an article on how to make money online".
ChatGpt produces a whole post of seven points on the best ways to make money online in a few seconds, as seen in the image below.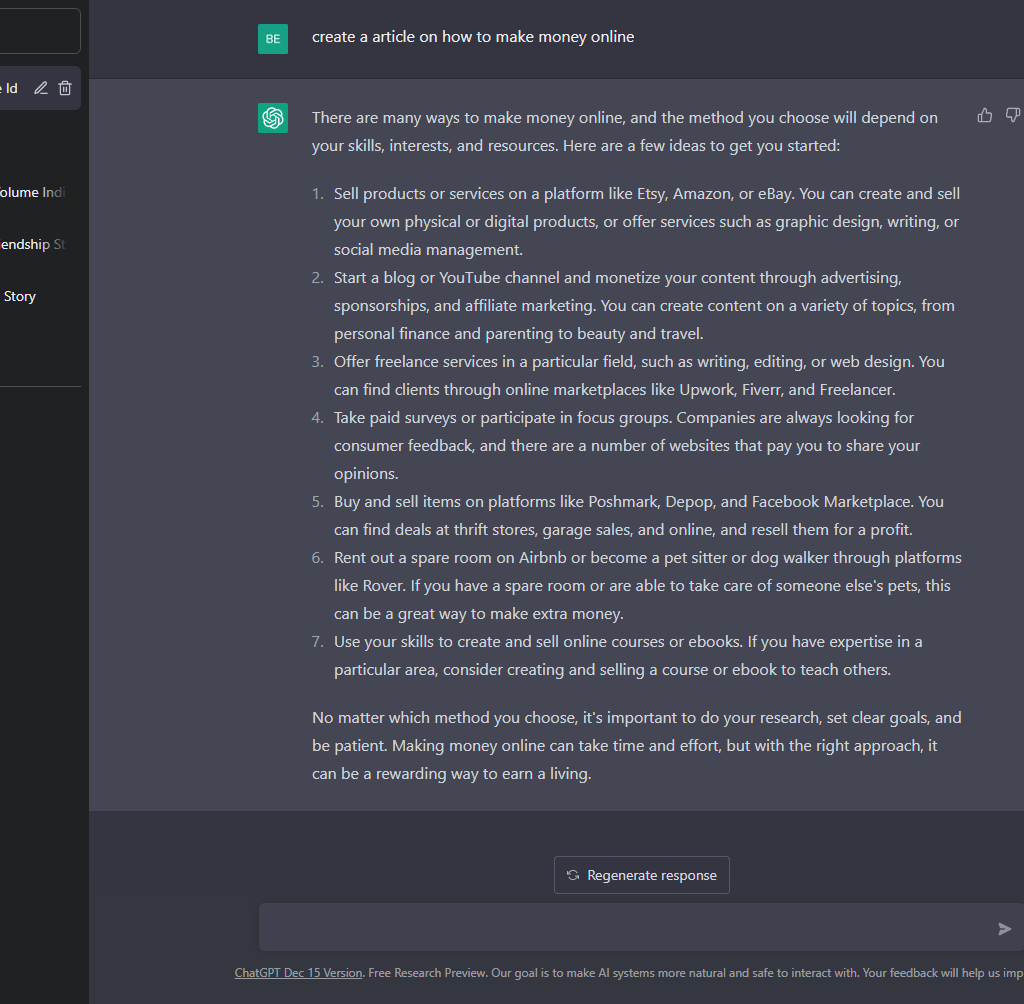 It's a small article, but If you want a longer one, you may pick each point and ask ChatGPT to create a whole essay on it, and so on.
And for money, you can start a blog, post those articles, and utilize advertising networks like Google Adsense to add some advertisements to your website to make an income. Aside from that, if you want to earn additional money, you may start using affiliate marketing along with Google AdSense. You can also create a full YouTube video using the article generated with ChatGPT.
The second option is to sell your content as a freelancer on the most reputable freelancing websites, such as Fiverr and Upwork, for whatever you want.
FAQ
What does ChatGPT have to offer?
ChatGPT was developed on an ocean of internet-sourced digital text. It invited participants to evaluate the system's replies as they tried it.
Customer support and assistance, education and training, and personal assistants are some of the possible uses of ChatGPT. However, there are concerns about the possible consequences of this technology, such as job loss and a decrease in human connection.
Is ChatGPT completely free?
ChatGPT is currently free and capable of producing stunningly organic, well-referenced writings in answer to a wide range of queries. It can even generate code examples. We don't know if it will cost you money in the future, but you can try it now while it is free.
Is Elon Musk Involved in all of this?
OpenAI is a separate organization, and while Elon Musk had previously been connected with it as a co-founder along with Sam Altman and others, he is no longer actively involved in its day-to-day operations or decision-making.
Can Chat GBT help you create phishing emails?
Poor spelling and illegible language are two of the most striking characteristics of phishing and fraudulent emails. Some speculate that this is because the emails are coming from places where English is not the native language of the threat actors. Other opinions speculate that the spelling errors were purposefully added by spammers to avoid spam filters. We do not yet have a definitive answer. What we do know is that OpenGPT simplifies the work significantly. But please, be careful, and be smart; don't use it to scam people.
Is Chat GBT capable of creating software and malware?
According to industry analysts, ChatGPT, an AI-powered chatbot that can replicate human interaction as well as write code, will change the face of application development and the developer profession. Simple webpages and apps may be created by the bot using programming languages such as JavaScript, Python, and React. It may also detect errors in code and aid in the development of new programming languages.
What exactly does GPT imply in ChatGPT?
GPT in ChatGPT stands for "generative pre-trained transformer," which indicates that ChatGPT can write like a human. ChatGPT is the name of OpenAI's initial effort at creating an artificial intelligence-powered chatbot.
Is ChatGpt safe?
Yes, ChatGpt is secure, and it is used by millions of people worldwide. During the OpenAI review period, you can utilize ChatGPT for free. Based on the feedback, the business wants to enhance the final product.
How can you make money with ChatGPT?
There are several ways to make money using ChatGpt that we have discussed in this article such as blogging, writing and selling programming codes, creating exclusive AI-generated photos, and selling them on different freelancing websites,..etc. just read our article above for more information.
Is ChatGPT a threat to human jobs?
As we said before, the issue is the usage, not the product. Many individuals all across the world dislike the public availability of AI-powered products, believing that it will bring actual difficulties by replacing humans in numerous sectors. but we see that this will not happen because there is now no AI tool that can outperform human talents. Nobody can predict what will occur in the future.
Conclusion
Finally, ChatGPT is a strong and adaptable technology that has the potential to transform the way humans interact with AI technologies. Its capacity to comprehend and create natural language makes it a vital tool for enhancing the efficiency and efficacy of chatbots and other AI communication systems, and it will most certainly be a major aspect of the natural language processing area for many years to come.