The freelancing market is saturated, due to the existence of several websites that link clients or company owners with freelancers that work for an hourly rate or a flat fee per job.
So, if you're stuck and wondering, What are the best freelance websites to begin your freelancing business?
luckily, you are in the right article. Here's a list of the 11 best freelance websites for beginners in 2023 to help you acquire your first customer.
A quick note before we start
Freelance websites are only one aspect of your online presence; you should also utilize your other accounts to create a consistent personal brand that conveys the proper impression of you and your offerings to the right clients. You can dispense with freelance sites and create your portfolio if you want more sophisticated work. you can also read our article on How to Make Money Freelancing Rightfully in 2023 as a Novice
Upwork (placed at the top of the Best Freelance Websites in 2022)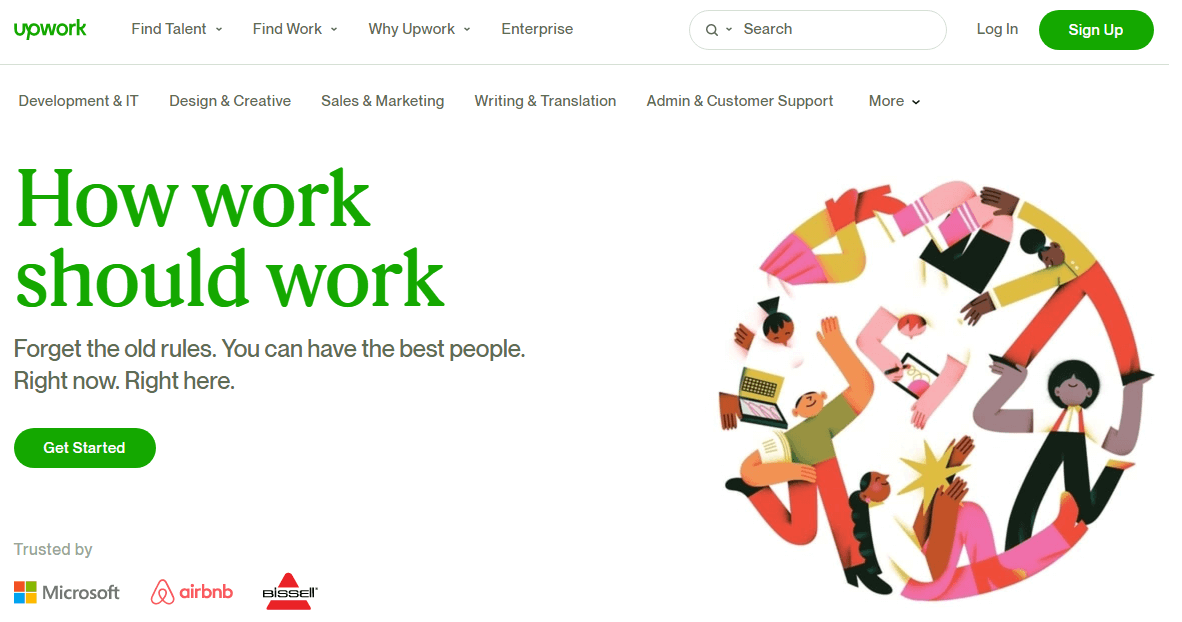 Upwork is considered the greatest freelance platform that links company owners with freelancers and provides all forms of online services. To get approved on the platform, freelancers must first develop a strong profile. Once accepted, freelancers can bid on jobs posted by customers on the network; also, clients can explore the platform and directly contact freelancers who meet their needs. Upwork allows freelancers to be paid per hour or project for their labor, and it deducts 20% of the cash as website costs.
Upwork developed a unique and effective invoicing mechanism to ensure that freelancers are compensated for their efforts while also ensuring the quality of work for customers. Clients must deposit funds on Upwork before the freelancer can begin working, and after completing the task, the customer may either release the funds to the freelancer if he is pleased with the work or seek a refund if the work is not worth paying for. If the two disagree on whether the project was done correctly, it is the Upwork team's responsibility to assess the quality of the work and decide who should get paid.
Read our full Upwork Review here.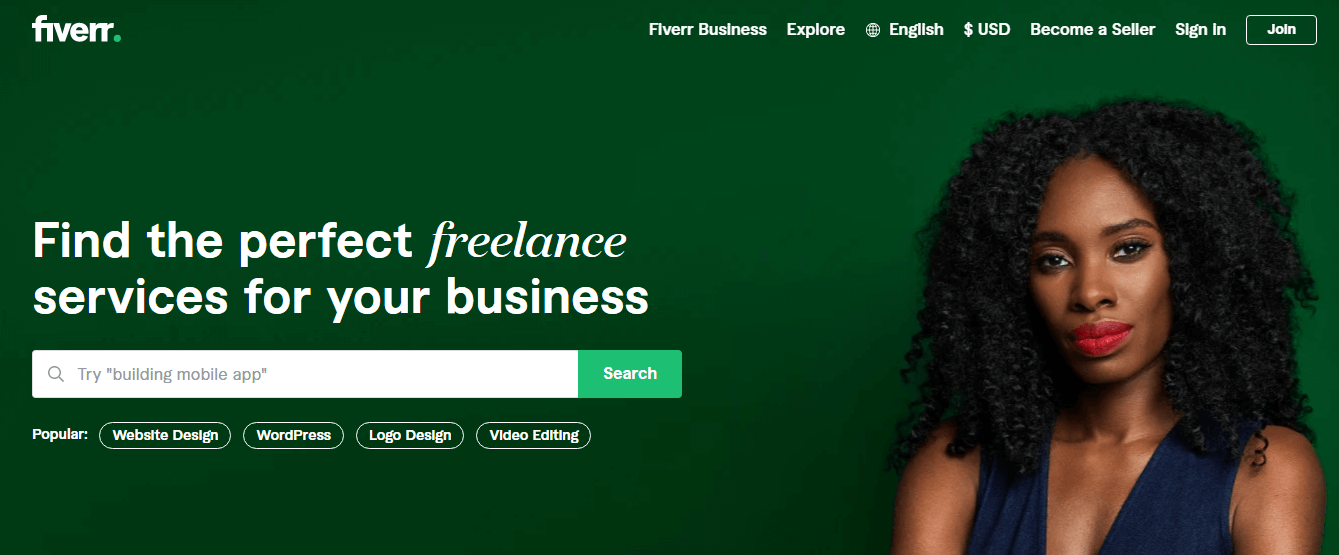 Fiverr is a well-known gig-based marketplace and one of the greatest freelance websites. Freelancers of all categories use Fiverr to create projects and begin getting job proposals from clients.
A Gig is essentially a profile that demonstrates to clients that you are an expert, or at the very least informed, about talent or a combination of abilities that you are giving as a paid service.
All you have to do after posting your gig and establishing offer packages is wait for clients to message you to accomplish their work. clients won't come unless you promote your Gig. you can check out our tutorial on how to promote your Fiverr Gigs in the right way to drive more clients.
RELATED: You Can Read our in-depth Guide on how to make money with Fiverr.
Peopleperhour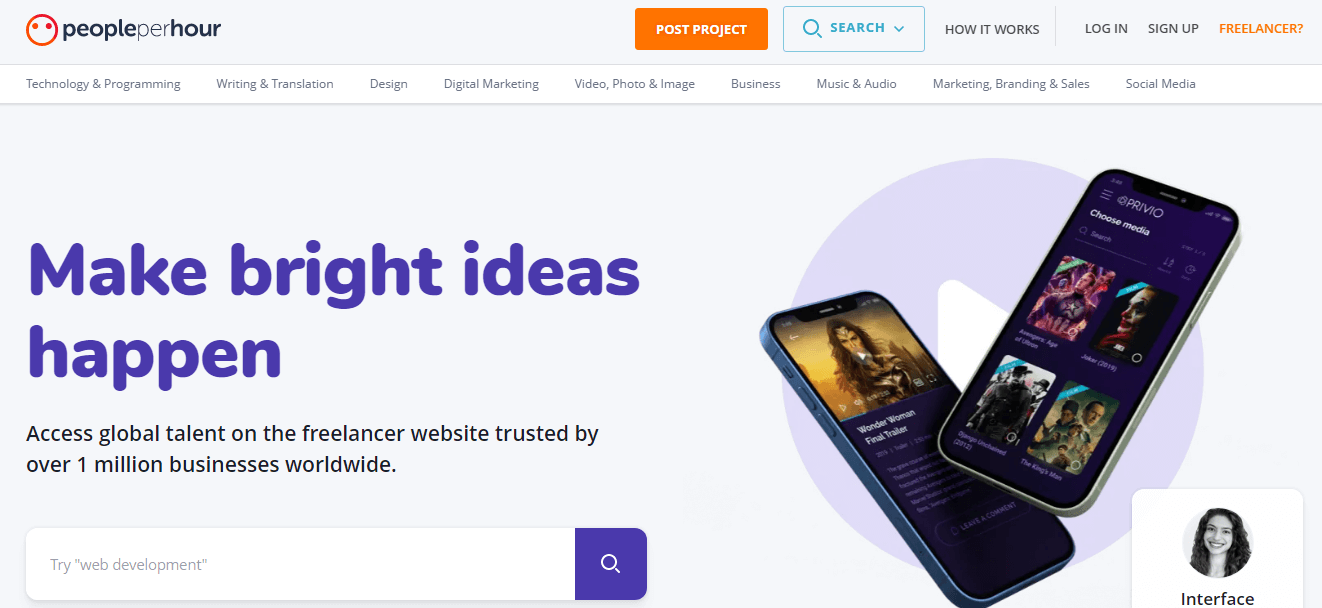 Peopleperhour is a freelancing website founded in the United Kingdom that helps freelancers find intriguing employment opportunities. The site employs roughly 2.5 million freelancers and has paid them more than $100 million to date.
Peopleperhour's location-based targeting function sets it apart from other freelance platforms. It connects job openings with freelancers who live in the same or nearby region as the customer who submitted the opening.
Read our full Peopleperhour Review here.
Freelancer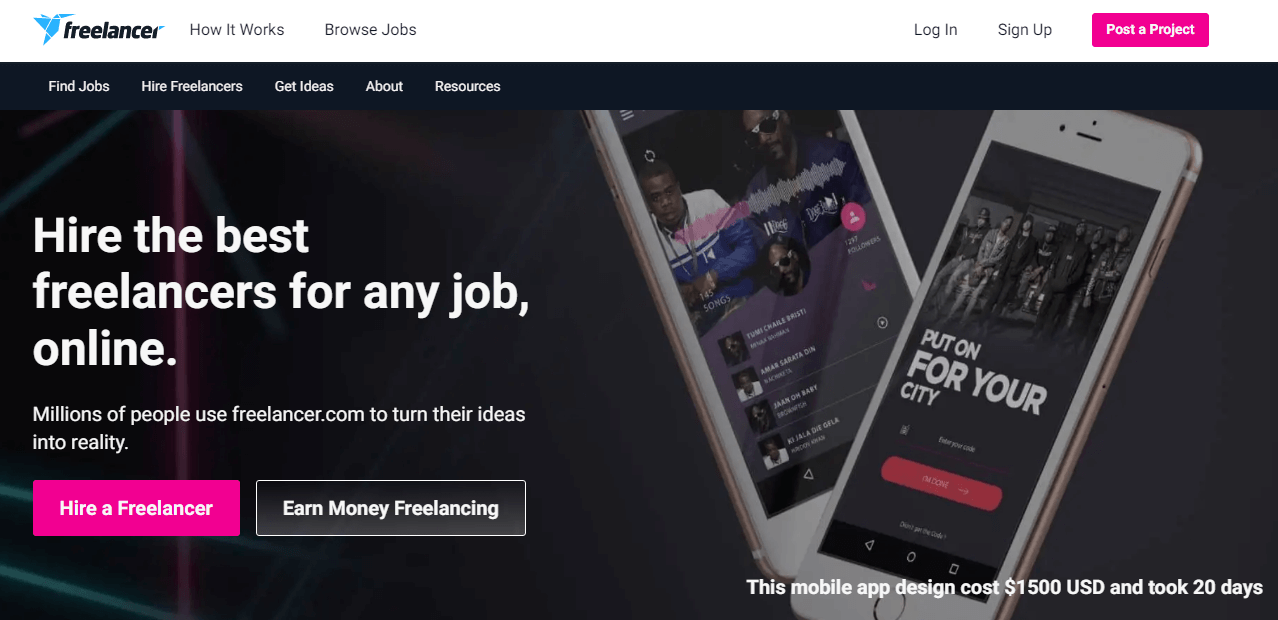 Freelancer is a freelance platform that connects buyers and sellers in one place. It is popular because it makes it simple for freelancers to sell their services. As a starting freelancer, you may utilize the site to bid on simple freelancing assignments like data entry, transcription, writing, voiceover, and translation.
Freelancer pricing is highly variable, and payment for the same work might vary greatly from one client to the next.
Read our full Freelancer Review here.
Guru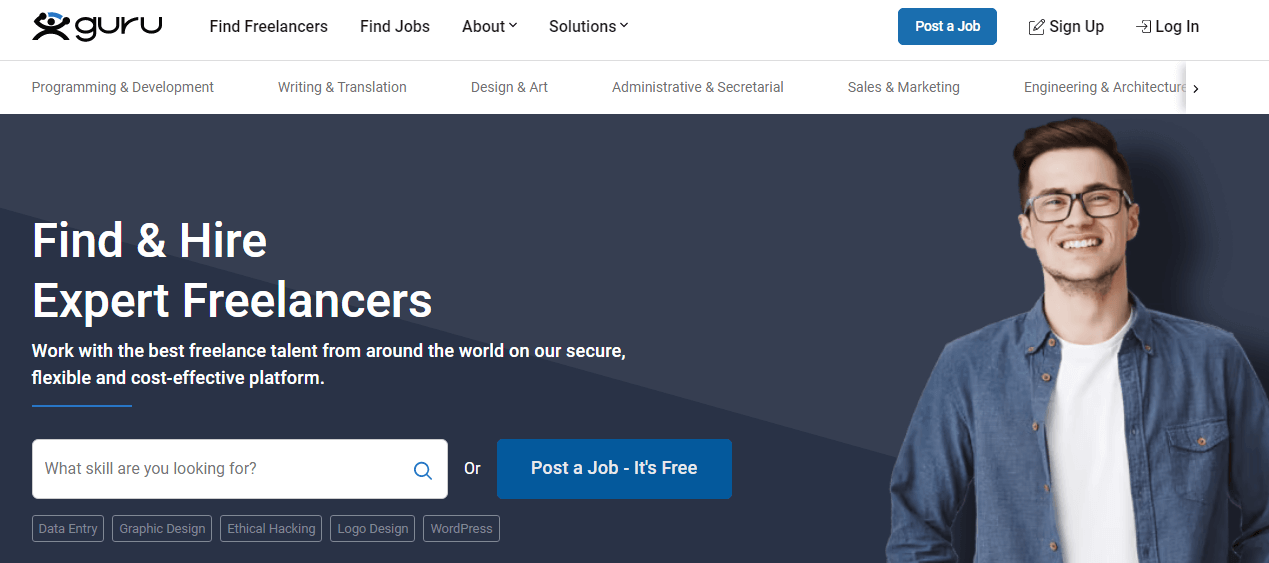 Another freelancing website that links freelancers with company owners is Guru. It offers a wide range of services such as writing, design, management, and marketing, making it a popular destination for both freelancers and business owners.
Clients may publish job postings on this site and wait for offers from freelancers to complete their tasks. It has paid out over $300 million to freelancers so far, and it has more than 1.1 million employers globally.
Read our full Guru Review here.
99designs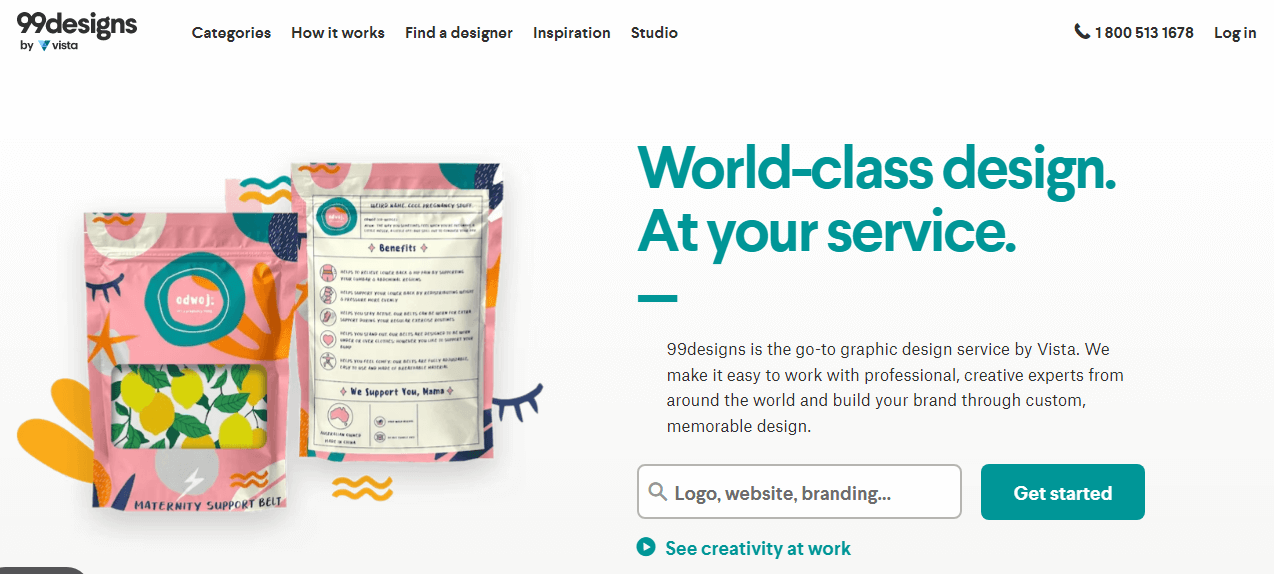 As the name implies, this platform is designed specifically for designers. If you enjoy design and are seeking a freelance website where you can showcase your skills, 99designs is the place to be. It includes job postings for logo design, web design, and graphic design. All you need is a little imagination and an understanding of design software to make your life easy.
Read our full 99designs Review here.
LinkedIn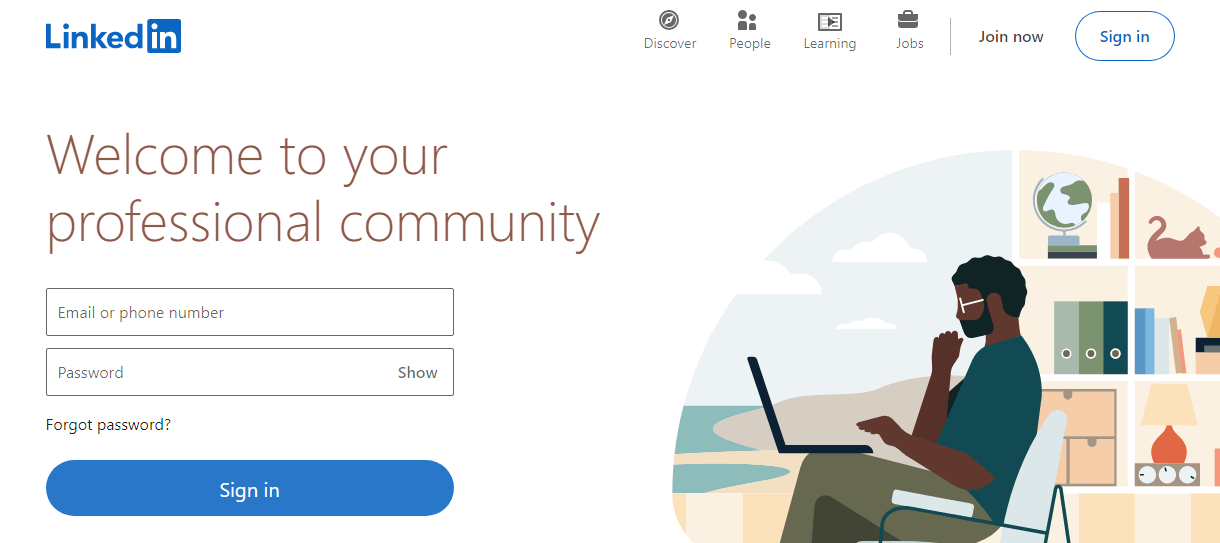 Despite its similarities to other social media sites, LinkedIn is the internet's largest professional network. It's one of the top freelance websites for getting work offers and applying for projects posted by customers. To acquire a job on LinkedIn, you need either establish a visually appealing profile that attracts clients or apply for job postings. Due to the high level of competition, getting a job on LinkedIn is not straightforward, but the platform nevertheless provides a plethora of options for freelancers of all levels.
Read our full LinkedIn Review here.
Toptal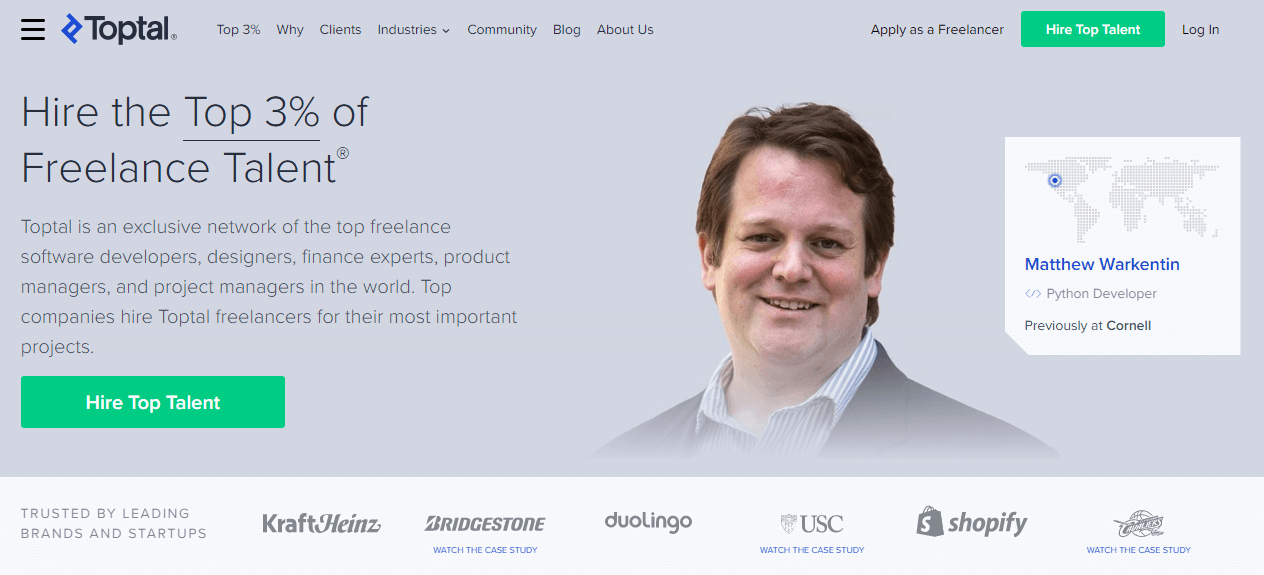 Toptal is a freelancing platform that links organizations with highly skilled freelance industry specialists. Toptal's freelancers range from web developers and designers to financial consultants and product managers.
Applying to Toptal as a freelancer entails completing five screening phases, ranging from a detailed English test to a project assessment. This procedure ensures that only the top 3% of candidates gain access to the platform.
Following completion of all procedures, you will have access to a variety of job posts from prominent customers and organizations such as Motorola and Airbnb. Failure to pass the test, on the other hand, will put your application on hold for several months.
TopTracker is a time-tracking and invoicing service provided by Toptal. With this service, freelancers will get paid for the whole amount they offer via Payoneer, Paypal, or direct local bank transfer.
Read our full Toptal Review here.
Flexjobs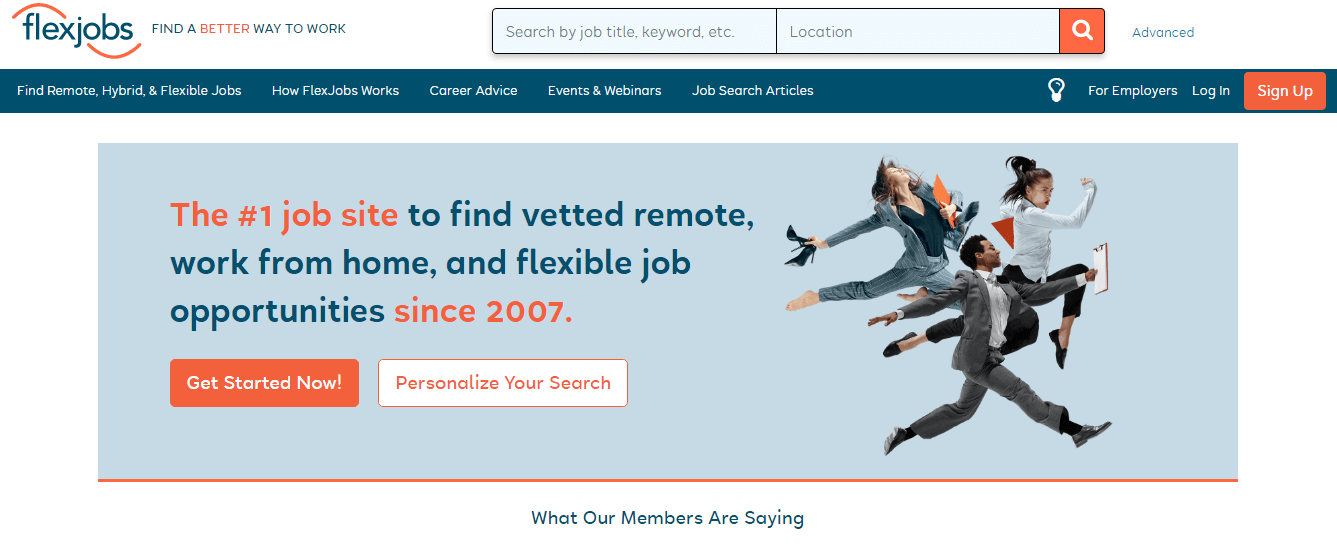 Flexjobs is a website that focuses on remote and flexible employment options, such as freelancing, part-time, and full-time positions. There are several job opportunities available, varying from training and online tutoring to accounting and finance. In addition, marketing and e-commerce.
Flexjobs verifies that every job posted on the website is genuine. It validates and screens all job postings, weeding out fraud and specious businesses. This freelancing website, unlike other online job boards, does not display adverts on its page.
Users must sign up for a membership to locate freelancing work. There are four options available, with prices beginning at $9.95 per week or $24.95 per month. Every membership includes unlimited access to job listings, a personalized work profile, career guidance, and free skill evaluation.
Users may pay for their membership with a prepaid card or using PayPal. There is a 30-day quality warranty, which means that if you are dissatisfied with the service, you may obtain a complete refund.
Read our full Flexjobs Review here.
Dribbble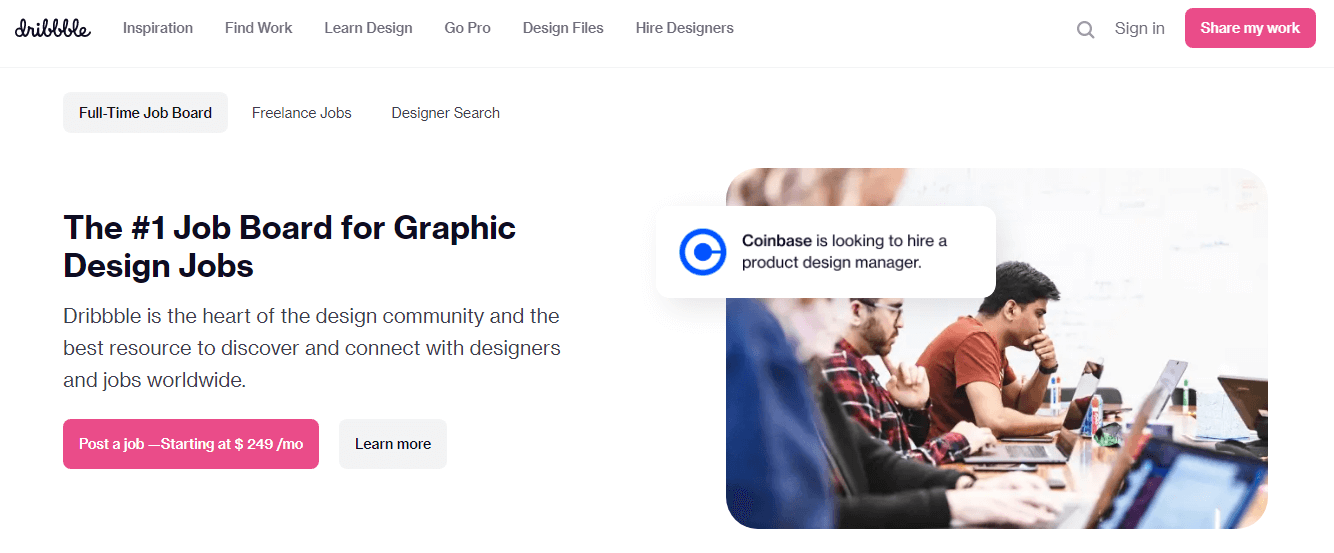 Dribbble is a famous place for creative professionals to meet, engage, and communicate with one another. This website is used by artists and designers to construct portfolios and advertise their businesses.
Putting together a professional portfolio on the website will assist you to get employed. Sign up for an account and upload your designs to do so.
Visit the job board on your tab to uncover more career possibilities. The website offers a variety of tasks, including UI/UX design and content development. However, only premium users get access to freelancing job lists.
The premium edition of Dribbble costs $5 per month. Users using the premium version may add films and multi-shot pictures to their accounts. A premium account will also receive first-class service in recruiting search listings.
Read our full Dribbble Review here.
Behance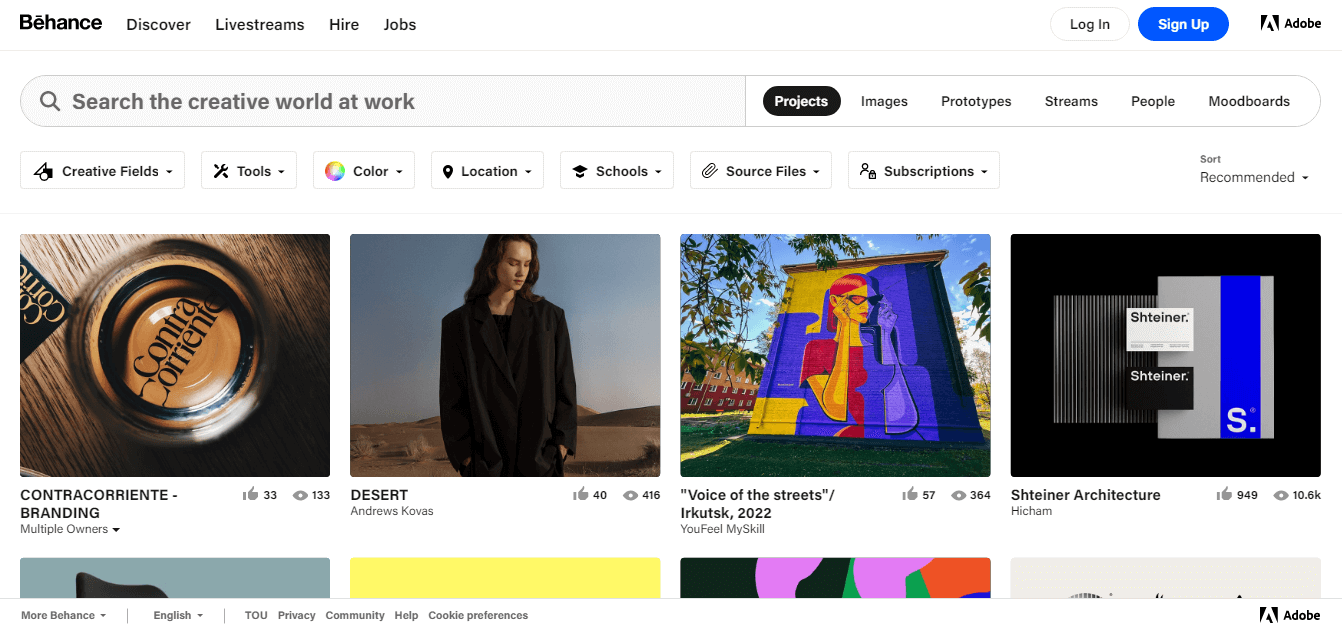 Behance, unlike the previous freelance sites on the list, is a social network for design ability. Individuals from all around the globe use this website to create portfolios and share their original content, which includes anything from animation and illustrations to the website and graphic design.
Behance is a great location to get noticed by possible employers regardless of whether you're a graphic designer, web designer, or animator. Begin by creating an account and filling up your profile.
Since Behance is a social networking site, the more accounts you follow, the more and more posts appear in your feed. It enables you to discover extra freelance career opportunities.
Behance also has a job board. Each freelancer will receive a unique job suggestion based on their set of skills and topics, making it easier to discover freelance work that fits their experience.
Read our full Behance Review here.
Conclusion
Whatever platform you choose to get freelance employment on, make sure you stay to it and take it seriously, optimize your profile, and make sure you're creating a positive reputation by providing exceptional outcomes to your clients. Don't be hesitant to ask for feedback.
If you have any questions about this topic, don't hesitate and leave us a comment below. Thanks for reading.