If you're searching for ways to make money online as a part-time or full-time job, freelancing using Fiverr is an excellent method to start with. Self-employment has become increasingly popular in recent years, particularly following the previous pandemic. Fiverr is a great online freelancing marketplace where you can publish your abilities and get paid for your work. Aside from that, knowing how to make money on Fiverr the proper way will provide you with an infinite supply of employment opportunities from anywhere in the globe.
But you may still be wondering, How to make money online with Fiverr in 2023?
It's extremely simple. If you have unique abilities that others find useful, such as blogging, web design, social media marketing, copywriting, or video editing, you can publish them as Gigs on Fiverr. Simply said, Fiverr functions as a large freelancing marketplace where millions of people search for specific activities and may find yours. If you have many 5-star ratings, your Gig will appear at the top of the front page, allowing you to earn more money.
Here's a breakdown of what you'll find in this article:
What Is Fiverr?
When it was launched in 2010, it was a platform where buyers and sellers could interact for only $5 (which is where the name Fiverr came from).
Today, it has turned into a massive marketplace that links freelancers and customers for a variety of services such as business, SEO, Link Building, virtual support (VA), digital marketing, graphics and design, writing and translation, music and audio, programming and tech, video animation, and a lot more.
Freelancers may provide their talents and earn anywhere from $5 to hundreds of dollars per task.
Among these top-level categories, there are more than 600 subcategories, allowing you to monetize practically any ability or aptitude, from common services like writing and data entry to deep specialties like game development, web design, coding, Video editing, and graphic design.
This makes it one of the greatest freelance websites for making money from home through freelancing.
Is Fiverr trusted?
Fiverr is a legitimate platform, and it works effectively to boost the value of your business. You may buy services such as Writing articles, video editing services, voiceovers, and other services with confidence that they will be completed professionally, swiftly, and affordably. We would suggest Fiverr since it is a trustworthy company. Some sellers may be less experienced than others, but you may browse for Fiverr Pros or Fiverr Top Rated Sellers to ensure you receive your money's worth.
Is Fiverr a Good Choice?
Yeah, of course! You should sign up since it is free. Signing up is the only way to explore Gigs and see all of the services offered on Fiverr. This year, our visitors outsourced their work through Fiverr and Fiverr Pro. 9/10 of their experiences have been favorable and beneficial to their own business.
Pros and Cons of Fiverr.
Pros:
Fiverr provides excellent service to clients all over the world. As a result, Fiverr Gigs can expand your perspectives and introduce you to new experiences and networks.
Improve your seller profile by attempting to achieve "Top Seller Status" for additional benefits. Because all buyers pay in advance, Fiverr will also provide you with payment confirmation.
You have no restrictions on your Fiverr income. It allows you to work whenever and wherever you want. You can organize the Gigs around your schedule.
Fiverr is best suited for beginners. It has a simple and clear user interface and is easy to use. You can easily set up your account and begin earning money within a day.
Cons:
The high demand for freelance services has shifted market trends in recent years. Even though Fiverr can meet this high demand for work, it has created fierce competition among sellers.
Freelancing platforms frequently reduce commissions. And Fiverr is no exception. Even so, at a 20% commission, this may appear to be a bit excessive. When the majority of sellers are paid a base salary of $5, a 20% commission may not be appropriate when they are only paid $4.
How Does Fiverr Work?
As previously said, Fiverr is an online marketplace where you can provide your skills to individuals in need of them and ready to pay you for them. So, if you have unique abilities that others may find useful, all you have to do is make a Fiverr account (we'll go over that later), then exhibit your expertise by following the platform's guidelines and producing what is known as "Fiverr Gigs".
However, to understand how Fiverr works, we must first understand the various sorts of people who participate in the process.
As a Fiverr user, you can sign up in two ways: as a buyer or a seller.
Fiverr for Sellers
A Fiverr seller is an individual who wants to make money by selling a service. Simply explained, Fiverr sellers are individuals who sell their skills and set a price for how much they expect to get paid for a task (Gig). While creating your account, you have the option of becoming a Fiverr seller. On Fiverr, there is a list of vendor categories. Choose the service in which you are a specialist, and then you can create a Fiverr Gig and start earning money.
Fiverr for Buyers
A buyer, on the other hand, is someone who wants to hire a seller from the platform to fulfill a service. Buyers may utilize the search option before purchasing to browse seller profiles and find ones that meet their requirements. As a result, buyers will only look for providers that meet their needs in terms of schedule, money, and final product quality. Buyers will occasionally make requests and provide interested sellers the opportunity to bid.
What Services Can You Find on Fiverr?
Digital Marketing
Another high-paying talent for generating money on Fiverr is digital marketing. For instance, you may provide your clients with digital services to help them succeed in their company through social media marketing. You can add additional Gig extras, like social media management, to boost your earnings even further. Try promoting your client's brand on your own social media networks to stand out from the crowd and deliver true value.
Social media manager
Do you enjoy spending your days on social media? This may be your calling. Businesses may now obtain more visibility and brand recognition by utilizing the various social media applications available on the market.
To take advantage of the new features that are being added to the platforms daily, businesses will hire someone to develop content and manage their accounts by communicating with consumers, replying to direct messages, and even looking at their competition for ideas.
Graphic Design
Another high-paying and in-demand skill set is graphic design. You may boost your income by offering unique graphics or other variants of your designs as a Gig Extra.
Entering data
Making money on Fiverr in this manner has never been simpler. You may assist your customers with basic data entry jobs. All you need is the ability to utilize Excel or other data entry programs to transform this into a full-time income.
Web designer
You might understand how to become a web designer. It is among the highest-paying gigs available on Fiverr. If you are skilled at creating websites for customers, this is a fantastic one to work from home and make a good living from. To make a few additional dollars, you may add Gig extras for the concept, design, and a variety of other features.
Virtual Assistant
On Fiverr, you can even work as a virtual assistant. Another high-paying service on Fiverr that is ideal as a side hustle is a virtual assistant job. All you have to do daily is assist your clients in organizing and managing their calendars, answering emails, and doing whatever else the client may require.
Article Writing
Writing might also pay well if you have experience writing articles and blog entries. If you have expertise managing blogs and/or landing sites, you may also optimize and modify the blog article itself to earn extra money. You may also offer to include affiliate or internal link placements within the content.
How to Create a Professional Fiverr Account
In this article, we are talking about making money with Fiverr and not spending it on buying other freelancers' Gigs. You need to create a seller account to start selling yours.
Create a New Account.
Step 1: Go to the Fiverr Homepage.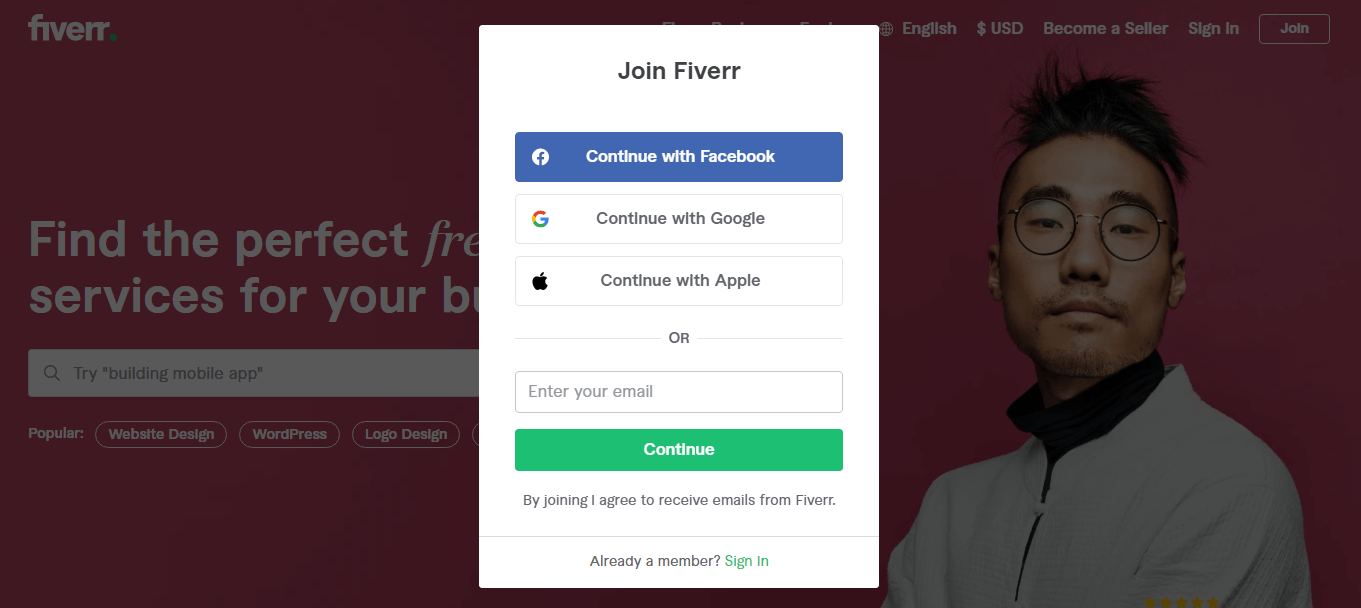 Step 2: Sign up with your email address or a Facebook, Google, or Apple account. We recommend that you use your primary email address or a Google account. Enter your email address and click "Continue". Alternatively, click Continue with Facebook, Google, or Apple, and then select "Continue".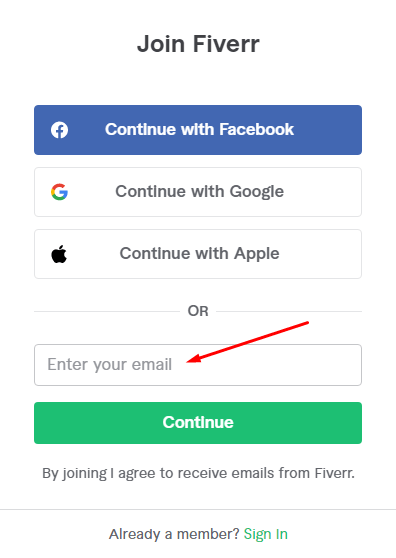 Step 3: Enter your username and password and then click "Join".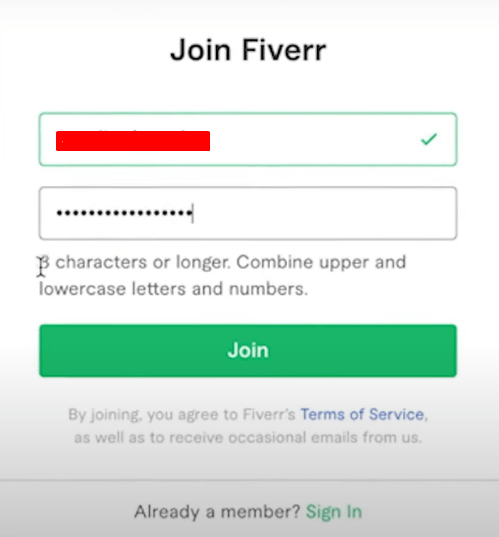 KEEP IN MIND: when choosing your username, you must be careful because you can't change it later.
Step 4: Open your email and click the activation button to activate your account. It will notify you of this before you can begin purchasing or selling services on Fiverr.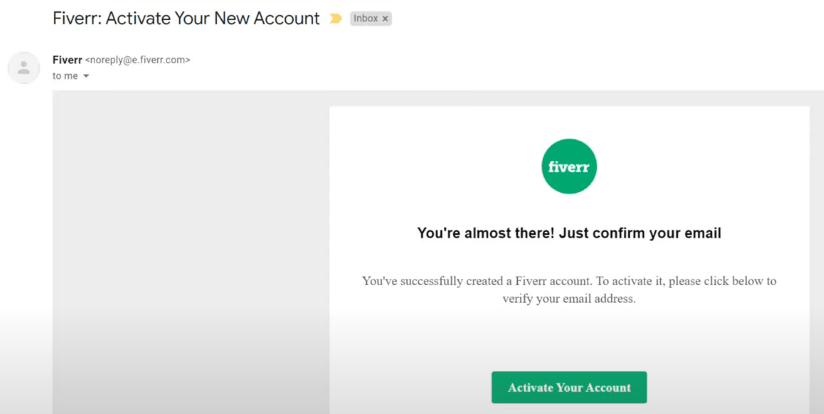 Step 5: Click "Activate account".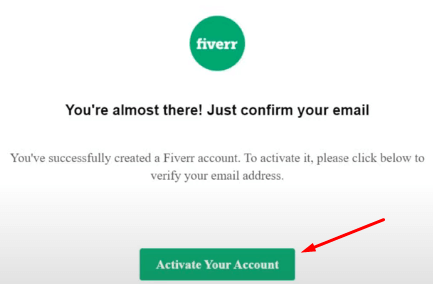 Congratulations! You have successfully established a Fiverr account!
You may then look for sellers who can assist you with specific jobs. Many people find Fiverr useful for graphic design and blog content generation. Consider your time to be money, and you may save both time and money by outsourcing some of these creative or time-consuming jobs. The term Fiverr came from the notion that exceptional services may be found for as little as $5. As a result, you may discover people to undertake projects ranging from $5 to hundreds of dollars. Aside from that, you might start selling your abilities as a Gig and making money online using Fiverr. However, to appear professional in your specialty, you must first completely modify your profile.
Editing your Fiverr profile
When you initially log in to your Fiverr account, you'll notice a message at the top of the screen informing you that you need to edit your profile.

Select "edit your profile", You'll be redirected to your profile page.

On the Profile page mentioned in the photo above, you can add your Full name, and your primary email address and choose your online status (you can select to become offline for 1 hour, 1 day, 1 week, or forever). and click "Save changes".
After you have added your basic information, go to the security setting, and you will be able to change your password and add and verify a phone number. aside from that, if you want to increase the protection of your account, we recommend you add a security question (please remember the answer you choose because you will need it when you request a withdrawal or a password change) and turn on the TWO-factor authentification method. after that, click "Save changes".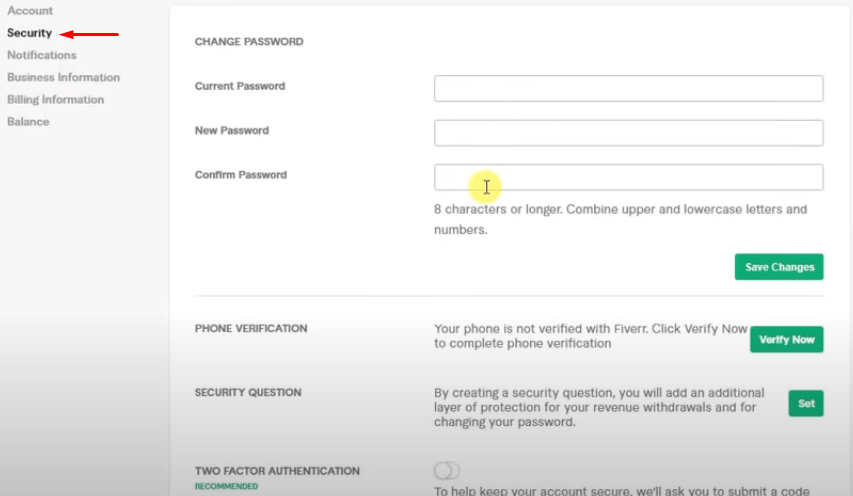 For notification settings, you can either turn on or turn off your inbox and order Messages via email. we recommend you leave it on just to be in date with what's happening inside your dashboard. after that, click "Save changes".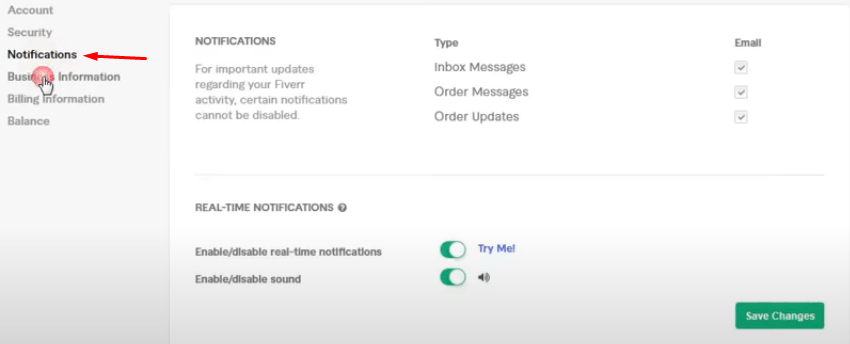 To use Fiverr in the right way, you need to complete your business information. to do that, go to the Business Information Section and start editing your info. Start by uploading your company logo and Choosing your business name, your business description, and your organization type.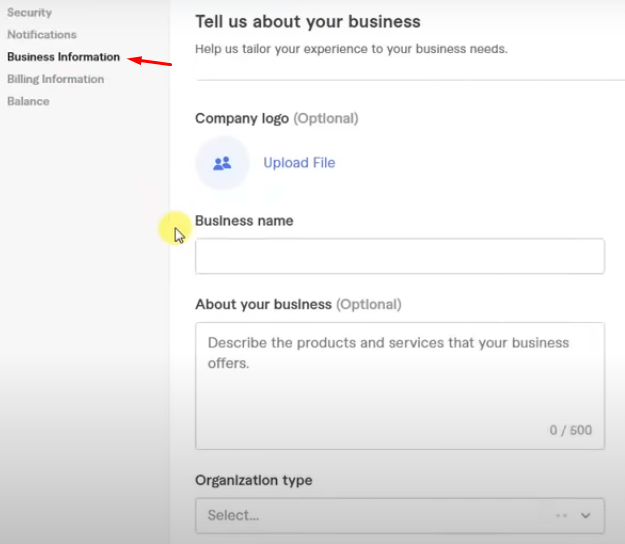 Don't forget to select your Business stage, the number of employees in your company (including you), your business industry, and your company website (optional). in the end, click "Save changes".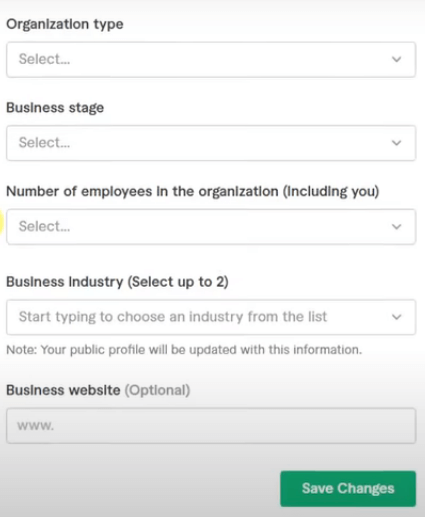 This is the most important step, to receive your money, you need to complete your billing information correctly. start by typing your name, your company name, your country, and your current address.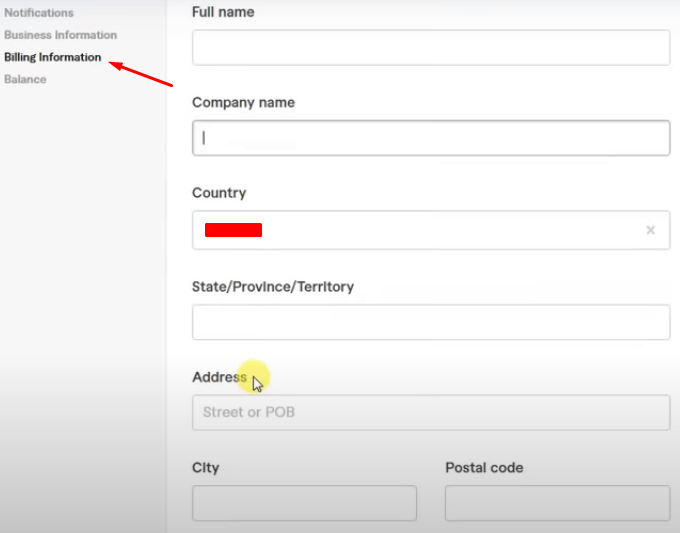 Aside from your city and postcode, you need to enter your VAT number if you have one. after that, click "Save changes".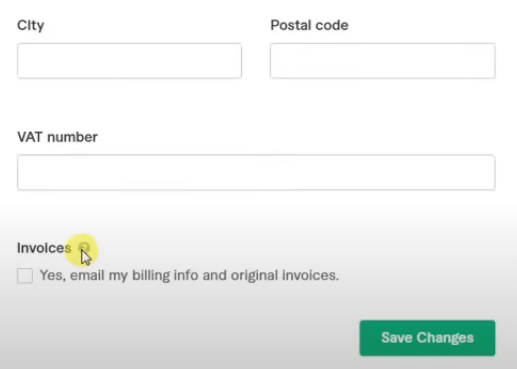 last but not least, your Balance section. here you can see your total earnings from Fiverr including the reimbursements (Funds that were credited to your account for canceled orders), and your Fiverr credits (you can earn Fiverr credits by inviting friends to Fiverr).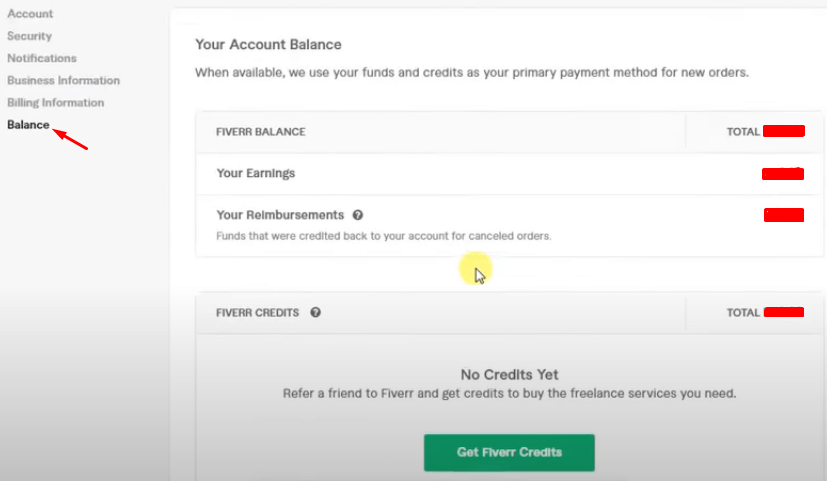 now, you need to update your public profile, cause your profile is the first thing any potential customer will check before ordering your Gig. To do that, click on your profile icon at the top of the page then click on "Profile".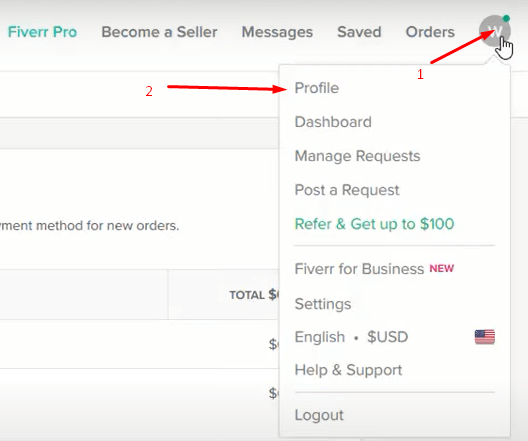 You will be redirected to your profile page, here you can edit your profile information, and your story and add a profile picture.

First, Let's start with your Story, to edit your story (a brief description of yourself), click on the little pen icon, write what can you offer, then click "Update".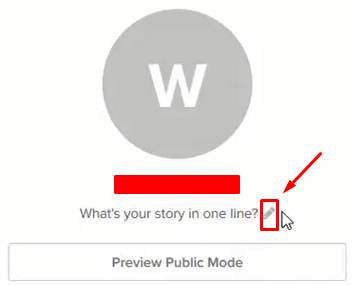 Second, edit your profile picture. to upload your profile picture, just click on the Camera icon, upload your Photo from your PC, then click "Save changes".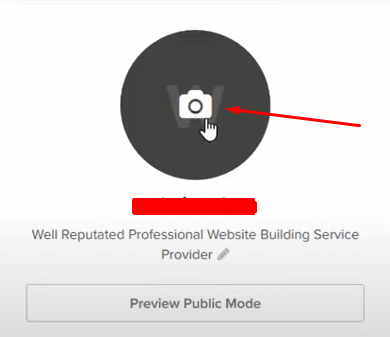 Third, your profile information. you can describe yourself by choosing one of the 5 options mentioned in the photo below, after you do, choose your industry type, then click "Save changes".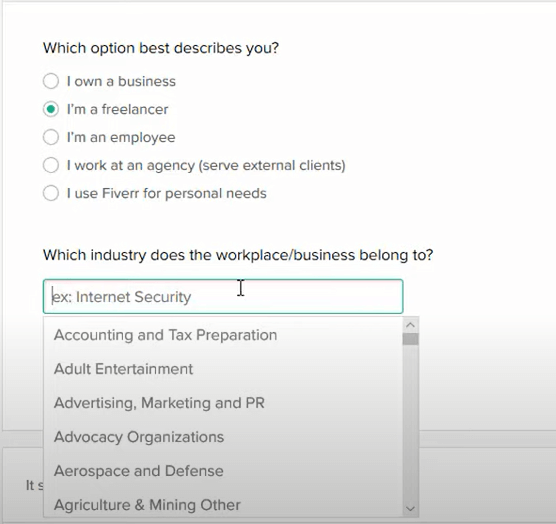 To continue editing your profile, scroll down to the description section where you can add a description about your talents and skills that you can provide to your customers, Plus, you can add as many languages as you want, as long as you can communicate using them.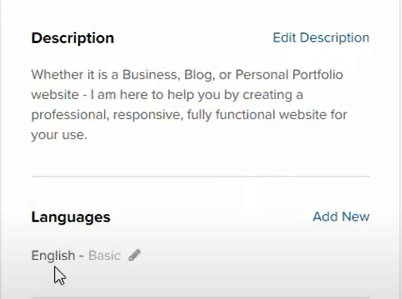 After adding languages, you can add your social accounts allowing your customers to check your work, also you can take tests. taking tests can help your Gigs to rank higher in the Fiverr marketplace.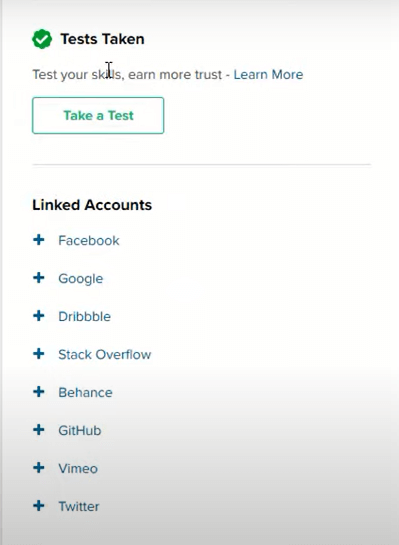 In the end, you can add some skills like WordPress, Shopify, and web development to your profile, In addition to your education level, and your certifications.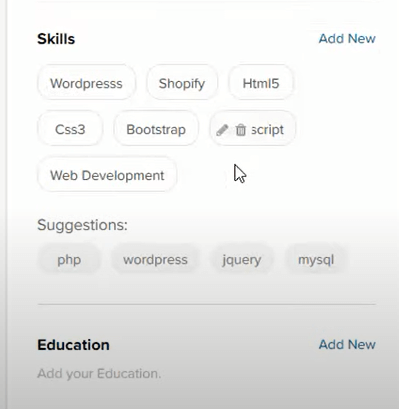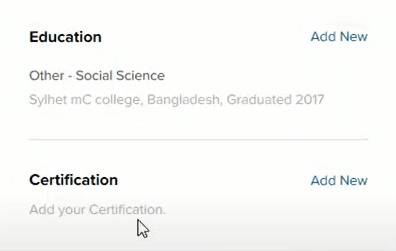 Create a seller account
To begin selling Gigs on Fiverr, you must first create a seller account. Simply follow the instructions to make one.
To begin, click on your profile symbol; a small menu will appear; select "Become a seller".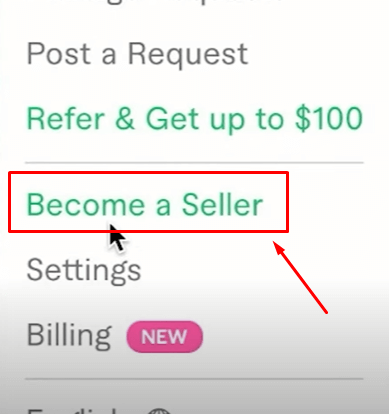 You will be sent to a new page; click "Become a seller".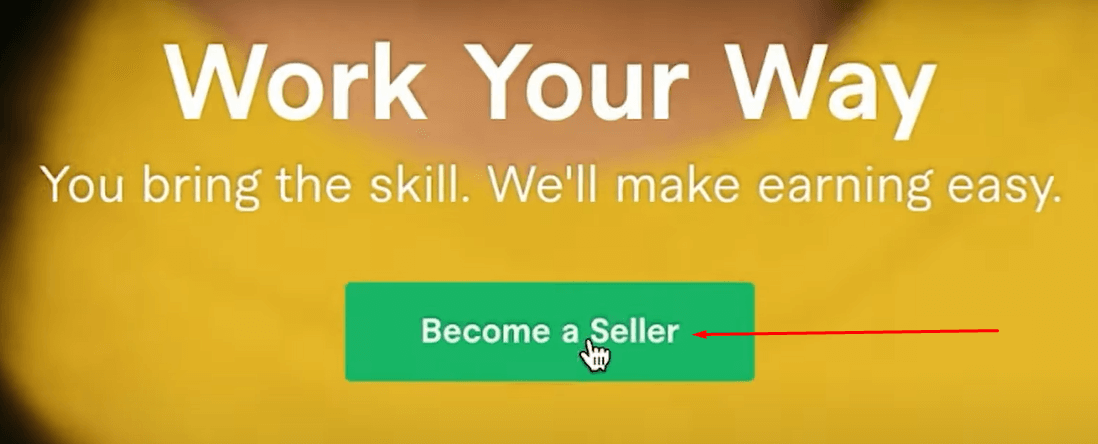 The great thing about Fiverr is that it will show you how to build a seller profile and start promoting your Gigs easily. After reading the steps, click "Continue".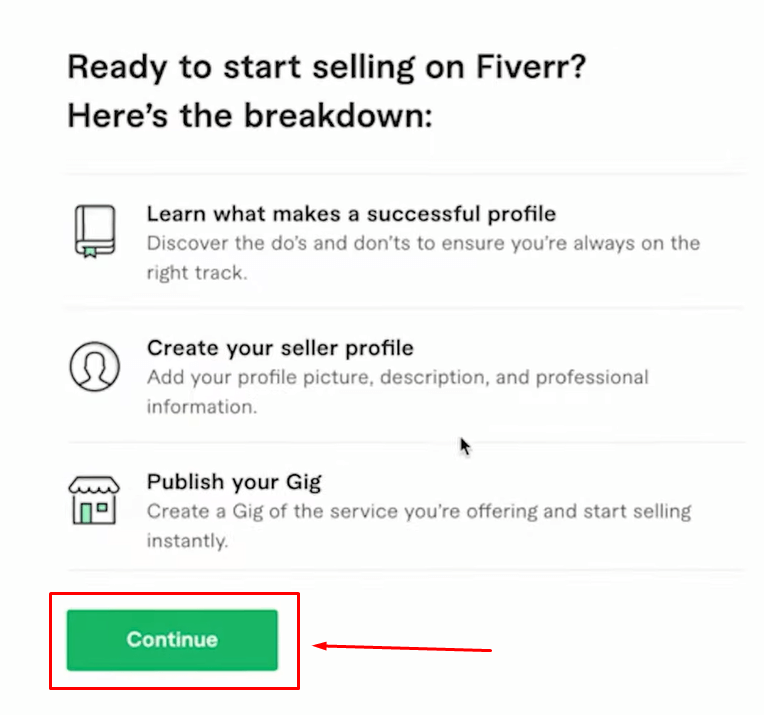 Because of the high level of competition in the Fiverr marketplace, Fiverr will educate you on how to distinguish yourself from others by creating a successful, eye-catching profile. To do so, you must take the following five actions:
When building your profile, take your time.
Be sure to include your professional social media profiles to boost your reputation.
Describe your professional abilities correctly (this will bring you more clients).
To keep the Fiverr community safe, please verify your ID.
Most importantly, use your true face in your profile photo; otherwise, your potential client will not believe you.
After you have completed all of the required steps, click "Continue".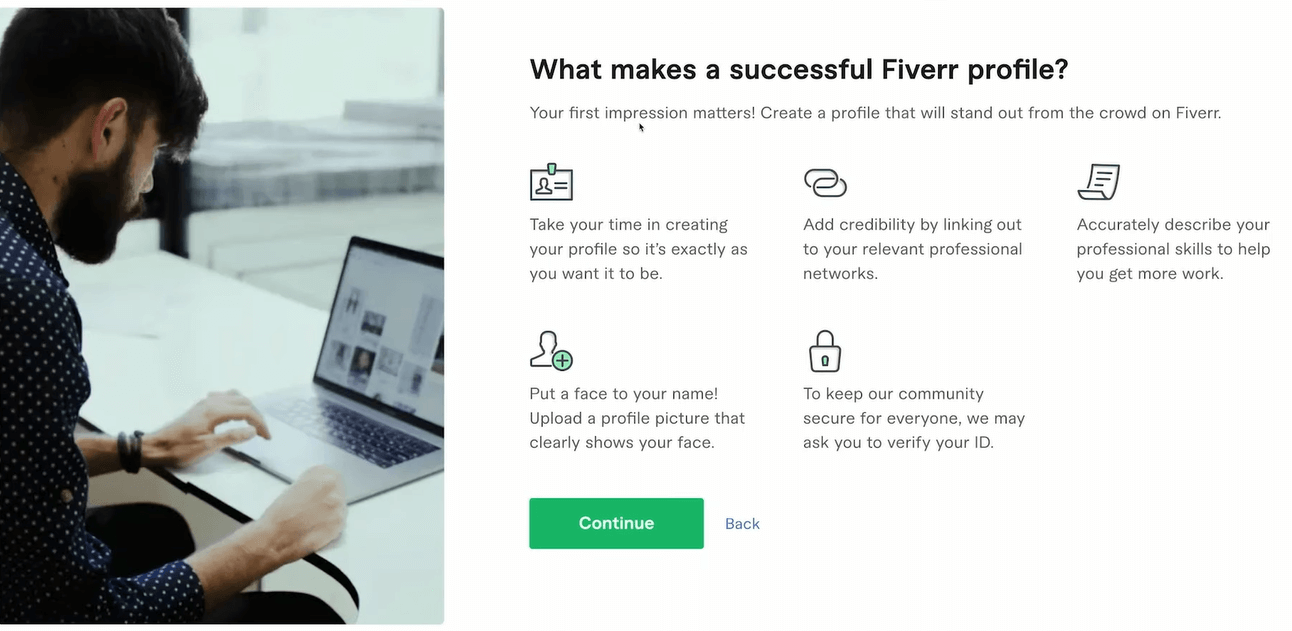 Following that, Fiverr will tell you about topics to avoid while building your seller profile, such as:
Giving false or misleading information about your identity.
Creates several accounts.
Seeking employment from other people in the community on Fiverr.
Requesting transactions from customers outside of Fiverr.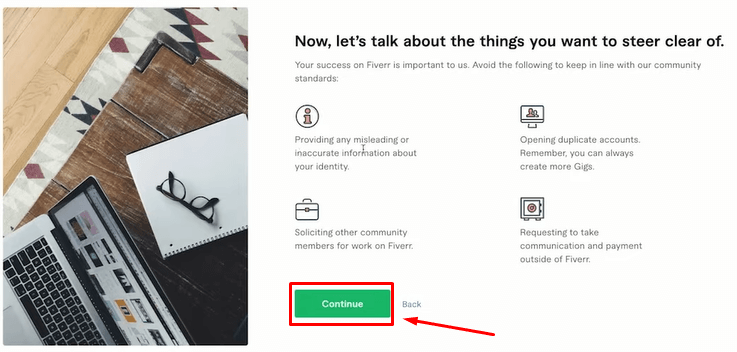 After you've gone through all of the procedures and cautions, click "Continue".
Now it's time to enter your true personal information (if you've followed our instructions from the beginning, your information should have been completed automatically). If you don't, simply go on to the next step to finish your profile.
To finish creating your seller profile, put in your full name, profile photo, a brief description of yourself and your area of expertise (you may talk about your job, abilities, previous projects, etc.), and languages that you can speak after that. Click "Continue".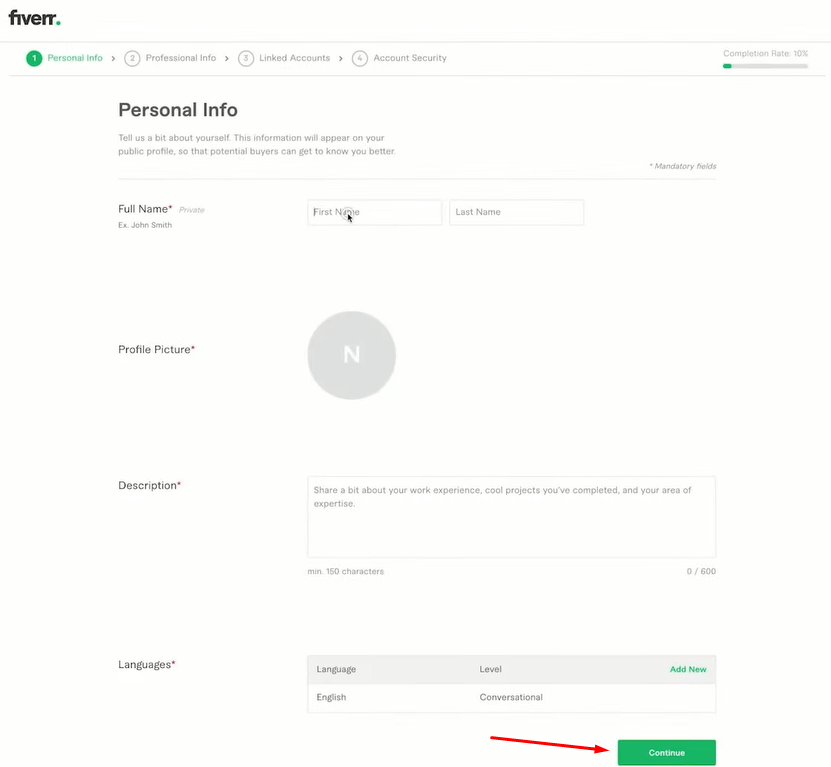 Now is the time to complete your professional information. Enter your occupation, such as graphics and design, and select how long you've been working in this industry. Select two to five of your occupation's abilities, such as cartoons and comics, illustration, logo design, and character design.
Pick your skills (as many as you like) and your experience level (beginning, intermediate, or expert), then add your education (where you studied, college, title, and year), and finally your certifications and personal website (if you have one). Adding a website to your profile can boost your reputation and allow you to reach out to more potential clients. When you're finished, click "Continue".
RELATED: Check out our in-depth article about how to create a website in 2023.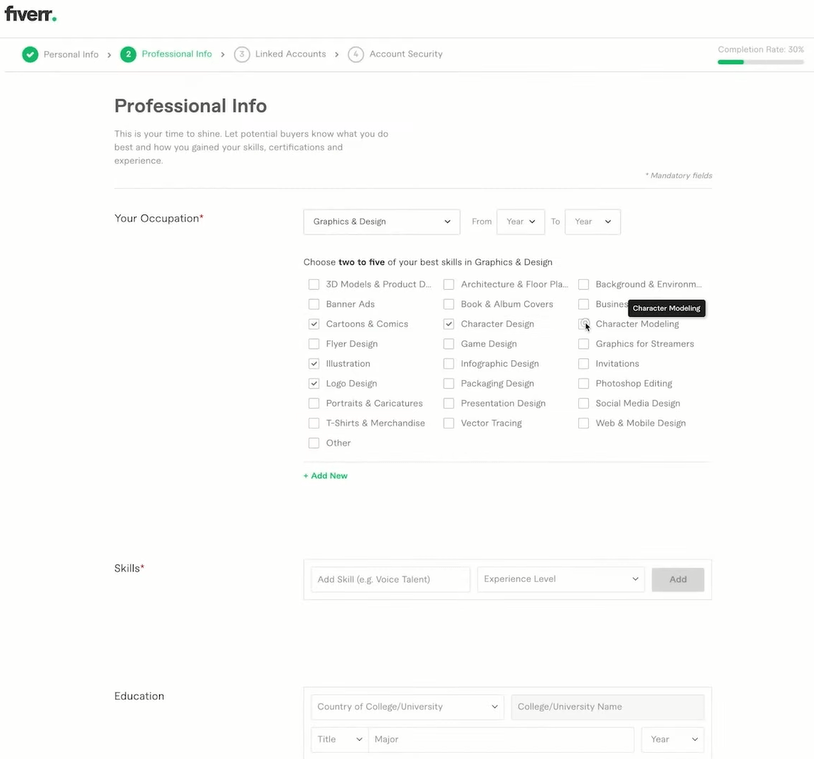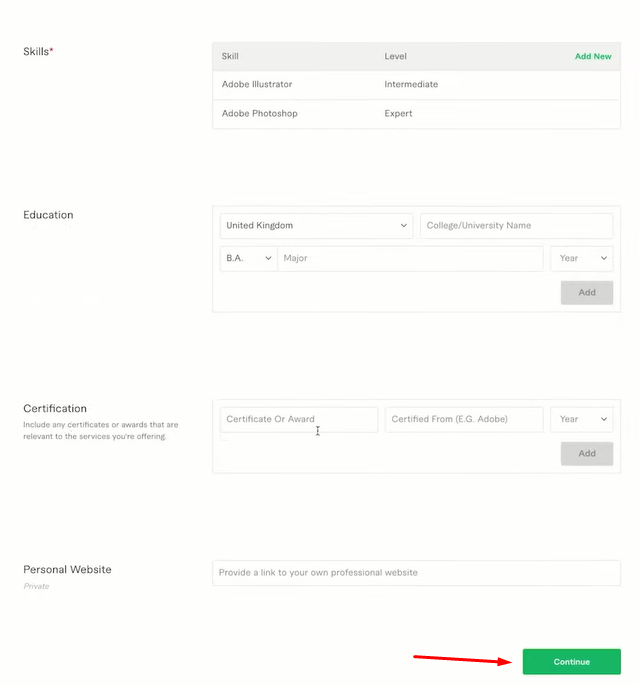 You may connect your social networking accounts such as Google, Facebook, and Twitter.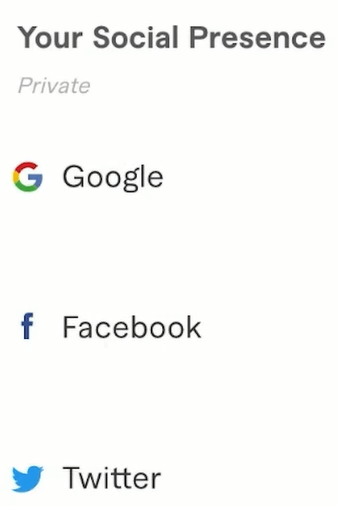 You may connect your Dribbble or Vimeo profile here.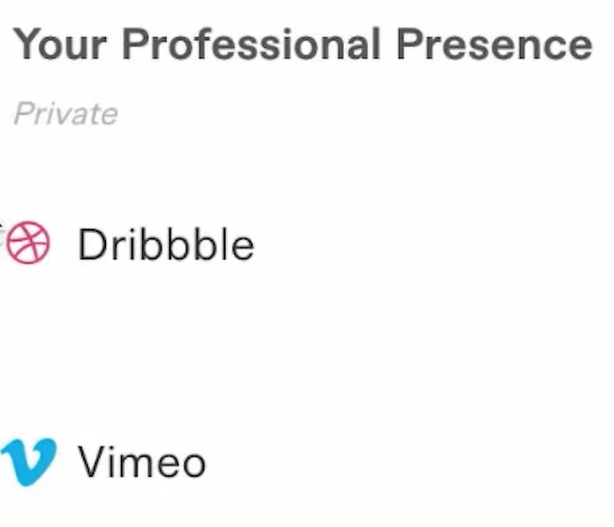 Finally, and most importantly, make sure your account is secure. To protect your account, you must validate your email (like we did at the start of this guide) and provide a phone number. When you're done, click "Continue and Create Your First Gig".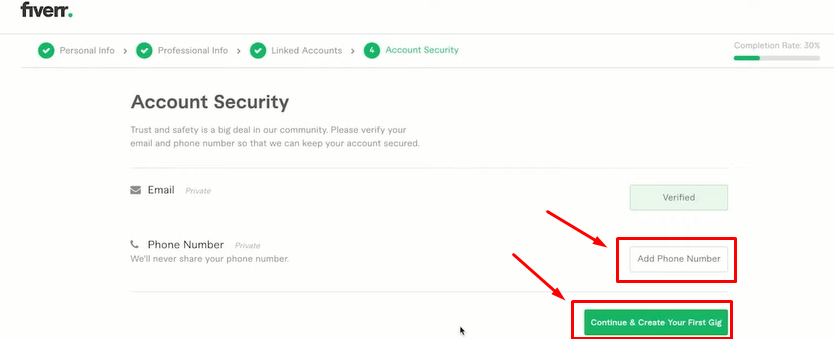 REMEMBER: If you do not fill in your information correctly, Fiverr will not enable you to move to the next step. So, to finish the development of your seller profile, make sure you complete at least 65% of your information (such as adding your social accounts and validating your phone number). Don't lie or provide false information; simply enter your true information to get your Fiverr application accepted.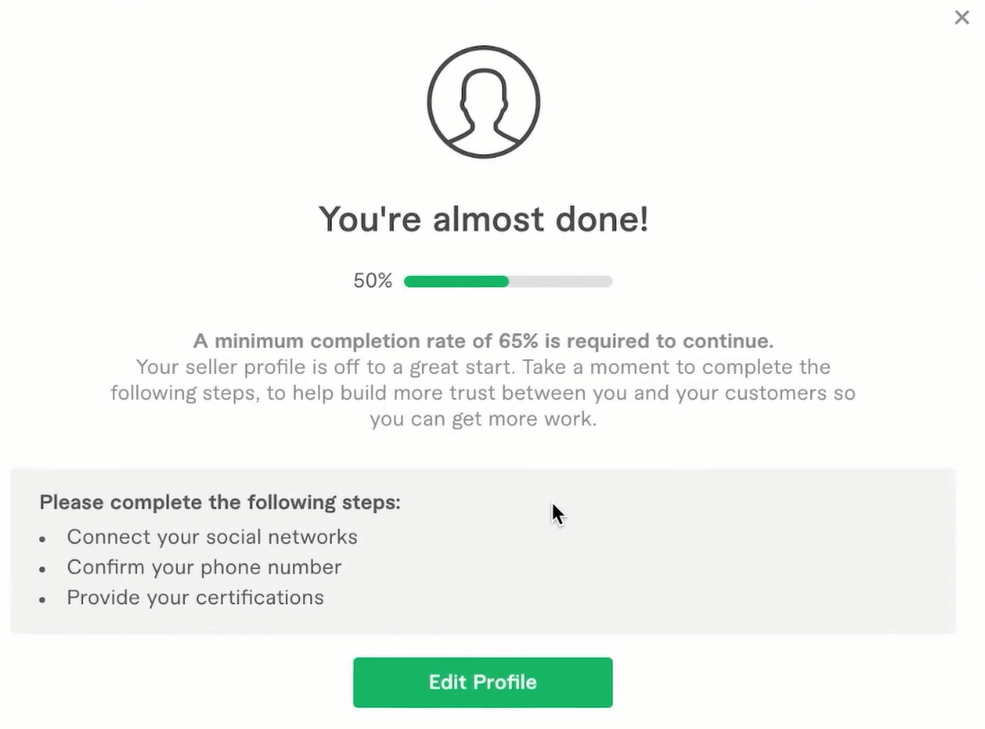 A Fiverr Gig is just a piece of work offered by a merchant. Fiverr Gigs may range from logo design, software development, and video transcription to article writing and employing virtual assistants (VA).
What Are Fiverr Gigs?
A "Gig" is, at its most basic, a productized version of the specific freelancing service you want to offer.
It has a fixed price and specific terms, such as:
I will edit a 10-minute video for $50.
I will write blog entries for $100.
I will create a responsive website for $200.
Every Gig has a headline, a description, a fixed number of revision requests, and a deadline. Clients can buy Gigs on the spot. They are not required to contact you first, and there is no need to discuss pricing or terms.
The number of Gigs you may generate is controlled by your seller level, which is determined by a combination of the following factors:
How long have you been on Fiverr?
How many orders have you successfully delivered?
How much money did you make from the site?
A mix of various sellers' performance indicators
RELATED: Check out our step-by-step guide on What Are Fiverr Gigs? and how you can promote them to drive more clients.
How to create Fiverr gigs?
After you've configured your account security and clicked "Continue and Create Your First Gig", you'll be sent to another page where you may create your first Gig.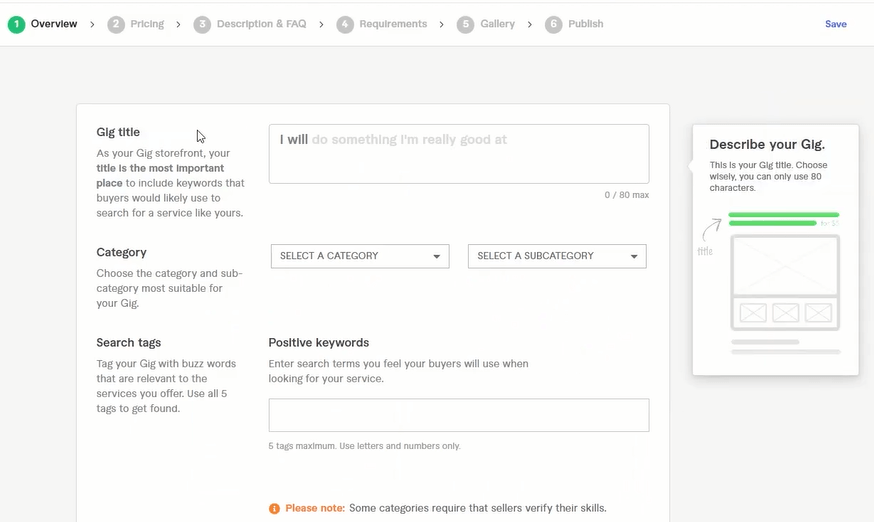 Six key steps will be followed in the creation of Fiverr Gigs:
Overview
Pricing
Description and FAQ
Requirement
Gallery
and finally, Publish your Gig.
1. Overview: Let us begin from the start. On the overview page, you may alter the Gig title. The title will automatically begin with (I will) and you can continue it with anything you can provide your customer. For example, I will create a clean professional business logo. You may also change the type of your Gig, such as logo design, business card design, post design, and so on.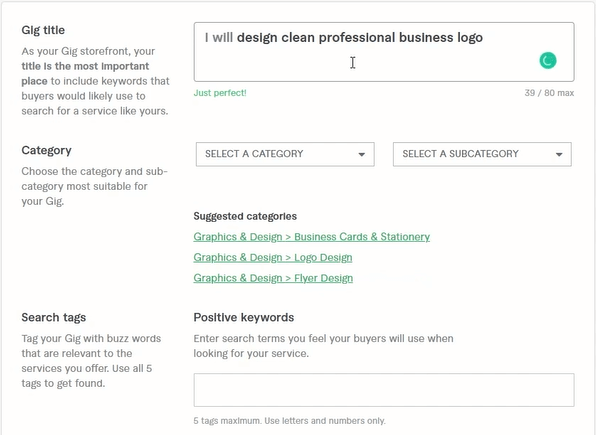 Then, there are Gig metadata. In this phase, you may modify your logo style, logotype, and file format.
1. The style of your logo: you have many options, including 3D and classic designs, as well as cartoon and modern templates.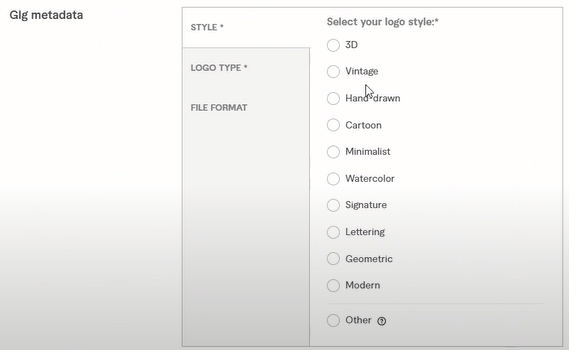 2. Logo type: Select the type of your logo, you can select one from the picture below.

3. File Format: Choose the file format your final project will be in.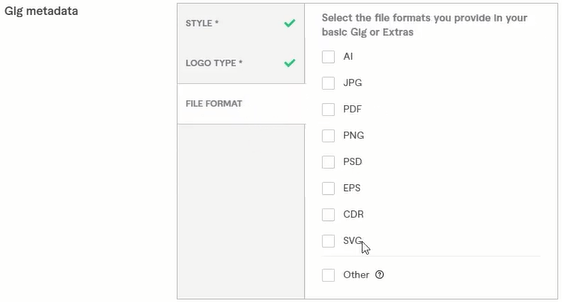 Then, select the principal keyword for which you wish to rank. The keyword you select must be popular in the Fiverr marketplace and relevant to what consumers are looking for. For example, if you're producing a Gig about logo design, you should include keywords like "logo design", "logo editing", "logo creation", and so on to rank higher on the first page and attract more buyers. Finally, once you've finished editing, click "Save and Continue".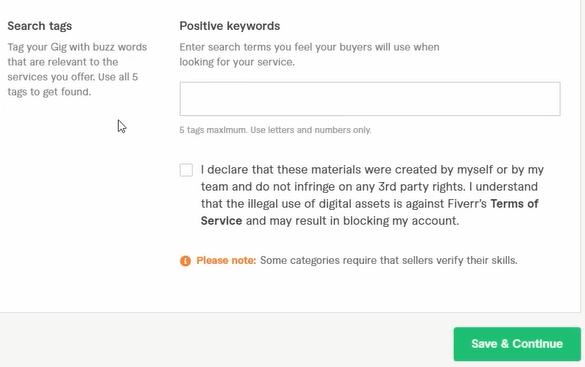 2. Pricing: Following that is the pricing phase, in which you must specify a charge in exchange for your service. There are three types of Gig plans available: BASIC, STANDARD, and PREMIUM.
You may give any plan a name, a description, a delivery date, and the number of revisions you will provide to buyers.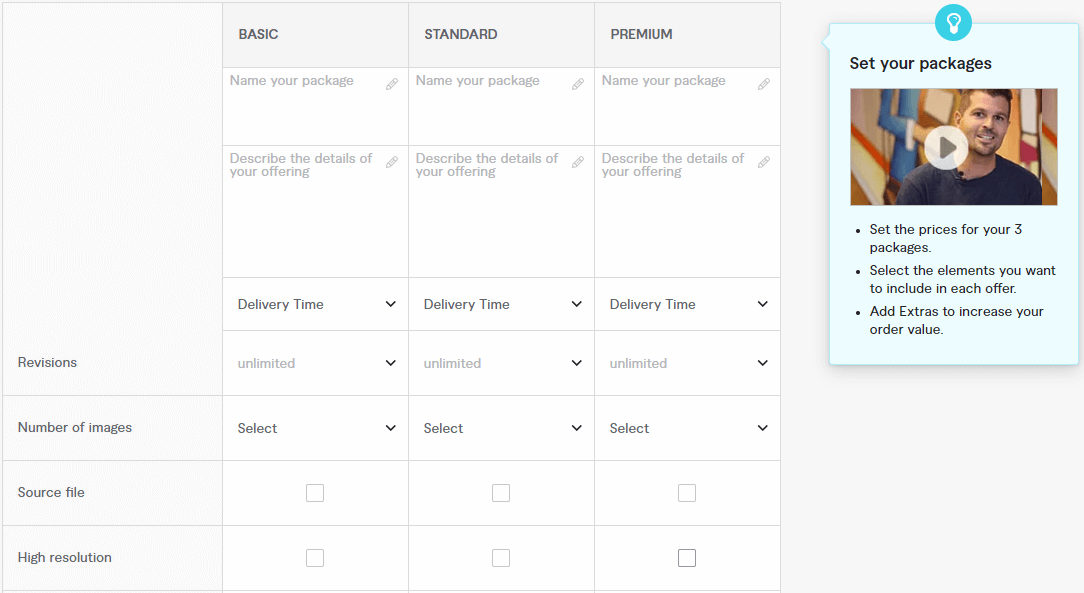 For example, suppose you wish to provide a logo design service. You may set the price for each plan and add features as the price rises. You follow the example shown in the image below: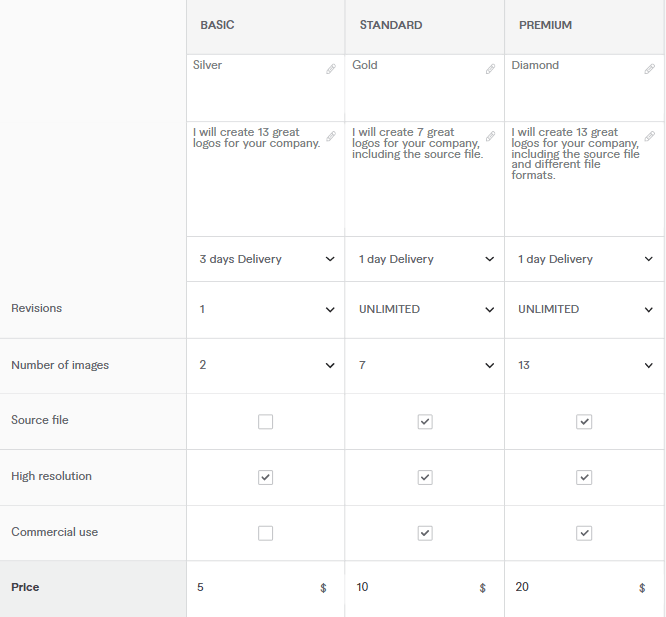 The wonderful thing about Fiverr is that while you're updating the pricing, small lessons will appear to educate you on how to edit your Gig properly.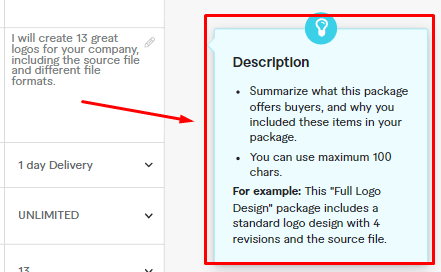 And as for the pricing, you may charge whatever you like for your service; however, remember that the price is meaningless if you do not provide a high-quality service, even if your rates are cheaper than your competitors.

You may also add more services at the bottom, such as extra rapid delivery, additional revision, high resolution, and so on. for an additional fee. When you're finished, click "Save".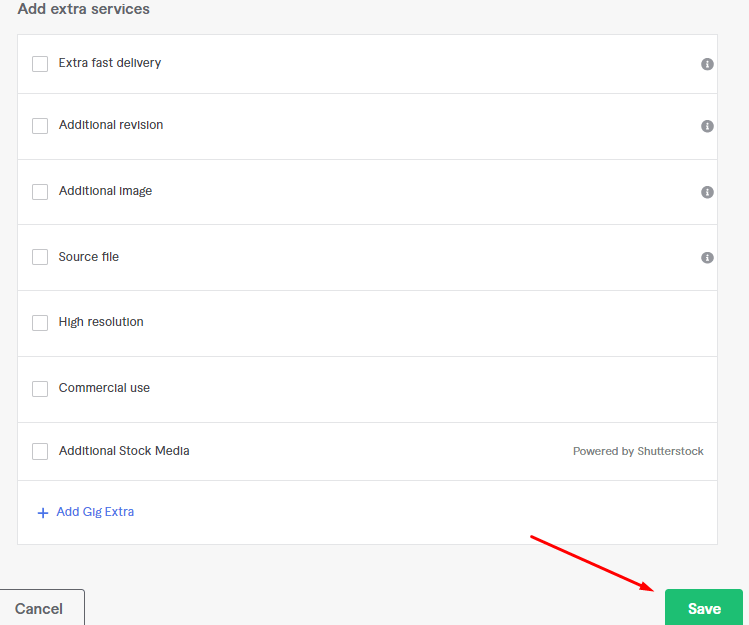 3. Description and FAQ: After that, in 120 characters, describe what you are selling to your customer; be as specific as possible so clients can understand whether this satisfies their demands; and remember that the better the description, the more clients will come to you.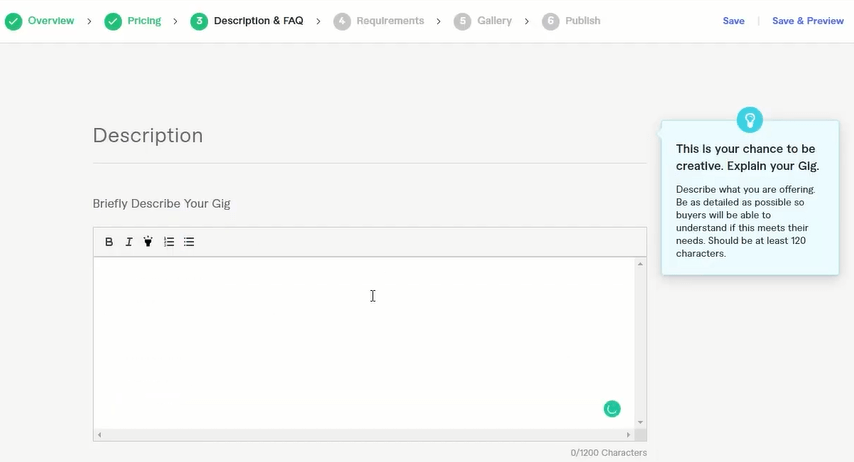 Now, milestone workflow. Fiverr Milestone workflow is a new feature from Fiverr that is still in development. It allows customers to examine the seller's workflow and cost before placing an order. This can assist customers in understanding the seller's work process and assist sellers in attracting customers with larger purchases. in addition to Show customers what they can anticipate and when they can expect it.

Milestone workflow can be used to do the following:
Get more orders: Milestones are a terrific way to raise Gig interest and sales when it comes to conversion.
Create a new degree of trust: The additional degree of transparency in your process demonstrates to buyers how you manage your workflow.
Manage expectations: By providing organized updates throughout the process, your customers will know what to anticipate from you and when to expect it.
Streamline communications: reduce the (often unnecessary) inbox conversations between you and your buyers. The buyers don't need you to explain the procedure because it's already evident from your Milestone workflow.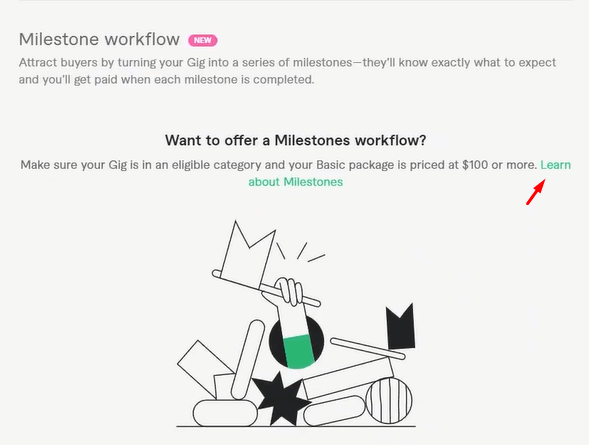 Then, you may add some FAQs to your Gig. For example, if you are performing a logo design service, you can ask your client, "What type of colors and forms do you like in your logo?".
You can add several questions, and when you're done, click "Save and Continue".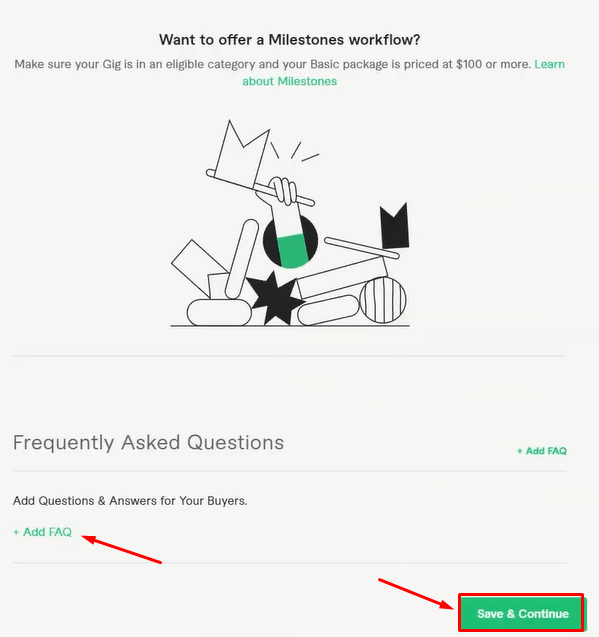 4. Gig requirements: requirements differ slightly from FAQs. The buyer can choose to avoid answering the FAQ, but not the requirements. Because the seller cannot specify the wants of the customers unless the requirement is answered. So, he is unable to complete the task.
For example, if you provide logo design services, you might request particular information such as the logotype, desired colors, buyer company industry, and so on, to complete your job.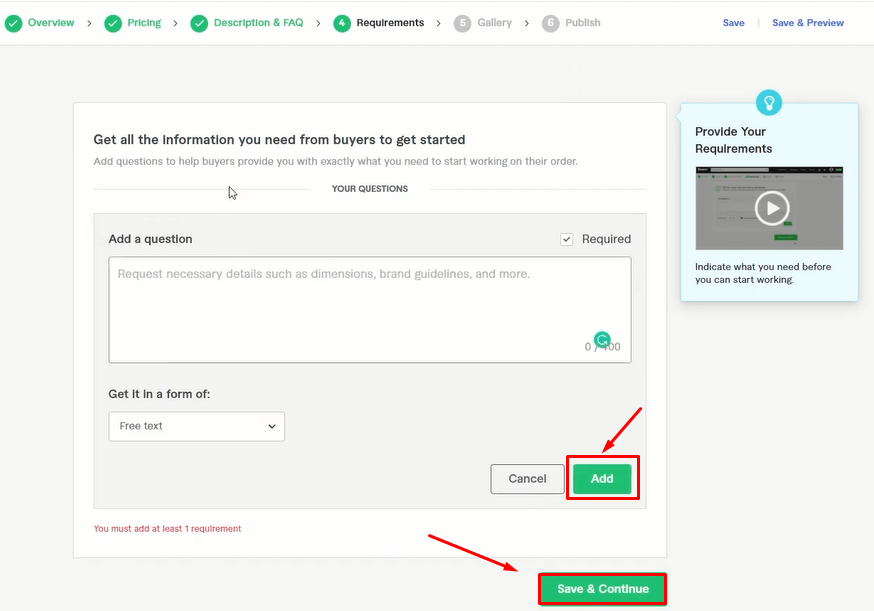 You may ask your customer for one requirement or several. To add more criteria, simply click on "Add New Question".

You may type your question in the dialog box after selecting "Add New Question". After that, select the form in which you want your query to appear, then click "Add".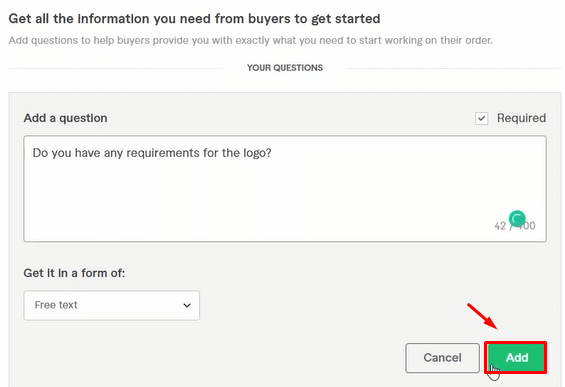 5. Gig gallery: Finally, there's your Gig gallery. To display your business professionally, you must include pictures, videos, or PDF files in your Gig gallery.
Many novices skip this crucial step by simply uploading photographs and publishing their Gigs, but based on our user's feedback, we recommend that new sellers provide as much creative content as possible to their gigs, including professional photos, videos, audio files (if available), and PDFs. because everything you put into your Gig now will help you reach more potential clients later on.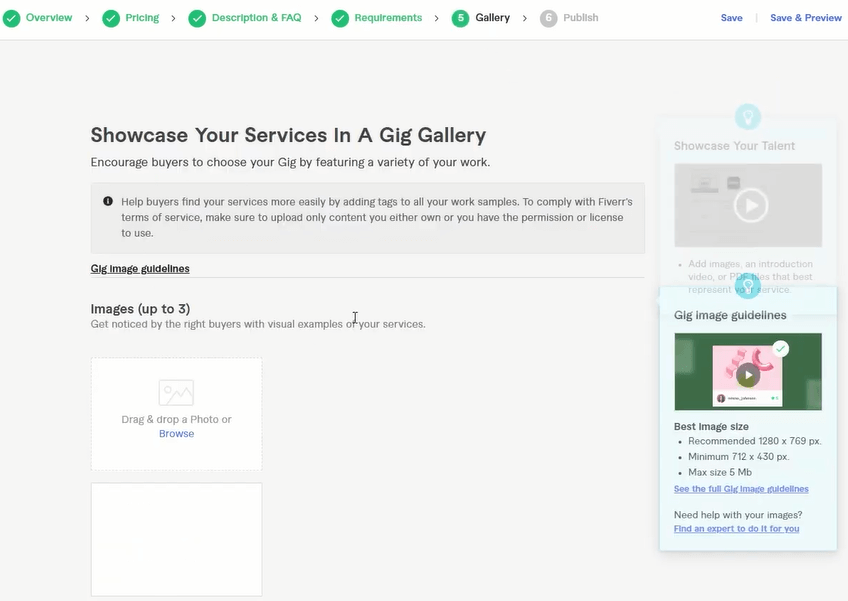 Gig video: You may film and make a short video explaining your services to clients, which you can then submit to your Gig gallery. When it comes to buying a Fiverr Gig, videos are the most effective creatives. It may boost user engagement by 40%, so select your video wisely.

Gig audio: You may upload an audio track that symbolizes your work to your Gig gallery. Your photos will remain in the background if you add an audio file.

Gig Photos: You can upload up to three photographs in JPEG, PNG, or JPG (high-quality) files that best represent your service. The pictures should be at least 712 by 430 px in size. The recommended resolution is 1280 x 769 pixels. We recommend that you submit them in landscape format to make better use of the available space.
Gig PDFs: if you have a special PDF file that outlines your service in detail Adding it to your Gig gallery gradually will assist your clients to learn more about your Service.
When you're finished adding files to your Gig gallery, click "Save and Continue".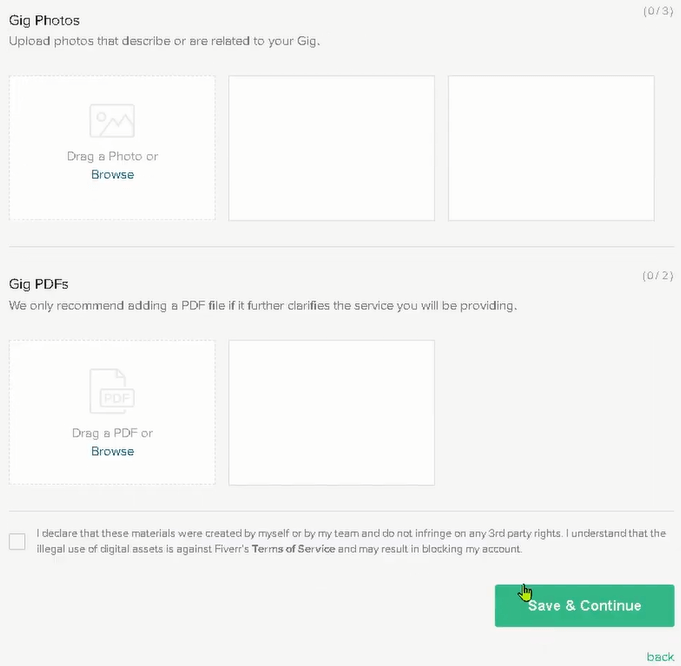 6. Publish your Gig: If you haven't already, fill out some tax information before publishing your first Gig.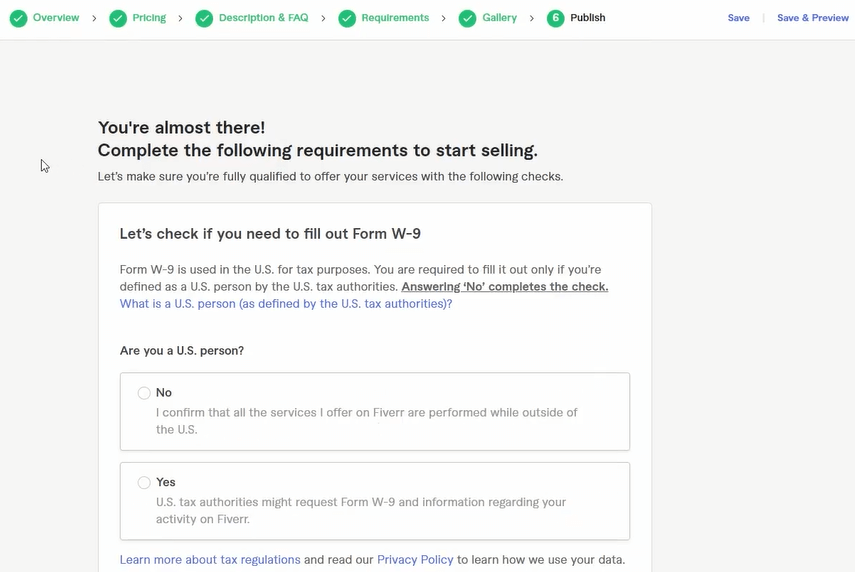 Simply enter the proper information and then click "save".
Remember that if you do not complete your verification process by verifying your email and phone number, Fiverr will not allow you to post your Gig, so if you see this warning mentioned in the photo below telling you that you need to verify your phone number to finish publishing your Gig, just do it by clicking " Verify Now", and then, you will be able to publish your Gig.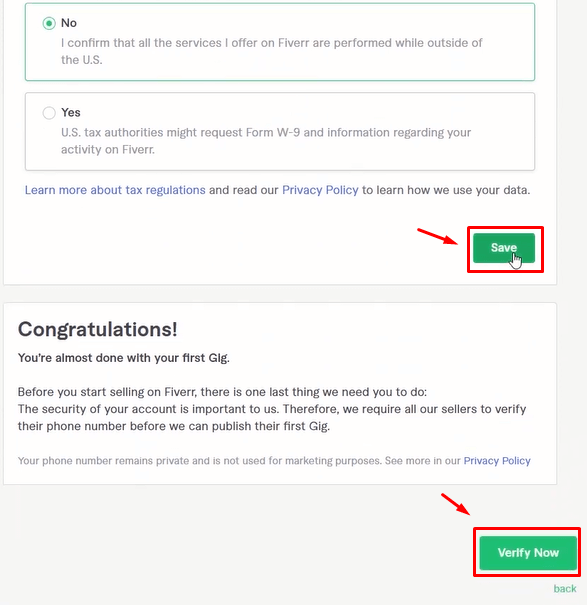 When you've finished verifying your account, click "Publish Gig".

DONE! Your Gig is now live on the Fiverr marketplace. Then you're all set to make money. all you have to do now is to get some clients.
RELATED: Check out our step-by-step guide on how you can promote your Fiverr Gigs to drive more clients.
Fiverr pro
Fiverr Pro is a unique seller level reserved for a small number of freelancers who have been personally verified by Fiverr's editorial staff. Pro vendors rank higher in search results and charge higher prices for their services.
The program requires freelancers to apply, and acceptance is notoriously difficult. The organization says that just 1% of applicants complete the verification procedure, although no detailed list of qualification requirements is provided.
However, Fiverr indicates that to become a Pro Seller, you must acquire:
A substantial portfolio was developed for clients other than Fiverr.
Working with "top-tier" clientele is a plus.
A dedicated website that acts as a central location for your freelance job.
A bachelor's degree or equivalent in your field of study.
These restrictions make becoming a Pro vendor tough for a new freelancer.
However, this is not always a significant loss. Pro vendors are forced to charge at least $100 for their employment, which severely lowers their customer base.
When the project initially began, ordinary Fiverr vendors were afraid that Pros would dominate the marketplace. That has not been the case, since many users continue to use the platform for low-cost services.
Today, the project is largely seen as a means for Fiverr to attract specialists in specific fields to join the platform, therefore enhancing the marketplace's overall reputation.
RELATED:
More information on applying for the Fiverr Pro program may be found in our in-depth article about how to promote your Fiverr Gigs.
How to create a professional portfolio for your business.
Difference Between Fiverr & Fiverr Pro
Fiverr is a free platform where you can find freelancers for as little as $5. Since there is no verification mechanism, you must read reviews and contact the freelancer to guarantee their competence. When you purchase a $5 Gig, it may be either successful or unsuccessful. A professional writer, for example, will not deliver a work of 2000 words for $5. As a result, if Fiverr looks too good to be true, it most likely is.
Fiverr Pro is a system where hiring freelancers is much more expensive. This is because Fiverr Pro freelancers are the best in the business. They charge rates equivalent to those of agencies since they recognize that their time is cash and their abilities are valuable.
FAQs
What percentage does Fiverr charge?
On all Gigs, Fiverr charges a flat 20% fee.
So, if you sell a $5 Gig, you retain $4, Fiverr receives $1, and so on.
This 20% fee helps to cover the costs of maintaining the Fiverr platform as well as providing service to customers and sellers.
Furthermore, Fiverr provides a variety of free tools and perks for both buyers and sellers, including the option to connect directly with buyers and vendors and a secure payment mechanism that guarantees payments are delivered safely between buyer and seller.
What is the age requirement to join Fiverr?
The minimum age to join Fiverr is thirteen. This makes starting a business as a side hustle for teens an extremely profitable proposition.
Can a newbie earn money on Fiverr?
Yes, even a novice can make money on Fiverr. However, keep in mind that Fiverr is a freelance site and is not a guaranteed source of revenue. Your earnings will be determined by your skill level and the quality of your job.
However, there are a few things you can do to improve your chances of earning money on Fiverr. To begin, make an appealing and professional profile that appropriately displays your abilities and expertise. Next, provide high-quality services at reasonable prices.
Finally, be sure you meet deadlines and respond to client demands. You'll be well on your way to generating money on Fiverr if you follow these suggestions.
How Do You Get Fiverr Clients?
There are several strategies to gain clients on Fiverr. One method is to advertise your services on social media or other websites.
Another option is to use Fiverr to find possible clients and then send them a message offering your services. You may also meet potential clients in person by attending networking events.
Follow these guidelines on the platform:
1. Build a positive profile that highlights your skills and abilities. Make a list of the services you provide and emphasize any unique selling qualities you have.
2. Use excellent marketing tactics to advertise your profile and services. This may include producing a high-quality profile, publishing blog entries about your work, or reaching out to new clients on social media.
3. Be responsive and professional while dealing with clients.  Deliver high-quality work on schedule and answer any inquiries or requests quickly.
4. Maintain affordable and competitive pricing. Because there is a lot of competition on Fiverr, it's crucial to rate your services appropriately, but don't turn it into a battle for the bottom!
Is there a Fiverr Gig price cap?
For starters, the highest possible Fiverr Gig price is $995. But for "Pro Verified" freelancers, Gigs can be priced up to $20,000, and custom offers up to $50,000. When a buyer approaches you, you may give them a personalized offer. These special offers have greater price restrictions that vary according to your seller level. This maximum price does not include any additional pricing for Gigs or any multiples that the client may order.
What exactly are badges and skill tests?
"Skills tests" on Fiverr were free online tests that freelancers could take to demonstrate their expertise in a particular niche. If they passed, a badge was added to their profile, possibly indicating to potential clients their competency.
This program has been phased out and replaced with badges earned by completing "Fiverr Learn" courses. Unfortunately, those courses are not free, with prices ranging from around $30 to $150 or more.
As a result, few sellers have badges on their profiles, and they are not regarded as a critical factor in selling Gigs.
What exactly is a buyer's request?
Even though Fiverr is a production platform (sellers create offers that buyers can purchase on-demand), it also has a "buyer request" system.
Clients can describe their tasks and budget, and freelancers can submit deals, similar to a classic freelancing system.
Although the buyer request system can be a good way to find clients, it is not widely used. Furthermore, you will only be able to see and bid on offers if you have an active Gig in the same category.
Is it possible to have negative feedback removed?
No, not in general. Fiverr customers used to be able to remove their feedback, but this option has since been deleted from the platform.
Presently, Fiverr can only delete feedback if it violates the site's rules and policies.
In other words, do everything possible to ensure that the client is completely satisfied. because their feedback will remain on your profile indefinitely.
Can you purchase Fiverr reviews?
No. A few new freelancers charge individuals to purchase Gigs solely to boost their feedback rankings, but this is against the terms of service and will result in the suspension of your Fiverr account.
Is there an affiliate program on Fiverr?
Can Fiverr be used to generate passive income?
No. Fiverr is just an online platform that links skilled freelancers with clients in need of high-quality work. While a few Fiverr vendors have found innovative ways to offer digital products on the platform, there is no long-term way to monetize the site.
There are, however, other legitimate sources of passive income that you can use (read our in-depth article about them).
Conclusion
Fiverr is a wonderful option for anyone looking to increase or even replace their current income. You can also use it to broaden your skill set and learn new ones, making it an ideal platform for students who are constantly on the move.
Users can find work and set their hours based on the skills they want to offer to provide the best service possible.
Although, indeed, you cannot become wealthy by earning $5 per Gig, keep in mind that you can add extras to capitalize on. The majority of the best sellers on the platform charge significantly more than the minimum.
The opportunity exists. It only takes a couple of minutes to create an account, and you'll be on your way to your first freelancing job.
If you have any questions about this topic, don't hesitate and leave us a comment below. Thanks for reading.